Project Description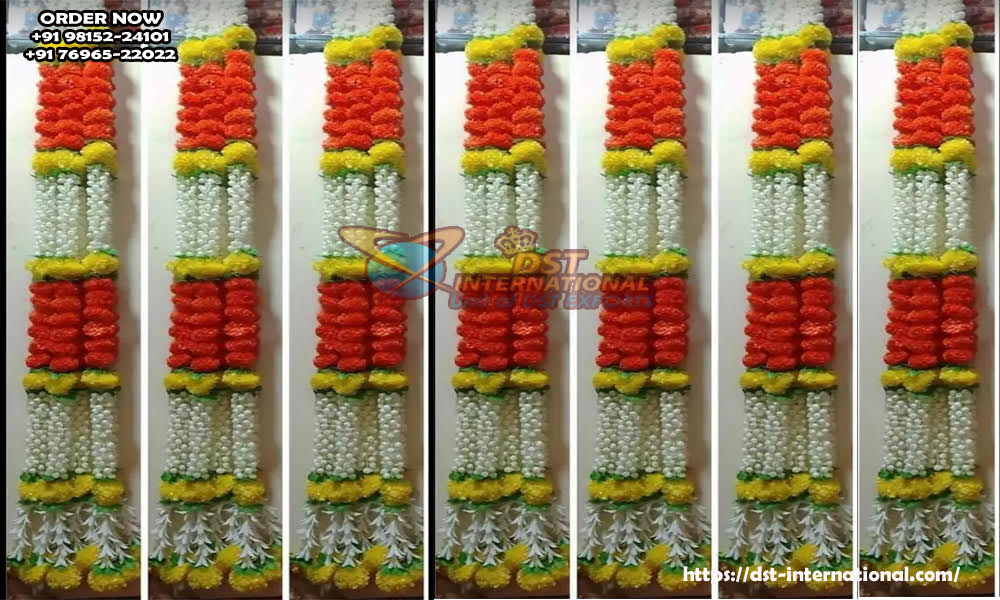 Wedding Marigold and Jasmine Garlands Backdrop
The Wedding Marigold and Jasmine Garlands Backdrop brings enlightenment to the décor  & is a perfect decorative for the joyous celebrations of life, that is so very essential to the spirit of your day to day life. This Made in India Product.  It is Made up of recycled material. It is a completely handmade product for year-around home decor requirements. It Can use several times. For decoration of home, office or any festive event public place Suitable for festive decor, wedding wall decor, stage decor, temple decor.
Product Name
Wedding Marigold and Jasmine Garlands Backdrop
Type
Indian Wedding Handicraft Décor Props
Brand Name
DST Exports
Material
Fluffy Recycle Plastic, Cotton
Customization
Color and Sizes Can be Customized
Technology
Hand Made
Features
1) High simulation, looks, touches like real

2) Good material made, environmentally friendly,Eco-friendly

3) Long life , No worry about color fade

4) Indoor outdoor as well

5) Customized size

6) No need caring and watering, easy to maintain and clean

Application
Weddings or Any Event
MOQ
Minimum 50 strings
Uses – Mehandi Henna Decorations, Indian Decorations, Sangeet Decorations, Indian Traditional Floral Decoration, Curtain Decor, Window Decorations, Home Decorations, Party Them Decorations, Indian Event Decoration Flowers, Artificial Flower Torans, Hippie Decorations, Banjara Decorations, Vintage Traditional Decorations, Gift For Her, Christmas Decorations, Diwali Decorations
Indian Handicraft Wedding Decoration Store
Established in the year 2005, we "DST Exports" is a leading name in Wedding Events Products. Mr. Jagjit Singh, the driving force behind the firm's success has his expertise in the manufacture, wholesale Suppliers of all types of wedding event decoration items – Artificial Flower, Wedding Hanging Products, Artificial Tree, Dream Catchers, Decorative Wall Panel, Candle Stand, Crystal Jhumar, Decorative Light. DST is one stoe for all Wedding Decoration Products and many more. We direct all our activities to cater the expectations of customers by providing them excellent quality products as per their gratifications. Moreover, we follow moral business policies and crystal pure transparency in all our transactions to keep healthy relations with the customers.
We are wholesale Manugfacturer and supplier for all type of handicraft decoration props including Artificial Blossom Flower Tree, Artificial Flower Balls, Artificial Flower Bouquet, Tent Decoration Flowers, Artificial Flower Mat, artificial flower backdrop for wedding, Artificial Flower Wall Wedding Decoration flower mats Rose Fake Flowers Hydrangea wedding flower Panels, Artificial Flower Toran Garlands Mogra Jasmine Door Wall Hanging, Floral umbrella for wedding, decorative umbrella for wedding, Artificial Flower Plain Floral Umbrella, Decorative Bridal Entry Flower Umbrella, wedding umbrella online, Marigold Flowers, Artificial Flower Garlands Hanging Ladi / Genda Phool Toran for Decoration, Luxury Silk Artificial Flower Panels White Flower Wall Decor Floral Backdrop For Party Wedding Decoration, Grass Panel, Wisteria Artificial Flowers Dense Flower Vine, Muggu Backdrop for Decoration, Phoolon ki Chaddar for Bride Entry, Artificial Flowers for Home Decoration Hanging, Artificial Flower Peacock, Artificial Peacock for Wedding & Party Decoration.
PomPom Strings Torans Garland Lines Pink Flower Artificial Blossom Indian Wedding Decoration Beautiful Backdrops , Indian Wind chime Pair, Wall Hanging, Wall Art Showpiece, Decorative Hanging, Wedding Wall Hanging, 3 Set kites with hanging Wedding Decoration, Handmade Kite design, Bells Ring Wind-chime, Decoration Wall Hanging, 9 Rings Hangings with tassels, Wedding Ring Hanging, Banquet Decoration Ideas, Chakra hangings Multicolor, Wedding Stage Decoration, Multicolor Feathers Dream Catcher, Decorative Wall Hanging, Wedding Hanging Decoration, Rajasthani Door Hanging, Net Strings Door Hanging, Elephant Door Hangings, Multicolor Indian Whinchimes, Home Decor, Wedding Decoration, Mehndi Decor, Door Hangings Bell.
Decorative Elephant Tokari Door Hangings, Hand Made Multicolor String Net, Decorative Pankhi for backdrops, Multicolor Cotton Rajasthani Puppets Jhumar, For Door Hanging, Kite Wedding Door Hangings, Indoor Cotton Rajasthani Puppet Door Hangings, For Decoration, Indian Embroidered Cushion Covers, Rajasthani Handicraft, Decorative T Lights, T Light Candle Holder, Elephant Tealight Candle Holder, Handmade Patchwork Banderwal Toran, Rajasthani Torans Door Hangings, Hand Embroidered mirror work Toran, Lotus Hangings for Decoration Floral Wall Hangings for Temple,Diwali Decor Hanging,Diwali Gift Decor,Wedding and All Festival Décor, Elephant Door Hanging, Decorative Hanging, Birthday Gift, Diwali Gift, Gift for Her, Home Decorative, Door Decor, Wall Hanging
Romantic Cycle Multicolor Peony Artificial Flower with Pot, Beautiful Flower hanging Cage, bird cage home décor, Decorative Cycle Planter, cycle planter stand, Bicycle Planter Stand, Tricycle plant stand, small Cinderella for flower decoration, small rehdi, tokri tessels
BOOK YOUR ORDER NOW ON WHATSAPP —+91 9815224101, +91 76965-22022, +91 9803984444, +91 8675333339.
BOOK ORDER ON WHATSAPP CLICK….
---
"More you buy.... Lesser is the shipping"
Product Form