Project Description
A Mehndi is typically a pre-wedding celebration in the Hindu, Muslim, and Sikh communities, where "mehndi" (ie henna) is applied to the bride's hands. It also happens to be one of the most fun events in the pre-wedding celebration line-up. If you need some decor inspiration to get started with mehndi planning DST Exports is the right place. We have all types of decoration props for the mehndi function including Wedding Decoration Metal Umbrella Stand
No event is complete without these beautiful mehndi decoration pieces that adorn your event space. These colorful parasols are the perfect accompaniment to your desi event. DST-international (A unit of DST Exports) Introducing our new embroidered umbrellas for wedding decor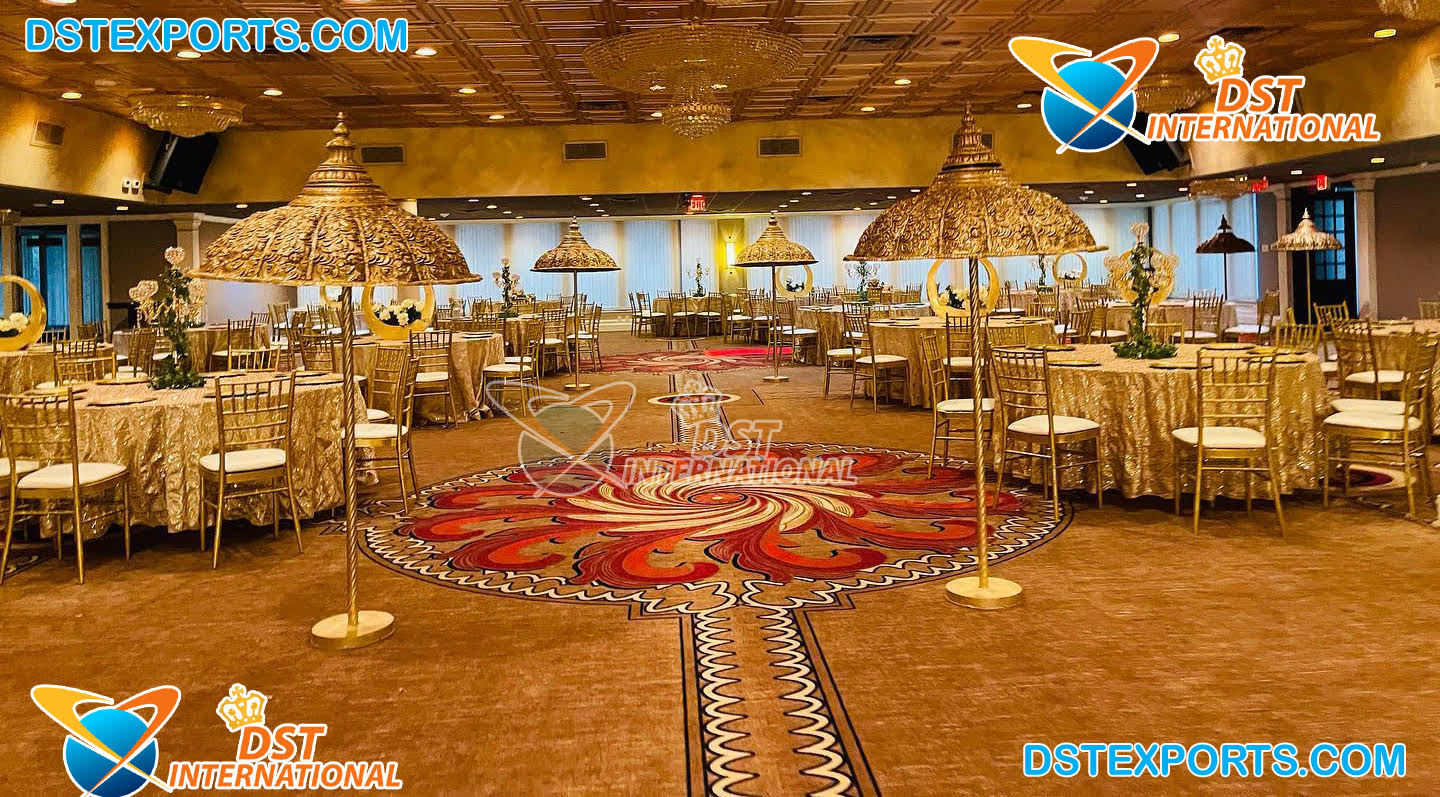 Wedding Decoration Metal Umbrella Stand – DST Exports is manufacturing and exporting all types of decoration accessories so here we are presenting our new Wedding Decoration Metal Umbrella Stand. These are Customized Wedding umbrellas for all types of events decoration. This is one of the useful decoration props for weddings or any type of event. We have a wide range of umbrellas (as shown in pic). These are set of 6 Umbrellas with a stand which is made of high-quality metal with deco-painted and self-standing
We are making umbrellas in all fabrics like sequin umbrellas, velvet umbrellas, satin umbrellas, Cotton Rajasthani Umbrellas. All these umbrellas are decorated with beautiful lacings, phulkari, and hand embroidery. We have all sizes of umbrellas from 2 feet to 6 feet. The basic usage of these umbrellas is for Mehndi Stage decoration but it has multiple uses like – These umbrellas can be used as mehndi decor, wedding stage decors, event, reception, table decor, bridal entrance decor, and other decoration, etc These umbrellas can be used as centerpieces on table with base stand, as Bridal Entry Prop, Wedding stage decor etc.
We can also manufacture these umbrellas in any color and in any size as per customer's requirements. We are just not manufacturing these umbrellas for wedding décor but we have a vast collection of wedding decoration items. Our main manufacturing products are like Wedding Mandaps, Wedding Stages, Wedding Furniture, Wedding Dolis, Wedding Stage Backdrop Frames and Panels, Wedding Horse Drawn Carriages and many decoration items. We are manufacturing high standard products and export them worldwide like the USA, UK, Australia, Canada, South Africa, New Zealand, Nigeria, Ireland, Uganda, Fiji, and Netherland, France.
For more information of this product, you can contact us our WhatsApp number: +919815224101, +9186753-33339. You can also make a video call with us on our contact no. for close Zoom-up and see the high-quality of original products. A customer can also easily compare the quality of our products with local vendors. We are making Export worthy Products. You can also check out more products from our website www.dstexports.com.
Photo booths have become a necessity in wedding décor. While it adds another element in the venue, its main purpose is to keep the guests amused and happy. Your guests will flock towards a wedding photo booth if you have one.
Make sure it is something different and fun, which you and your guests will love. A photo booth is a great place for you to add your favourite umbrella decoration. It is up to you if you want to add real umbrellas or faux umbrella props with which your guests can play around (as below)
---
"More you buy.... Lesser is the shipping"
Product Form