Project Description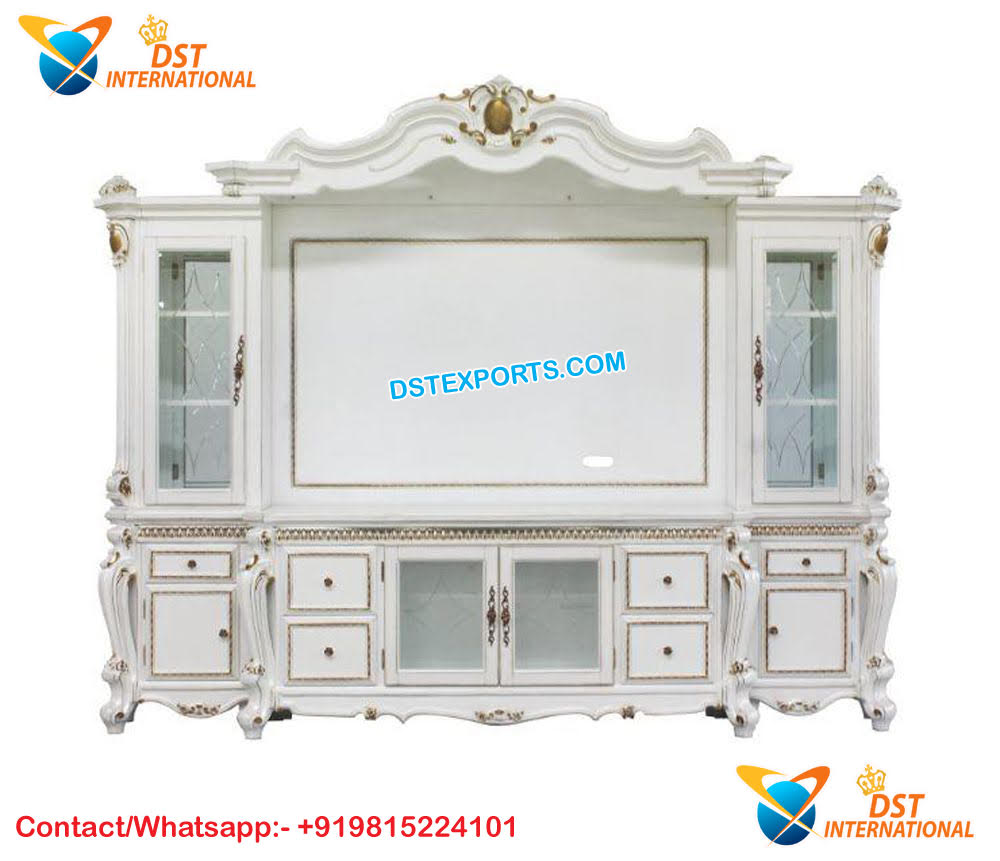 Victorian Style Pearl White TV Wall Unit
The way you design a room in your home says a lot about you and your style. When such room is open to friends and guests, all the more that you style it in a way that's neat, inviting and represents yourself. Wall units are most suitable in a library, family or entertainment apartments. This Victorian Style Pearl White TV Wall Unit give similar areas a touch of majesty and complication and showcase your personality. The shelves, snuggeries and chambers of wall units give you space for display as well as for storehouse. Plus, you'll have a place to keep all those treasures you've collected over the times. Not only will it ameliorate the overall look of the room but will also keep it safe. Some Wall Units also come with erected in ornamental lighting and point wiring holes to neatly connect your electronics.
DST Exports has a wide range of wall units to feed to colorful need and preference. We've lower single piece antique stretch wall units to grand 6- piece sets in a groaner veneer. We also offer wall units that are modular and can be expanded by adding fresh pieces if you're in the request for a custom result. They're available in traditional, contemporary, transitional, cabin, new generation, and Italian country designs. Some of the cabinetwork are made of solid wood with elegantly framed rustic and glass doors. Our wall units also come in dark, cabin white and contemporary brown and gray finish. Browse through our website to view the most fascinating, sturdy and exquisitely drafted wall units you can find. Please do ask us about the modular and custom-made pieces we offer.
Victorian Style Pearl White TV Wall Unit – This spectacular traditional entertainment center features elaborately carved details in an antique pearl finish with gold highlights. This regal wall unit looks actually much like floury furniture you would see in a classic European castle still it has all new contemporary features. Made to fluently fit your large screen TV, this Television press will add luxurious charm to any living room. The etched glass doors, gold highlights and tackle are illuminated by the lights on the top ground as well as the sides. The tackle on the top doors match the tackle on all the nethermost doors which include two for retired storehouse and two for see-through element placement.
Glass Shelves in curio cabinet side piers
Back panel for flat screen TV
Lights in bridge & Piers
Antique Pearl Finish
Etched Glass door cabinets
Closed a/v cabinet
Ornate carvings
Matching back panel
Items & Dimensions
Length : 117.00″
Width : 19.00″
Height  : 94.00″
Production process
We are using the old world method, and every step of the production, including building the raw state of the furniture, to make the carving and the finishing work will be done manually by hand, using a mixture of traditional craftsmanship and modern techniques.
We want you to love your furniture for years to come, which is why we make sure that we only use the best materials to produce our furniture. We kiln dry our timber to remove any moisture, preventing it from expanding and contracting over time, and make sure it will come in your place without any problem.
Our carpenters have a lifetimes experience in furniture making, and we never compromise on quality! We have the quality controller on each step of the production to check our production work, ensuring we always meet customers' specific requirements.
We would like to offer you the following:
– Huge collection of items in various designs and styles.
– No minimum order quantities on any item, you may order 1 piece from each item.
– Various finish color, finishing techniques, accessories, materials, fabrics & leathers.
– 100% Quality Product
Following are the factors that contribute to our success:
Made from Premium Quality Teak Wood. Hand-carved and Beautiful designed
Premium embossed finishing, Handmade by skilled craftsmen which give royal look to your decoration.
Give Your Home A Luxurious Look With Teak Wood Furniture
Fits in your space fits on your budget. Made of high-quality solid wood and crafted in ethnic designs.
Color: Brown, Care Instruction: Use a table cloth or any thick quality cotton cloth to wipe it clean.
Handcrafted by skilled artisans with premium finishing.
No Assembly Required: The product is delivered in a pre-assembled state.
Any Instruction Contact to Seller For Modification.
Please note that the size and color of the unit may vary slightly as this is a handcrafted unit
DST Exports is one of the best and most reputed furniture manufacturing companies based in Patiala. We are furnishing trendy, contemporary and classy households with exclusively crafted teak wood furniture since last …decades. Our USP (unique selling proposition) is contemporary design furniture made of solid CP teak wood, modular kitchen & modern living sofa. We have huge experience and proficiency behind our name in designing the most stylish and elegant looking furniture for living rooms and bedrooms of our clients
---
"More you buy.... Lesser is the shipping"
Product Form