Project Description
Trending Wedding Reception Stage Backdrop Frames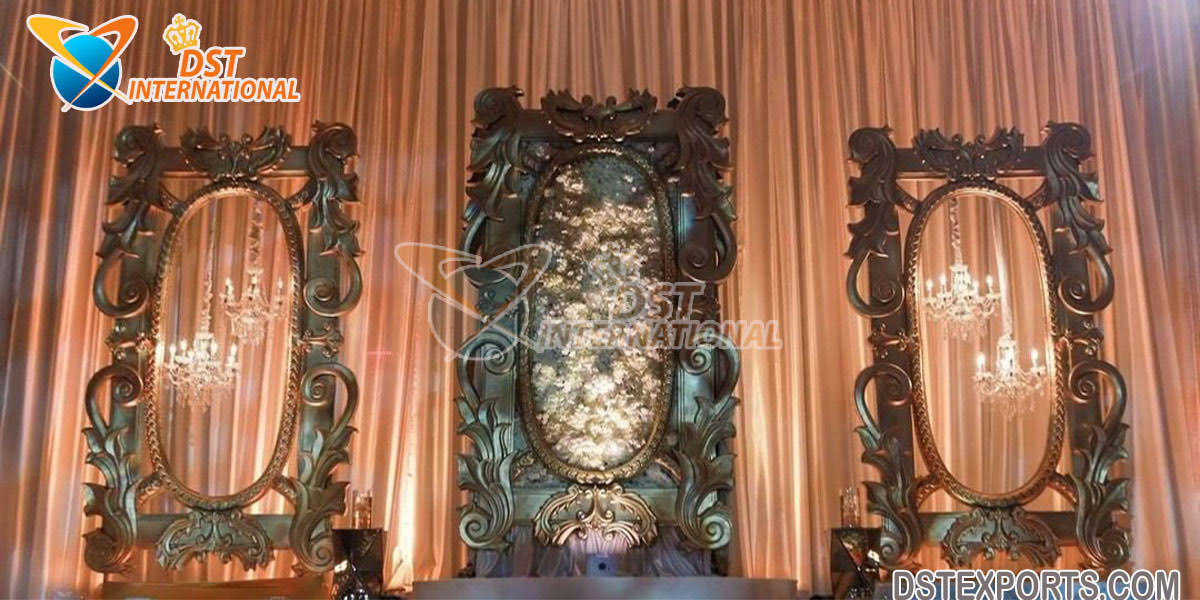 A wedding is one of the biggest affairs. It is the time for happiness and celebration and is one of the most important & memorable events in the couple's life and what's better than a "Big Fat Indian Wedding". One of the most essential parts of the wedding decor is the center stage. The wedding center stage is one of the most seen parts of the wedding photographs. Hence you must pay extra attention to this area. So if you want to make your wedding stage decoration stand out then look no further than DST exports. We make it easy for you by providing the best stage decoration Trending Wedding Reception Stage Backdrop Frames.
The elementary aspect providing your ceremonies the "wow" factor is the royalty Decor!! Being in the business for the last twenty years DST EXPORTS has a lead among others in the manufacturing and exporting complete wedding decorations for a variety of events. Innovation and nothing less than perfection is the key to the DST Exports.
Of course, we take the time to understand your ideas, themes, concepts, and color schemes, but we do more than that too. We take the time to really understand you and your day, from the photographic needs and visual effects to the more practical concerns.
We have a wide range of wedding decoration products for stage decoration. Instead of adding creative decorations to the entire venue, just a few stunning backgrounds frame and panels are enough to do the trick.
Now that we have discussed some inspirations for amazing Indian stage decoration for weddings, it is now time to understand some easy-to-follow hacks that will ensure that your venue looks spectacular both in reality and in pictures. We introduce our "Grand Frame Setup" for stage decoration well known as the Trending Wedding Reception Stage Backdrop Frames. These Frames and Panels are Designing and constructing for the perfect Indian weddings by DST international (A unit of DST Exports).
This is Gorgeous White Carved Wedding Stage Frames, specially designed for royal weddings. This Extreme Wedding Decor Frames and Panels are manufactured by DST-international ( A unit of DST Exports). We are known for our specialized fiber work. This is Our Latest Fiber Back-frames which is well known as Roman Wedding Stage Fiber Back-Frames. This is the latest MADE-IN-INDIA PRODUCT By us. We are Professional in manufacturing these types of FRP Products for wedding decoration. These are the Top Trending Wedding Stage Backdrop Panel designed and Made by us. This is a Full Back-frame setup which is designed for English Weddings, Due to its back-frame setup, this is well known in western and Asian Weddings. This Setup is completely Made of Fiber As well as it is Self-standing which spares the time during Wedding Stage Decoration. These Perfect Backstage fiber screens are manufactured, exported by us to our client in the USA.
This Beautiful Back-wall setup includes – Set of three rectangular panels of of 8 x 5 feet each. This is a standard size of panels but can be customized according to the dimensions given by the buyer. We can also provide bases with panels so these frames' height can be adjusted. This Setup is fully Made of Fiber As well as it is Self-standing which saves time during Wedding Stage Decoration. These Exquisite FRP Frames Panels for Wedding Decor are provided in all sizes, shapes, and many designs as per customer's requirement. To maintain a grand setup for the stage we add some walkway decor pillars. We have done all the waterproofing as well as sandpaper rubbing on each product to give them more perfect finishing and smooth texture on the joint as well as the Product. A Customer can use these stages for multipurpose occasions like a wedding, reception, anniversaries, decoration, and many more events.
We make all goods mostly foldable so it does not occupy much space, as we have skilled labor for all these types of works. We provide a proper certificate for each and every product known as a fumigation certificate which shows that our products are much better than the standard value of products in all countries. We take responsibility for our goods till the client's house and all goods are covered under insurance which is valid throughout the world. We do our best efforts to make our goods properly finished and look more elegant than everyone praises about products.
We have many designs of FRP Frames Panels for Wedding Decor– Wedding Stage Rectangular Panels, Round Frames, Paisley Panels, Window style Frames, Mehrab Backdrop frame or Arch type Panels, C style Panels, Half-moon FRP Panels, Gate Style Panels, Grand Temple, 3D Frames, Jhronka Frame, Door style Panels and many more.
These are all Indian Products which are Ready under the brand name DST EXPORTS INDIA
---
"More you buy.... Lesser is the shipping"
Product Form