Project Description
Project Description
First thing which impresses the guests at the marriage is the main entrance decoration. Be it the    day, sangeet or the walkway of any other function, decorations of your foyer say a lot about the marriage theme. The main purpose behind this decoration is to add the wow factor in the marriage and set the tone for the coming functions along with leaving the guests bedazzled. So, whether you're ready to spend every penny on the marriage or have budget constraints, then are a many beautiful main entrance set ideas that will fit every bill. To make the marriage entrance traditional we've some fresh foyer decoration ideas and props.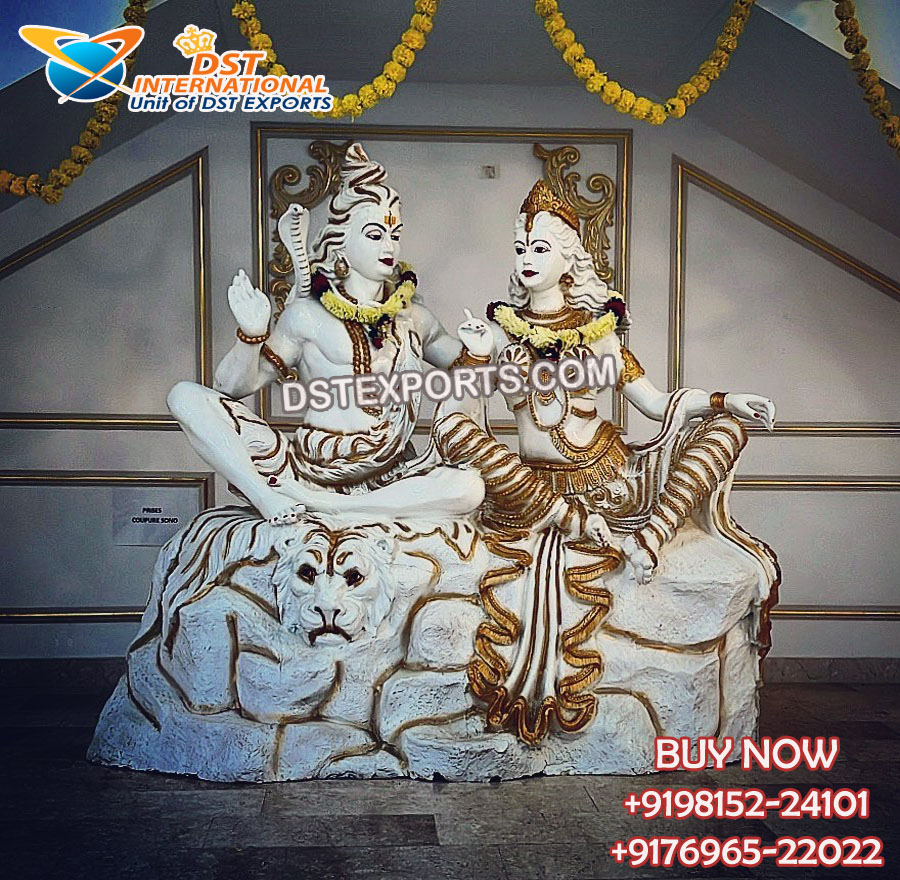 Traditional Wedding Shiv Parvati Statue For Entrance Decor:- This is the stylish and phenomenal way to give a warm hello to your guest and for decorating the Entrance gate. It is a traditional theme Decoration setup Manufactured by DST International a part of DST Exports. This is Traditional Wedding Shiv Parvati Statue For Entrance Decor . We've no. of kinds of Fiber statues for entrance decoration. This setup is especially made for Gujarati marriages.
There's a big Lord Shiv Parvati Statue is 6 feet high. These statues are made of unbreakable fiberglass, high quality of deco painted, light weighted and self– standing. These statues are also made on customized option. This statue is specially made for entrance the but it can also used on wedding stage to give a traditional texture to wedding decoration. These statues are made on customized option. These statues can be used in any type of event. These statues can be used in any type of event. We've numerous statues for all type of previsioning statues like – radha krishna statue, Ganesha statue, Shiv- parvati statues, FRP Maa Durga statues etc. These statues are handed in any color, any size and in any shape as per client's demand. We've variety of designs of Ganesha statues. A client can choose from our website and indeed a client can mileage their own design. We can make as per client demand. Visit our site –www.dstexports.com
For Betterment of product and to increase the quality of product, we use special fashion like –
1. We've done all the waterproofing
2. Beach paper rubbing on each part of product. These ways gives further perfect finishing and smooth texture on joint as well as Product
DST International manufactures and export all types of Entrance Wedding Ganesha Statue, Fiber Lord Ganesha Puppets, Fiber Buddha Statue, Indian Wedding Elephant Statue, marriage Fiber Peacock Statue, Fiber Lord Ganesha Beautiful Statue, Beautiful Fiber Flower Pot, Beautiful Fiber Ganesha Statue, Beautiful Fiber lady Center Table Statue, Fiber Lady Table Statue, Beautiful Radha- Krishna Fiber Statue, Punjabi Village Theme Fiber Statue, Punjabi Culture Fiber Statues, Welcome Statues, Ganesha Statue Decoration Stage. All fiber statues are durable fine quality heavy duty unbreakable light weight different sizes and homestretches.
---
"More you buy.... Lesser is the shipping"
Product Form