Project Description
With the marriage season abuzz its arrival, you are positively looking for each possible part to jazz up your wedding celebrations. However before you check out the main points of the most suitable tablescape or corner installations for your wedding, we'd wish to pull your attention to one very basic, however an indispensable wedding element—sangeet decoration.
It's a very little platitude to mention that the primary impression is that the last impression, however, if you would like to administer your guests' associate degree ever-lasting expertise and much of images to require back from your wedding, it is a should you concentrate on their arrival. And being your final guide for everything weddings, we're right here to form certain you are obtaining rafts of inspiration for your stage decoration and not exploit your guests all disappointed. Down here we've enlisted some uber-cool ways that you'll be able to fig up your sangeet or mehndi (or aisles) and build it the highlight of your wedding decoration.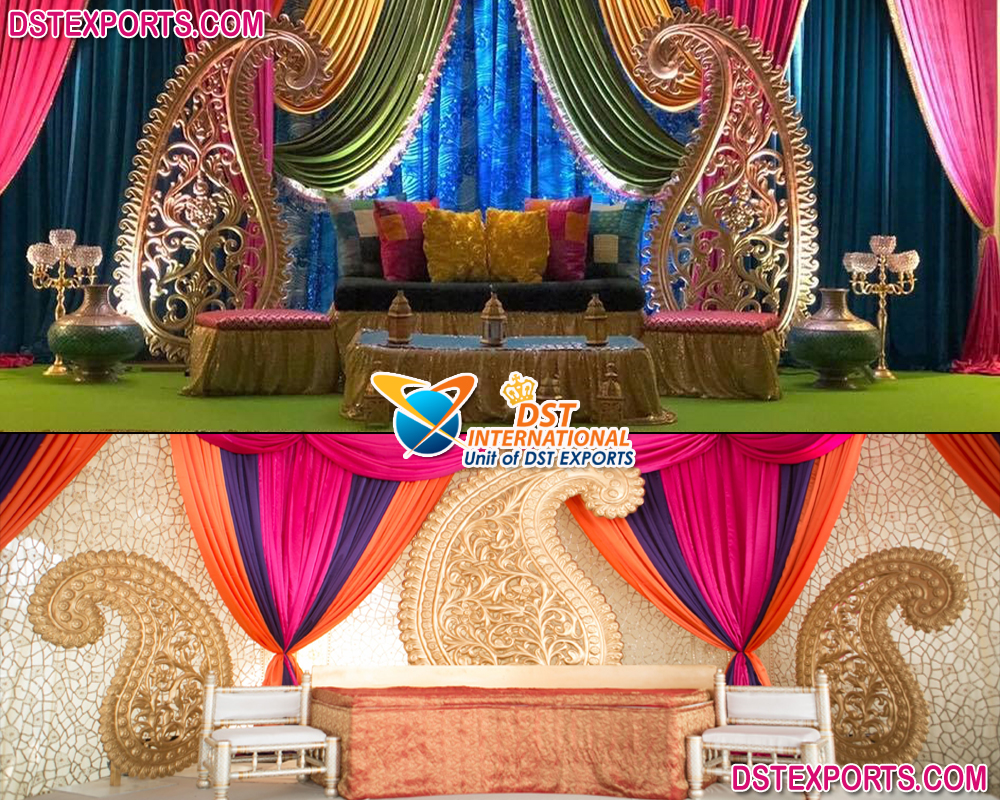 Traditional Wedding Sangeet Ceremony Paisley Props:-
This is a traditional theme Decoration setup Manufactured by DST International a part of DST Exports. 
DST EXPORTS
are manufacturer, exporter, supplier, and trader of all types of Wedding Props. This is Marriage Paisley Decor manufactured by us for all types of wedding decoration. We have no. varieties of Sangeet Stage Props for entrance decoration. This setup is specially made for Gujarati weddings.
These are new-style paisleys are made of fiberglass and highly deco-painted. We have been using high-quality raw materials in manufacturing to ensure high durability, strength, and quality. We provide the collection in various designs, colors, and sizes to suit the demands as well as the budget of the valuable clients.
We are manufacturer and exporter of Wedding Golden Ambi Decoration. These are made of unbreakable fiberglass. These are self-standing and very easy to stand on stages. These panels are available in all sizes and many many designs. These are very time saving while stage decorations. These are available in all shapes. These fiber Paisleys will make your wedding stage very beautiful. These Paisleys are very attractive.
Features:
Attractive designs
Long-lasting life
Free from abrasion
Withstand high wear and tear
No maintenance
Easy cleaning
For Betterment of product and to increase the quality of the product, we use a special technique like –
1. We have done all the waterproofing
2. Sandpaper rubbing on each part of the product. These techniques give more perfect finishing and smooth texture on joint as well as Product
DST International is the manufacturer and exporters of all kinds of Wedding Props. We are also a specialized manufacturer of wedding decoration Products like Mandaps, Stages, Furniture, Back Frames, Doli, and many decoration items. We are based in Patiala, Punjab, India. All Products are made in excellent and export worthy quality. For Price or further details, you'll be able to freely speak with us on our contact/Whatsapp no.- +919815224101, +918675333339 OR You can also make a video call with us on our contact no. for close Zoom-up and see the high-quality of an original product. A customer can also easily compare the quality of our products with local vendors. We are making Export worthy Products. You can also check out more products from our website www.dstexports.com.
Why Choose Us:-
* We are experienced and professional manufacturers. We have more than 15-year experience in this field. With our experience, we are establishing our export markets all over the world including countries like the USA, UK, Australia, Canada, South Africa, New Zealand, Nigeria, Ireland, Uganda, Fiji, Netherland, France, and many more.
* Our all services are reliable and for a lifetime.
* Our exquisite wedding products are prominent for perfect finishing and smooth texture.
* All products are made of high-quality materials.
* We always cooperate with our clients and provide exceptional services
Packaging And Shipping:-
All Products will be packed in the Triple layer. These Products are packed firstly in bubble paper, then packed in cardboard and wrapped in polythene paper. After this, all the products will be packed in a wooden box.
Shipment according to the volume of order LCL/ FCL.
We have all the rights of the stuffing containers from our factory.
Our More Products:-
---
"More you buy.... Lesser is the shipping"
Product Form