Project Description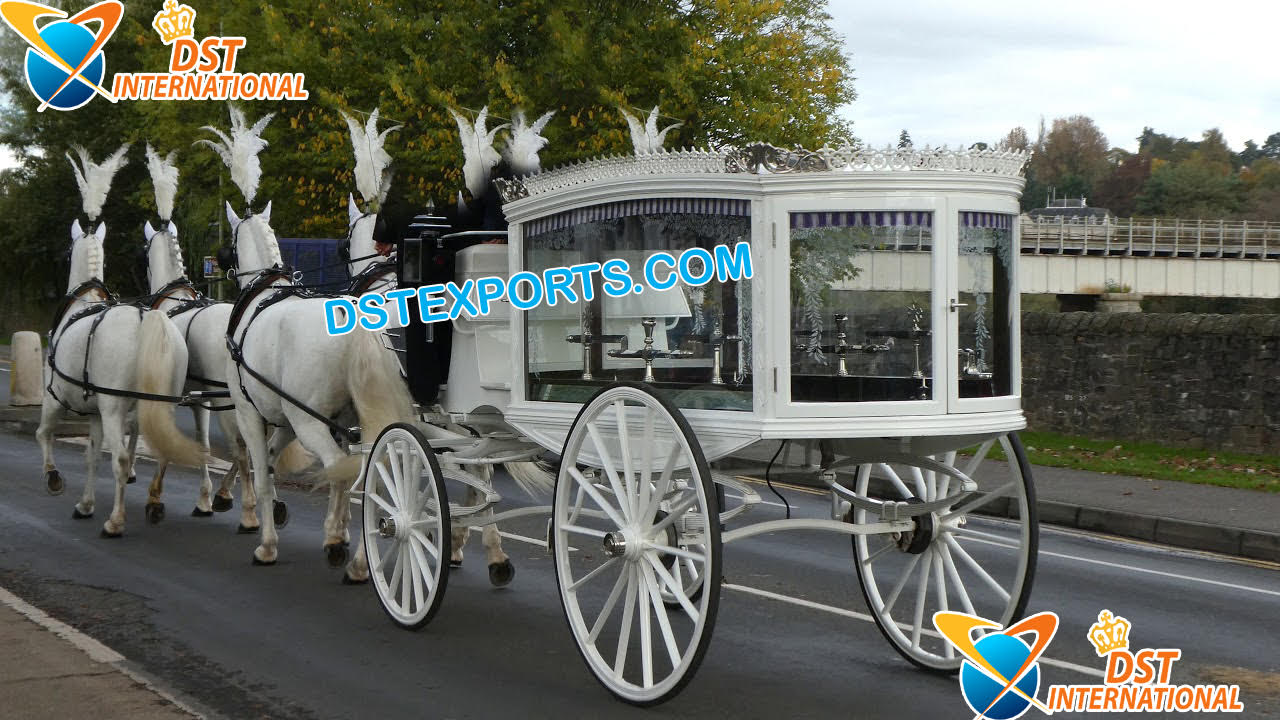 Traditional Horse Drawn Funeral Carriage:- Here we present our latest design Funeral Horse Buggy known as Traditional Horse Drawn Funeral Carriage. This funeral carriage is used to carry a coffin from a church or funeral home to a cemetery. These carriages are totally handmade and very strong for long life. The body of this carriage is made of treated wood. Excel Shafts are ms steel and fitted with bearings. Steering is very soft moving like power steering of cars and made of wood and steel. We have an excellent work-team for wooden work. This carriage has solid rubber tires that are wear-resistant, high temperature, and corrosion-resistant, anti-static, the tires have been available for more than 10 years. All the products are pure manual welding, carefully polished, and aesthetically pleasing. It has a royal look fully Glass-covered carriage. This carriage has a square box and two doors to the coffin can easily adjust under it. There are small wheels fitted under the funeral box. This carriage can be made on customized dimensions given by the buyer.
A customer can trust because (a) We have over 75 years of experience to produce and highly skilled handmade craftsmen guarantee the high quality of Horse Carriages. Our forefathers had started this business. (b) We are the Original Equipment Manufacturer (OEM) of all types of Carriages. (c) We will also provide you high-quality products at a reasonable price. (d) We have all the rights of the stuffing containers from our factory. (e) We carefully done triple-layer packing and then stuffed our product into a container with proper care and handling. (f) We provide a proper certificate for each and every product known as a fumigation certificate which shows that our products are much better than standard value products in all countries.
We take responsibility for our goods till the client's house and all goods are covered under insurance which is valid all over the world. We are manufacturing high-quality products and exporting them worldwide like the USA, UK, North America, New Zealand, Kenya, Germany, Europe, etc. We are not just manufacturing carriage for our business but we have a huge collection of wedding decoration items. Our main manufacturing products are Wedding Mandaps, Wedding Stages, Wedding Furniture, Wedding Dolis, Wedding Stage Backdrop Frames and Panels, Wedding Horse Drawn Carriages and many decoration items. You can also make a video call with us on our contact no. To close Zoom-up and see the high-quality of original products. For more information about this product, you can contact us on our Whatsapp number: +919815224101, +918675333339. You can also check out more products from our website www.dstexports.com.
---
"More you buy.... Lesser is the shipping"
Product Form