Project Description
Traditional Hindu Marriage Ceremony Stage Decoration
Indian weddings have an important function of the reception which happens post-wedding rituals. Reception is more like an event where the bride and the groom are officially introduced to the friends and family of both sides as a newly married couple. An important aspect of the reception function is stage décor. Some people prefer the flower decoration on the stage to be larger than life, whereas some people prefer the minimal yet classy and beautiful stage décor that lets the bride and groom be the highlight of the stage. But Flowers decoration is so normal and outdated so here we present Grand Asian Wedding Stage Setup with Frames and Fiber Screens.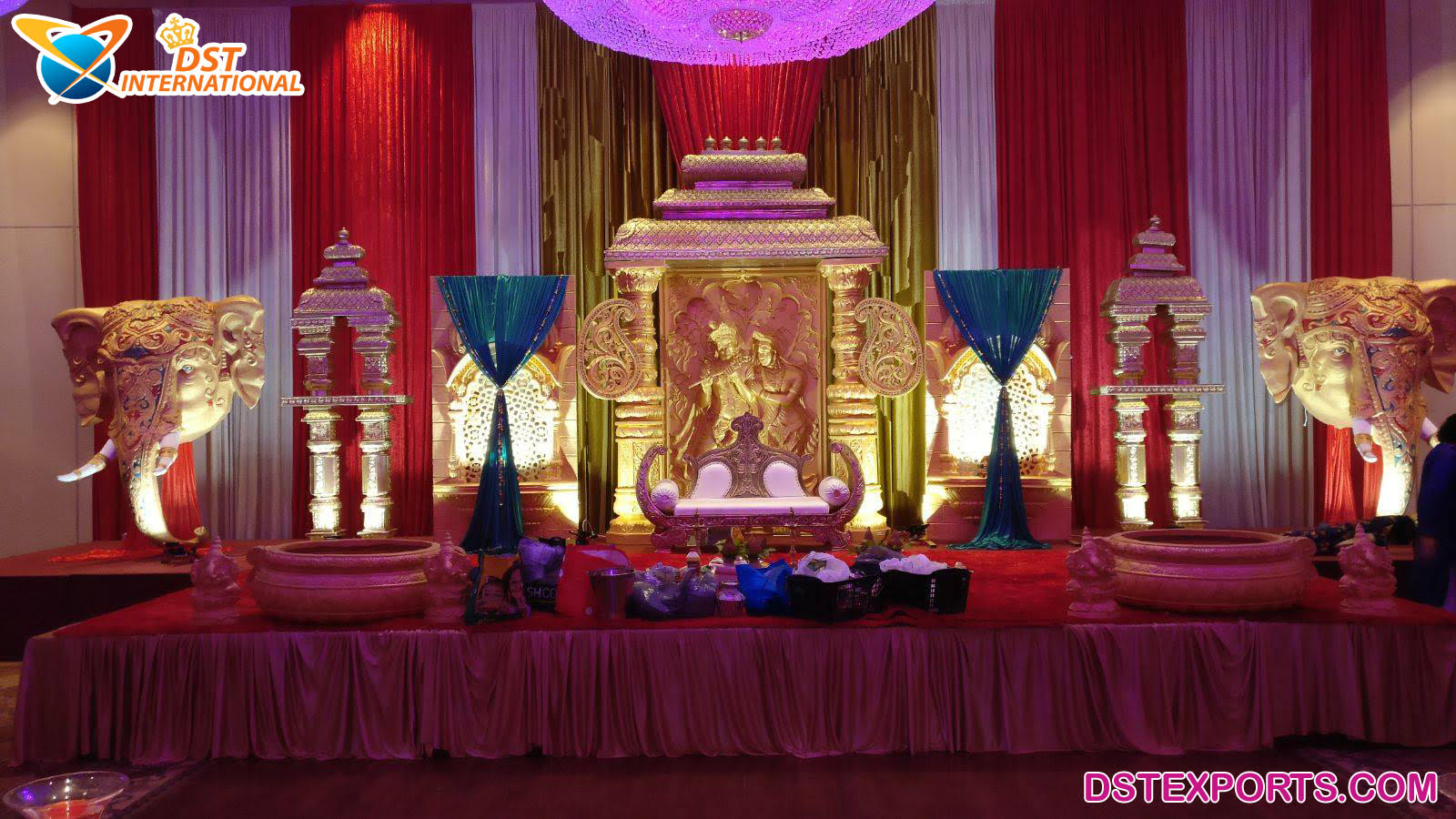 This asymmetric arrangement of Pillars and panels, this kind of stage decoration is surely a piece of creativity with the dimly lit atmosphere adding to the mood.
Traditional Hindu Marriage Ceremony Stage Decoration– DST-International is engaged in manufacturing these Grand Wedding Stage, Fiber Panels, and Frames, This is one of the finest designs of Latest Wedding Stage which is originally MADE-IN-INDIA by DST Exports. We have a wide range of such luxury wedding decorations for all types of wedding ceremonies. This is the Grand Majestic Setup is known as Traditional Hindu Marriage Ceremony Stage Decoration.
This is a Grand Wedding Stage which is specially made on demand by our customers in Canada. The Grand Stage setup includes – Two Fiber Pillars of 8 feet high each with manavarai style arc, One Radha Krishan Frame, Two Jhronka Style Panels, Two small hanging paisleys, Two double Pillars on the sides, Two Elephant faces, Two Urlis, Four small ganesha statues, Wedding sofa, Backdrop curtains. Our setup is 12 feet high. This is made of fully Fiber As well as It is Self-standing which saves time during Wedding Stage Decoration. We have a wide range of wedding sofa and a customer can choose any of these. We also add some extra efforts to make it more elegant by putting beautiful theme-matching Moroccan lamps on stage.
This Elegant Wedding Stage is totally fold-able, each and every part of the stage like pillars, top borders, the gate can be used separately. This is the big stage prepared in 10 feet high dimension but also can be made on demanded sizes by customers. The Grand stage is easy to install even anyone can set up this stage within 15-20 minutes with 2 or 4 man powers. We will provide a video that how to install the stage within a few minutes. We will provide Metal Pipes which makes it easier to install and assemble
We make all goods mostly foldable so it does not occupy much space, as we have skilled labor for all these types of works. We provide a proper certificate for each and every product known as a fumigation certificate which shows that our products are much better than the standard value of products in all countries. We take responsibility for our goods till the client's house and all goods are covered under insurance which is valid throughout the world. We do our best efforts to make our goods properly finished and look more elegant than everyone praises about products.
Features: • Unique design • Attractive look • Light in weight • Weatherproof design • Fine Finish
For more details, you can contact us our WhatsApp number: +919815224101, +9186753-33339. You can also make a Video call with us on our contact no. for close Zoom-up and see the high-quality of original products. A customer can also easily compare the quality of our products with local vendors. We are making Export worthy Products and supply it in affordable prices. You can also check our more products from our website www.dstexports.com.
This Fairytale Wedding Reception Theme Roman Stage is Suitable for all types of Weddings like –
Hindu weddings, Western Weddings, Muslim Weddings, Bollywood Weddings, Gujarati Weddings, Tamil Weddings, South Indian weddings, Asian Weddings, South Asian weddings, Jewish Weddings, English Weddings, Outdoor Weddings, Beach Weddings, Destination Weddings, Punjabi Weddings, Srilankan Weddings, Rajasthani Theme Weddings, Telugu Weddings, Malayalam Weddings, Chennai Weddings, Arabian Weddings, Afghani Weddings, Pakistani Weddings, and many more.
We are making these panels to use in Canadian weddings, Weddings in the USA, Weddings in UK, Calgary Weddings, Vancouver weddings, Weddings in London, Weddings in Paris, Los Angeles Weddings, California Weddings, Florida Wedding Décor, Wedding in Sydney, Weddings in Fiji, European Weddings..
---
"More you buy.... Lesser is the shipping"
Product Form