Project Description
The elementary aspect providing your ceremonies the "wow" factor is the royalty Decor!! Being in the business for the last twenty years DST EXPORTS has a lead among others in the manufacturing and exporting complete wedding decorations for a variety of events. Innovation and nothing less than perfection is the key to the DST Exports.
Of course, we take the time to understand your ideas, themes, concepts, and color schemes, but we do more than that too. We take the time to really understand you and your day, from the photographic needs and visual effects to the more practical concerns.
We have a wide range of wedding decoration products for stage decoration. Instead of adding creative decorations to the entire venue, just a few stunning backgrounds frame, and panels are enough to do the trick.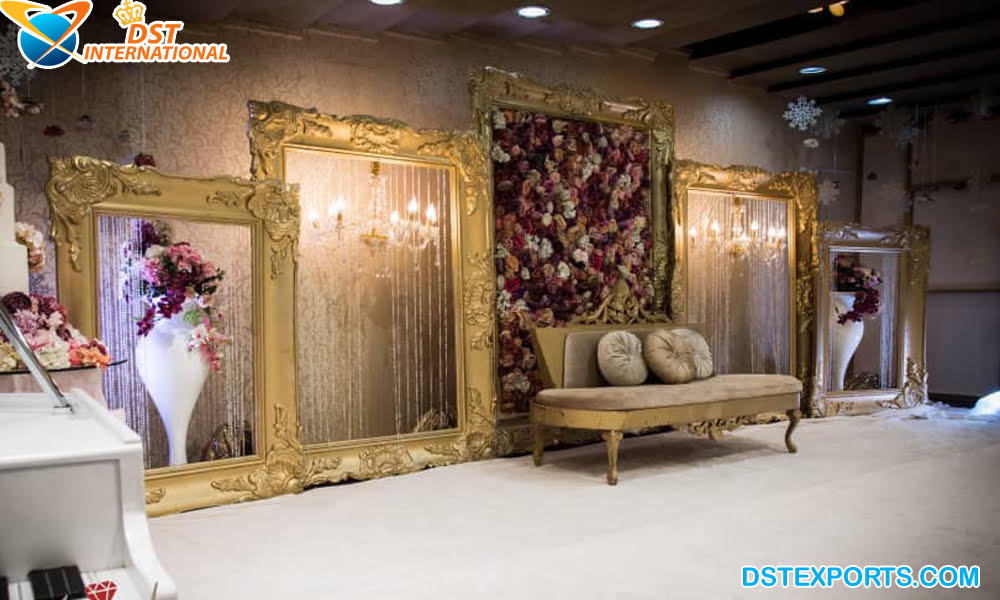 Stylish Wedding Stage Backdrop Photo Frames:- DST international (A unit of DST Exports) have become renowned specialists in Wedding Stage Back Frame. Our products are manufactured with the best quality raw materials. We strongly believe in customer satisfaction and we are offering this product at leading prices. This Picture Frame is well known for its Magnificent/Great Look which is the newest in the market. This setup can also be used for wedding photoshoot. These beautiful and hand made products are extensively used in decorating various venues such as for marriage, parties, and engagement ceremonies. We have a wide range of wedding stage back frames and today we are presenting our "Stylish Wedding Stage Backdrop Photo Frames" manufactured and designed in INDIA by us.
This Beautiful Back-wall setup includes – One middle panels 10 x 6, Two rectangular panels 8 x 6 each, Two rectangular side panels 6 x 6 each. This Panel can be customized according to the dimensions given by the buyer. We can also provide bases with panels so these frames' height can be adjusted. This Setup is fully Made of Fiber As well as it is Self-standing which saves time during Wedding Stage Decoration. These Wedding Parties & Event FRP Frames Panels for Wedding Decor are provided in all sizes, shapes, and many designs as per customer's requirement. To maintain a grand setup for the stage we add some walkway decor pillars. We have done all the waterproofing as well as sandpaper rubbing on each product to give them a more perfect finishing and smooth texture on the joint as well as the Product. A Customer can use these stages for multipurpose occasions like a wedding, reception, anniversaries, decoration, and many more events.
PRODUCT DETAILING
Material:-                       Fiberglass
Type:-                            Fiber Back-Frame Panels for Wedding Stage
Brand Name:-               DST international (Unit of DST EXPORTS)
Color:-                           Customized
Usage:-                          multi-purposes wedding, event, party, engagement, hotel decor, etc.
We make all goods mostly foldable so it does not occupy much space, as we have skilled labor for all these types of works. We provide a proper certificate for each and every product known as a fumigation certificate which shows that our products are much better than the standard value of products in all countries. We take responsibility for our goods till the client's house and all goods are covered under insurance which is valid throughout the world. We do our best efforts to make our goods properly finished and look more elegant than everyone praises about products.
We manufacturer and exporter all types of wedding stage backdrop decoration, Royal Wedding Stage Decoration, Event Wedding Stage Decoration, Pakistani Wedding Stage Decoration, Walima Stage Decor, Nikah Wedding Stage Decoration, Indian Wedding Stage Decoration, Bollywood Wedding Stage, Victorian Wedding Stage Decoration, Crystal Wedding Stage, Latest Wedding Stage, Reception Wedding Stage Decor, Grand Wedding Stage, Best Indian Wedding Stage, Elegant Wedding Stage, Gorgeous Wedding Stage Etc…
Our main manufacturing products are like Wedding Mandaps, Wedding Stages, Wedding Furniture, Wedding Dolis, Wedding Stage Backdrop Frames and Panels, Wedding Horse Drawn Carriages, and many decoration items. We are manufacturing high standard products and export them worldwide like the USA, UK, Australia, Canada, South Africa, New Zealand, Nigeria, Ireland, Uganda, Fiji, and Netherland, France. To see our most popular Wedding Stage  Backdrop Panel Collection you can visit the www.dstexports.com site.
These are all Indian Products which are Ready under the brand name DST EXPORTS INDIA
---
"More you buy.... Lesser is the shipping"
Product Form