Project Description
Stylish Design Wedding Stage Mirror Frame
While some people incorporate candle lighting for brightening the decor, I believe they are capable of creating a decor that would make your guests go gaga over it! Yes, these bubbles of light don't just add an exuberant glow to your beauty but also are the best possible way to shine those diamonds out loud. Giving the decor an ethereal beauty Putt Muslim Wedding Stage Golden Mirror Frame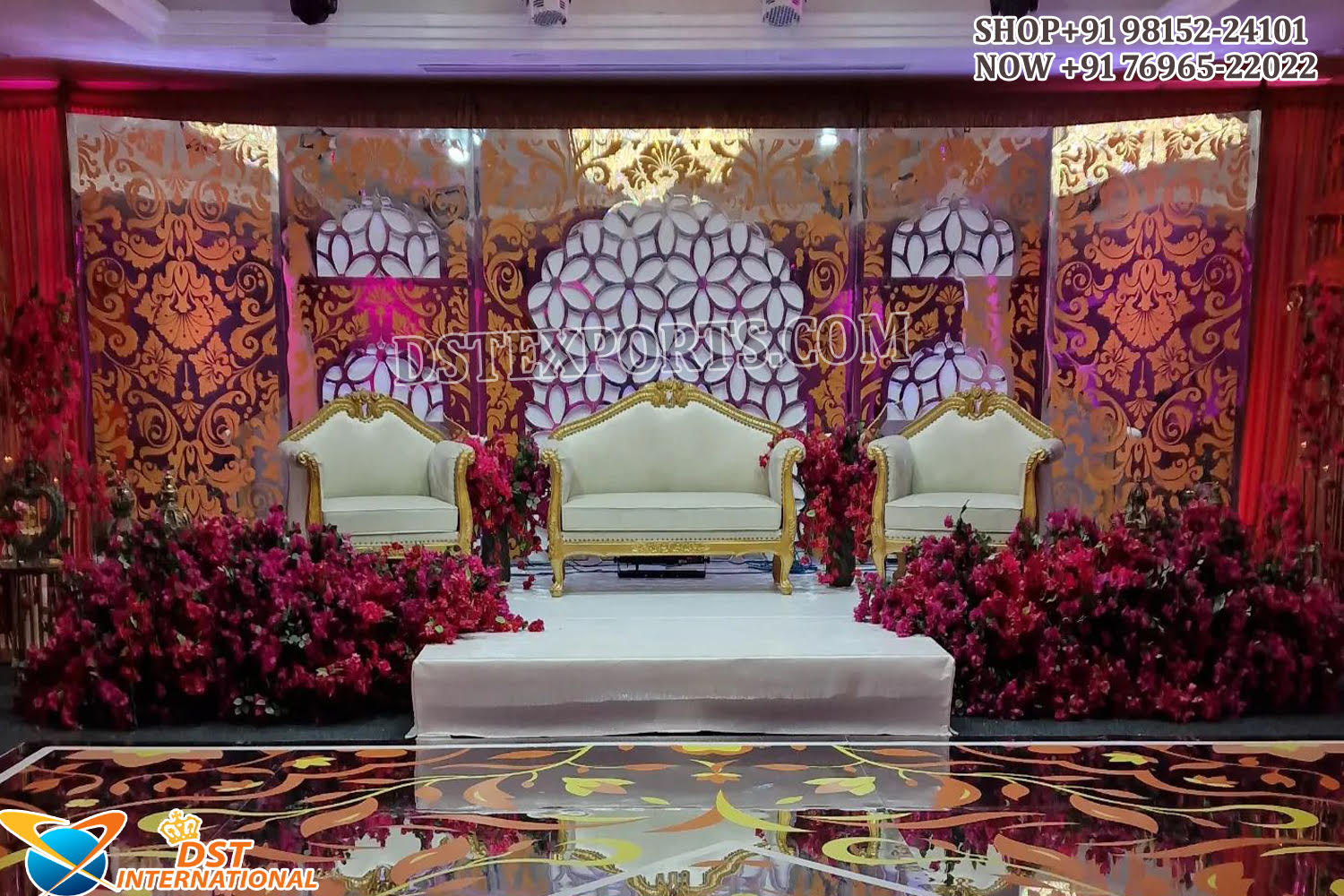 Stylish Design Wedding Stage Mirror Frame  – Here are Trendy Back-Walls Designed and manufactured by DST EXPORTS. It is our newly designed stage backdrop panel which is known as Stunning Indian Wedding Stage Mirror Backdrop. It is Full Backdrop Back-wall setup includes One middle bigger frame 8 x 8 ft + Two side Frames 8 x 4 ft + Two Frames on extreme side 8 x 4 ft each.
This Stage Backdrop wall is uniquely designed for Luxurious weddings which are made of Wooden and decorated with mirror & high-quality deco-painted, self-standing. This Backdrop wall is manufactured and exported by us to our client in USA. This is specially designed by us to emphasize the beauty of the stages of the marriage, Receptions. The shape and design of this stage mirror wall make it different and unique from others.
A classy white will elevate the wedding stage décor to new heights. It is the perfect décor choice for people who like things subtle and charming and nothing too loud. With flowers and drapes and a hint of pastel tones that emanates sophistication. We have a wide range of wedding decoration products for stage decoration. Instead of adding creative decorations to the entire venue, just a few stunning backgrounds frame and panels are enough to do the trick.
These Back-walls are beautifully designed in a jhronka manner as well as there is boxes in which candles can be fitted. This candle backdrop can be decorated with flowers . We are making it with perfect and excellent techniques the procedure includes cutting, grinding, polishing, laser engraving, sandblast, Hot-bend forming, Sticking, Cleaning, and Packing. We are using high-quality Material in manufacturing these backdrop stands and also painted with superior quality deco-paint. These are self-standing and very easy to stand on stages. Our products are highly admired for their quality and designs. Each of our products undergoes many quality checks to ensure that you are served with the very best. After all, quality checks the final paint is applied on mandap (Color as per customer choice)
We make all goods mostly foldable so it does not occupy much space, as we have skilled labor for all these types of works. We provide a proper certificate for each and every product known as a fumigation certificate which shows that our products are much better than the standard value of products in all countries. We take responsibility for our goods till the client's house and all goods are covered under insurance which is valid throughout the world. We do our best efforts to make our goods properly finished and look more elegant than everyone praises about products.
We have many designs of FRP Frames Panels for Wedding Decor– Wedding Stage Rectangular Panels, Round Frames, Paisley Panels, Window style Frames, Mehrab Backdrop frame or Arch type Panels, C style Panels, Half-moon FRP Panels, Gate Style Panels, Grand Temple, 3D Frames, Jharonka Frame, Door style Panels and many more
---
"More you buy.... Lesser is the shipping"
Product Form