Project Description
Stunning Stage Wedding Backdrops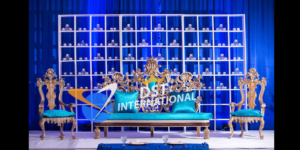 We are a professional manufacturer for event, party and wedding decorations items. We are original exporter of Stunning Stage Wedding Backdrops, Traditional Indian Wedding Mandap, Crystal Mandap Set, Traditional Indian Wedding Mandap, Wedding Mandap Set, Indian Wedding Stages, Wedding Stage Backdrop, Western look stages, Indian decor party stages, Golden carved stages, Fiber Decor Panel stages, Fiber Backdrop for Weddings, Fiber Jali Panel, Mandap Embroidered Backdrop, Wedding Embroidered Backdrop Manufacturer, Embroidered Temple Backdrop, Indian Wedding Decoration Panel, Wedding Leather Panels, Leather Tufted Crystal Fitted Backdrop Panels, Leather Tufted Furniture, Tufted Two Seaters, Tufted Chairs etc.
Product Details:- Stunning Stage Wedding Backdrops very easy to assemble and install while decoration the stage. These days wedding stages decoration are done with enhanced western touch. We provide a complete wedding stage solution for wedding event. Backdrops are the main term used for wedding stages. This backdrop consists of metal stand which contains glasses for candles. Wedding Ceremony Backdrops are beautifully crafted to the highest standard to match the elegance of the wedding day.
Features:-
Weather proof design
Easy to assemble
Fascinating look
Excellent quality
Affordable Prices Stable
Usage:-  Stunning Stage Wedding Backdrops are used for wedding and party decoration.
Specialty:- This backdrops are excellent in quality, customized in color, waterproof design, candle fitted metal stand and best export facilities to customers.
Packing and Shipping:-
Packing export quality
Shipment according to the volume of order FCL/LCL
Other Information:-
We are specially promote the Indian Traditional Culture by exporting Indian wedding items which includes  Wedding stages, wedding Mandap, Wedding buggies, wedding dollies and many more wedding cultural items. We are dealing and Exporting all wedding items from India to all over world like some major countries USA, Canada, UK, Fiji, France, Germany, Netherlands, South Africa, West indies, Nigeria and many more other countries.
If you would like to view more wedding stages decoration backdrops then visit our online website- http://dst-international.com
Buyer will be more comfortable with their purchasing with us.
---
"More you buy.... Lesser is the shipping"
Product Form