Project Description
Silver Carved Antique Bedroom Furniture Set
Give your bedroom an instant upgrade with this distinct design. This beautiful design is easy to pair with various bedside tables and dressers for a matched set.
DST Exports brings to you a strong quality of Handmade Luxury Bedroom Furniture Set that is designed using prime high-quality Teak Wood. It's no wonder this Carved Wooden Furniture has remained one of our customer favorites over the years. You can also customize the size as well as the finish the Handmade Wooden Bedroom Furniture to blend it as per your home decor.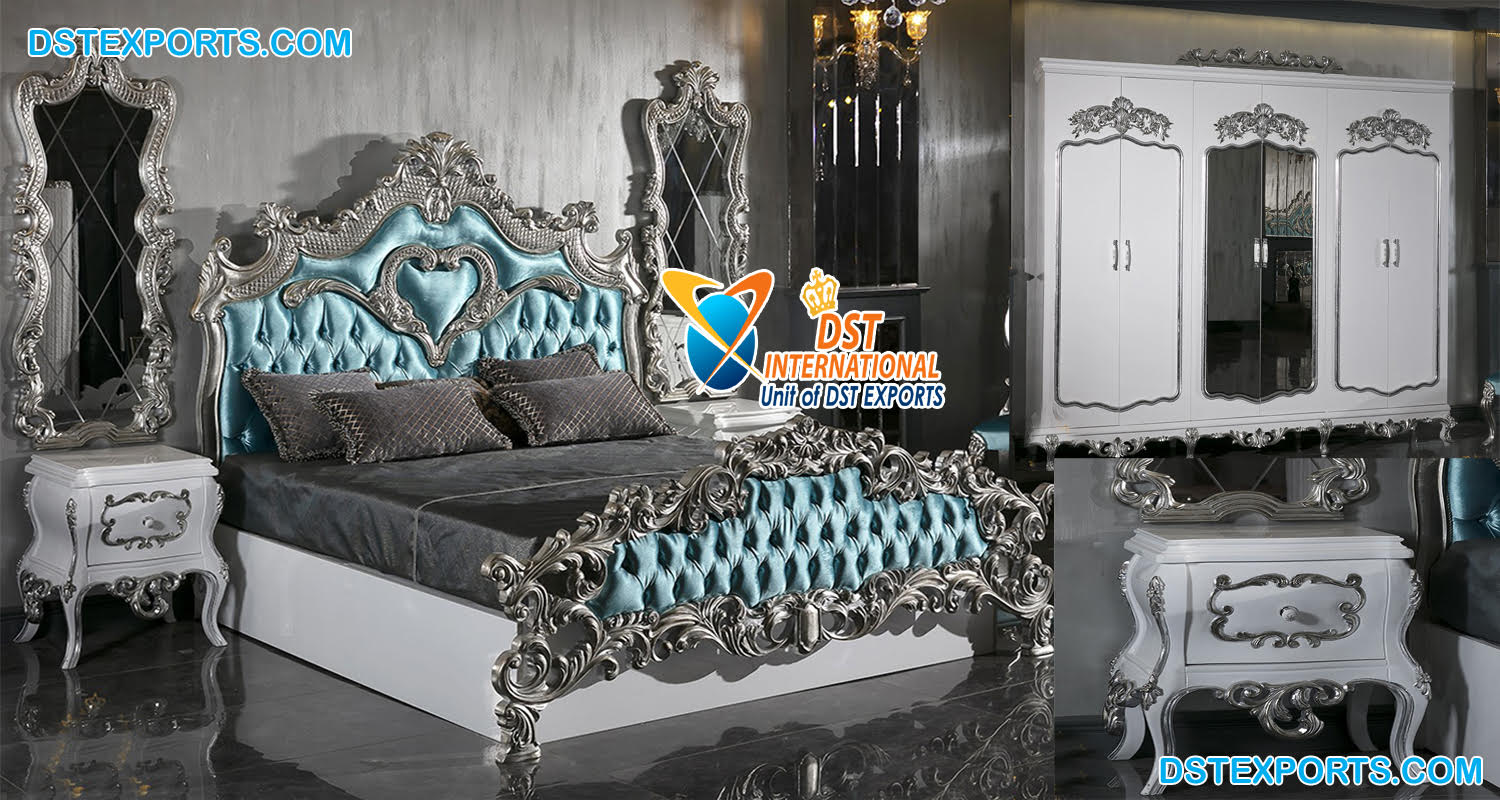 Transform your bedroom into a glamorous boudoir with a Silver Carved Antique Bedroom Furniture Set from DST Exports. Our luxury bedroom Collection draws on influences from Old World, renowned for sophistication, glamour, and spectacular luxury. The Luxury Ornate Old World Golden Curved Leaf Bed offering a sophisticated timeless focus, with unrivaled charm and grace. Simply stunning. Superb dreamlike in style, instantly transforming bedroom interiors. A contemporary structure with the illusion of movement, a true statement in the fluidity of its design. Part of a truly fabulous bedroom collection offers you to sleep like royalty and enjoy your leisure each night. The soothing color scheme created by the antique white fabric and silver-tone white finish grants it an aesthetically-appealing design. A dresser, mirror, and nightstands also mimic similar styling to work as a comprehensive ensemble.
Features:
Luxury Design
Tufted Detailing on Headboard
Silver Finish Wood Frame
White Leather Upholstery
Elegance on a Grand Scale
Ornately Carved
Regal Look
Heavily carved Wood and Resin carvings
Sophisticated Look
100% Kiln-dried, wood frame
Elaborate Details
Unique and Beautiful Style
Dimensions: 
It consists of a wardrobe, bed, dresser and mirror, 2 nightstands, and mirrors.
Bed Size 180×200 cm
Our expert artisans are master in creating almost every style of furniture, unwavering focus on quality, impeccable carving, wonderful symmetry in complex carving, excellent carpentry, the perfect color-finish, and world-class designs are some characteristics of our furniture. Each piece on our platform is designed by the renowned artisan and crafted by world-class craftsmen.
DST Exports brings to you a handpicked selection of teak wood carving royal sofa set, wood hand-carved luxury bedroom set, Rajasthan style maharaja jhoola/jhula, solid wood Hindu temple/mandir, Italian PU finish designer dining table set, maharaja sofa set, big royal doors, Almira, carved wardrobe, limited-edition artifacts, sculptures, traditional art piece, accent furniture, tableware, and more
---
"More you buy.... Lesser is the shipping"
Product Form