Project Description
Royal White Gold King Bedroom Furniture Set
This Classic Queen Size Bed and Bedroom Furniture is the perfect blend of comfort and style, and the storage drawers are the definite plus. Bring a fresh new style and the sweetest of dreams to your bedroom with Royal White Gold King Bedroom Furniture Set by DST EXPORTS. The Royal White Gold King Bedroom Furniture Set combines a traditional style with today's most popular rustic design elements for a grand and beautiful bedroom. The clean lines and simple transitional style will complement just about any taste – from traditional to modern room designs.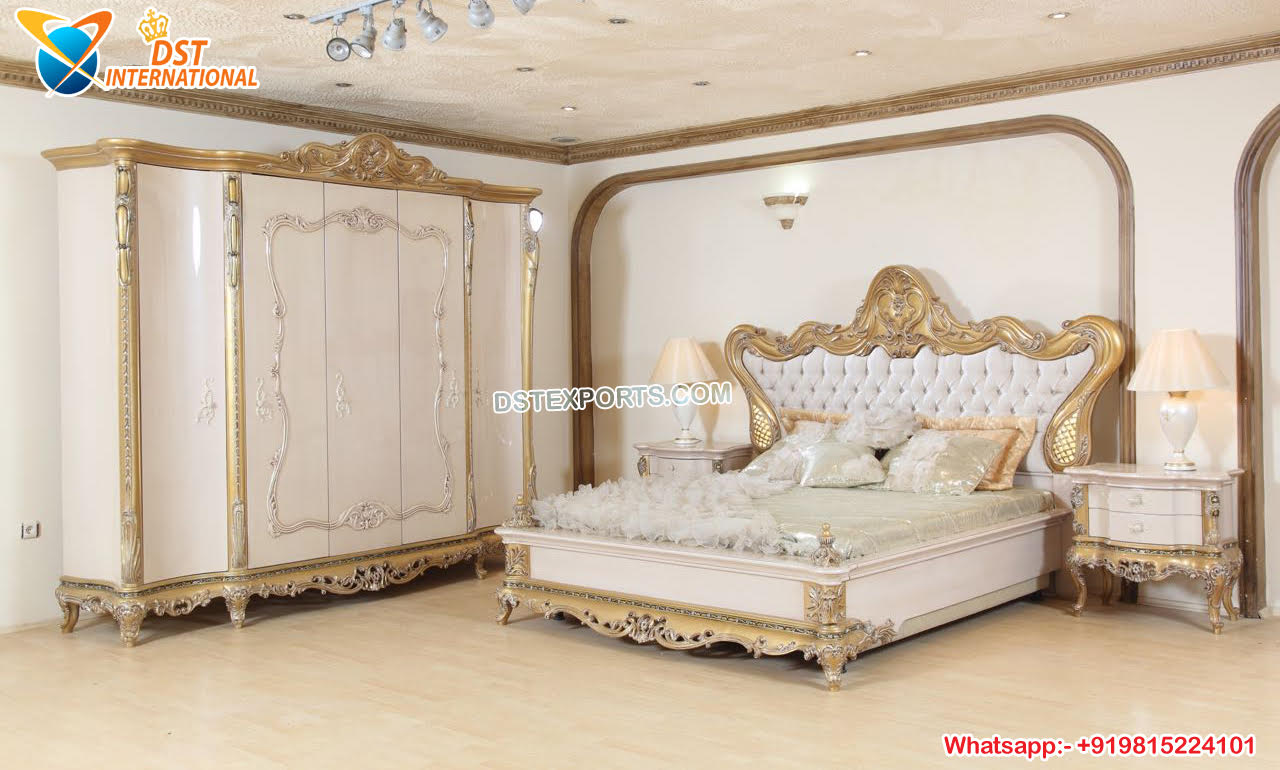 DST Exports will give you a bedroom that you will never forget. We are offering our latest bedroom set named Elegant Victorian Style Queen Bedroom Furniture Set which includes following items.
Bed: 1 Pieces
Nightstands : 2 pieces
Wardrobe: 1 Pieces
Dresser: 1 Pieces
Dressing Mirror: 1 Pieces
Our luxury bedroom Collection draws on influences from old World Design, renowned for sophistication, glamour and spectacular luxury. Part of a truly fabulous bedroom collection. The Nightstand boasts a Metallic Antique Gold finish and Floral accents combines with shaped fronts and tops to create a truly grand presentation. Superb dreamlike in style, instantly transforming bedroom interiors. Excellent craftsmanship with strong and sturdy construction. Provide style and storage to your sleeping area decor with this three Drawers Nightstand. This contemporary collection reflects highly decorative details. This collection will be the showpiece of your home environment. Drawers provide spacious storage for your personal stuff and other essentials, making this nightstand grand yet functional Home companion.
If you are looking for a set of furniture pieces that changes the entire outlook of your room and enhances the beauty of it, then this uniquely styled bedroom set is the perfect choice for you.
The bed is available in two sizes; a queen-size bed or a king-size bed. You also have the option to add a nightstand and a dresser along with a beautiful bed. The great appeal of this set is the bed with its oversized headboard. This oversized headboard with crown style designing. The full leather button tufted headboard gives the bed a very luxurious look. It is further elegantly framed in a rich wenge border. When you will place your mattress (which is not included with the bed), it will sit snuggly atop a solid pine slat mattress base to add the utmost comfort for you. The entire bed and other components are created with solid quality hardwood to ensure durability remains intact. The full leather upholstery is available in white, black or chocolate brown colors. These colors reflect extreme elegance and shall complement several color schemes of your room.
We have been manufacturing, supplying, and trading Home Furniture Products. We are the provider of whole ranges of Home Furnitures which also includes tables, chairs, beds, desks, backpacks, dressers, room divider partition, and cupboards. These objects are usually kept in a house or other building to make it suitable or comfortable for living or working in. We manufacture wooden, products of very high and finer quality which makes them reliable and durable. Our main focus in the firm is to bring our customers a product which has superior quality and also available in a variety of designs which a customer can choose from. Our products are spacious and termite-free. The materials used for the manufacturing of these products are borrowed from a certified vendor and all the material is quality checked. After these products are manufactured, before being supplied, are nicely packaged.
MORE DETAILS ABOUT PRODUCT:-
Teak wood furniture lasts a lifetime and ages beautifully. This is the beauty of this wood and there is no wonder, that teak wood furniture is usually down the generations.
The beauty of teak wood furniture is in its natural grains and texture. We typically recommend just varnish coated furniture. Our favorite finish is the teak wood finish rather than cover it up with other wooden colors. So, just repeat the varnish every 5 years and your furniture is good for a lifetime.
We are using high-quality wood for manufacturing this Furniture. We treat wood four times for perfect finishing. We have a special work-team for wooden work. Our Work-team is professional in manufacturing Furniture. After making structure sofa sets are fitted with leather seats and seats are decorated with original crystals.
Following are the factors that contribute to our success:-
Made from Premium Quality Teak Wood. Hand-carved and Beautiful designed
Premium embossed finishing, Handmade by skilled craftsmen which give royal look to your decoration.
Give Your Home A Luxurious Look With Teak Wood Furniture
Fits in your space fit on your budget. Made of high-quality solid wood and crafted in ethnic designs.
Color: Brown, Care Instruction: Use a table cloth or any thick quality cotton cloth to wipe it clean.
Handcrafted by skilled artisans with premium finishing.
No Assembly Required: The product is delivered in a pre-assembled state.
Any Instruction Contact to Seller For Modification.
Please note that the size and color of the unit may vary slightly as this is a handcrafted unit.
DST-International (A unit of DST Exports) are the manufacturer and exporters of all kinds of furniture. We are supplying our furniture worldwide, for the past 20 years. We are also a specialized manufacturer of wedding decoration Products like Mandaps, Stages, Furniture, Back Frames, Doli, and many decoration items. We are based in Patiala, Punjab, India. All Products are made in excellent and export worthy quality. If you want to do any changes in this product you can contact us our Whatsapp number: +919815224101, +9186753-33339. You can also make a video call with us on our contact no. for close Zoom-up and see the high-quality of original products. A customer can also easily compare the quality of our products with local vendors. We are making Export worthy Products. You can also check out more products from our website https://www.dstexports.com/
---
"More you buy.... Lesser is the shipping"
Product Form