Project Description
Royal Weddings Crystal Mandap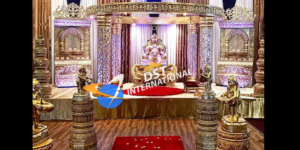 Company Information:-
DST International manufactures and export all types of Royal Weddings Crystal Mandap, Traditional Fiber Round Mandap,  Modern Double Pillar Mandap, Traditional Tripal Pillar Wooden Mandap , Traditional Look Mandap, Butterfly Mandap, Fiber Mandap, Ganesha Mandap, Royal Gold Mandap, Elegant Trunk Mandap, Tusk Mandap, Stylish Fiber Mandap, Gold Carved Mandap, Fiber Lotus Pillars Mandap, Aladin Mandap, Indian Wedding Mandap, Fiber Carry Mandap, Stylish Golden Mandap, Modern Peacock Mandap, South Indian Fiber Mandap, Radha Krishna Mandap, Wedding Mandap, Bollywood Mandap, Dulhan Mandap, Fiber Lighting Mandap, Kite Pillars Mandap, Diamond Cut Mandap, Elephant Pillars Mandap, Indian Wedding Mandap New Design, Indian Crystal Fiber Mandap, Crystal Mandap, Brass Metal Crystal Mandaps etc.
Products information;-
We have achieved expertise in offering services of different types of mandaps. We have been providing Wedding Crystal Mandaps, Designer Mandap, Indian Mandap, Asian Mandap, Wedding Stages, etc. We design the mandaps with high quality elements that appeal to everyone. From lights to shining clothes, to unique types of crystals, to beads, we use every possible material to ensure the best design for your marriage.
Royal Weddings Crystal Mandap is light weighted and very easy to assemble and install. we can also manufacturer as per color and shape like round, Square oval, Hexagon and rectangle.
This mandap set includes-
Four fiber crystal pillars
Four arcs
Two Fiber panels with top crown
One middle Ganesha statue
Two pot pillars
Walkway small pillars and statues
Wedding sofa
Backdrop curtains
Havan kund
Carpet
 Features-
Elegant designs
Self Standing
 Available for various occasions
Easy to assemble
Artistic Style
Fine Finish
Usage:-  Royal Weddings Crystal Mandap is used for wedding and party decoration.
Specialty:- This mandap is excellent in quality, customized in color, waterproof design and best export facilities to customers.
Packing and Shipping:-
Packing export quality
Shipment according to the volume of order FCL/LCL
Other Information:-
We are specially promote the Indian Traditional Culture by exporting Indian wedding items which includes  Wedding stages, wedding Mandap, Wedding buggies, wedding dollies and many more wedding cultural items. We are dealing and Exporting all wedding items from India to all over world like some major countries USA, Canada, UK, Fiji, France, Germany, Netherlands, South Africa, West indies, Nigeria and many more other countries.
Thanks for visiting on our website- dst-international.com
---
"More you buy.... Lesser is the shipping"
Product Form