Project Description
Roman Baroque Style Bedroom Furniture Decor
Bedrooms are perhaps the most intimate space within a household that reflects your taste, aesthetics, and personality. At Modenese Interiors, we offer a wide range of luxury Italian bedroom furniture designed to save space and add charm to your setting. Whether it be the bed itself or a storage solution such as a chest of drawers or a dressing table, we aim to produce distinctive furniture pieces with a classic Italian touch. Prior to undertaking your order, our design team will reach out to you to understand your requirements and then proceed to replicate it with the same style and elegance.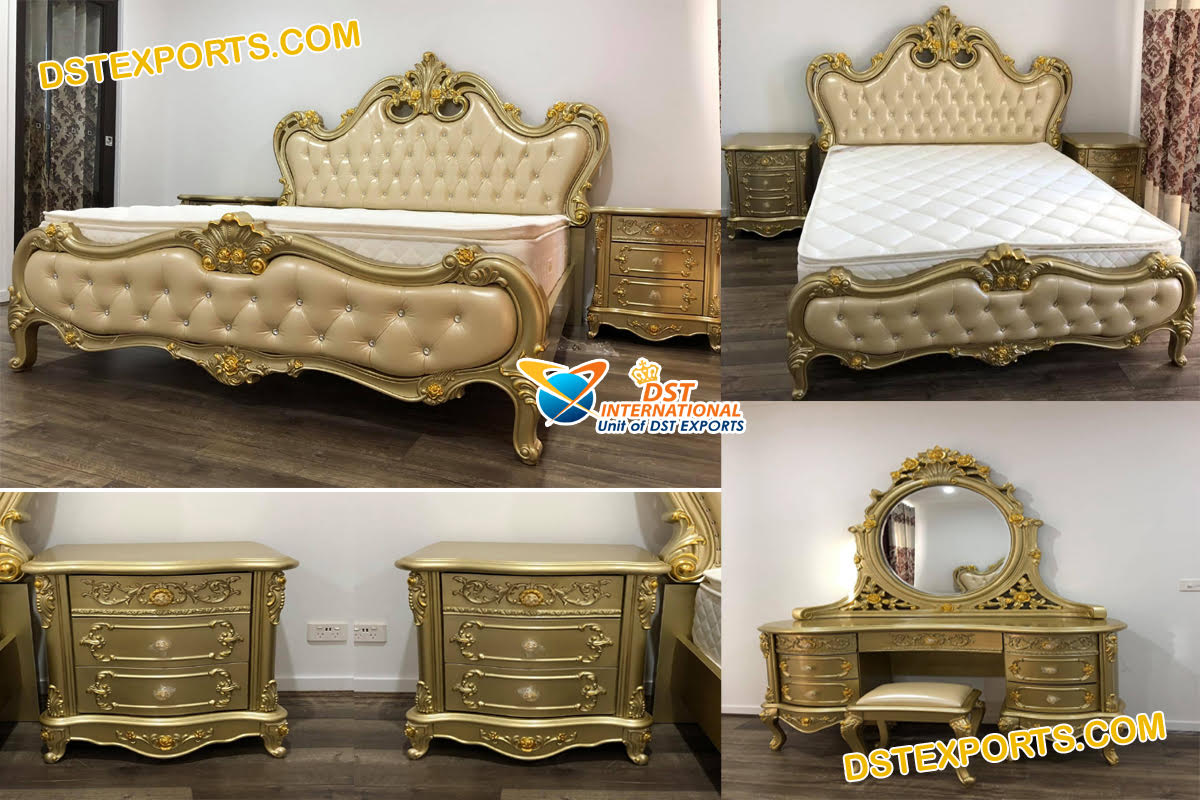 Here we present "Roman Baroque Style Bedroom Furniture Decor" which includes Baroque bed with golden carvings and capitonné headboard, roman baroque style of the seventeenth century night tables, curved bench, and baroque style floor, and table lamps. All for the baroque bedroom collections art.
Features:
Materials: Solid Wood and Composite
Handcrafted Wooden Frame Beige
Bonded Leather Upholstery on Headboard
Button Tufted Detailing on Upholstery
Dimensions: 90″L x 103″W x 76″H
We primarily use either hardwood or solid wood to make our furniture and related accessories. Italian furniture stands unique not only due to the quality of its make but also due to its design. Each of our handmade pieces are topped off with either gold or silver leaf applications. Swarovski buttons are also used to decorate the upholstery which is made from soft, opulent fabrics. Whether you are looking for bold, contemporary colors and stylings or something that is a bit modern and has a softer feel, we have it here at Modenese. Go through our collection online or drop us an email at [email protected] and let our team get back to you.
Our expert artisans are master in creating almost every style of furniture, unwavering focus on quality, impeccable carving, wonderful symmetry in complex carving, excellent carpentry, the perfect color-finish, and world-class designs are some characteristics of our furniture. Each piece on our platform is designed by the renowned artisan and crafted by world-class craftsmen.
DST Exports brings to you a handpicked selection of teak wood carving royal sofa set, wood hand-carved luxury bedroom set, Rajasthan style maharaja jhoola/jhula, solid wood Hindu temple/mandir, Italian PU finish designer dining table set, maharaja sofa set, big royal doors, Almira, carved wardrobe, limited-edition artifacts, sculptures, traditional art piece, accent furniture, tableware, and more
DST Exports offers Royal Premium Quality Traditional Wooden Bed. The Spectacular King Size Bed is designed with utmost respect. Hand-carved this set is delightfully elaborated; it is presumably a work of ART! With its rich Pickle Frost finish and Silvery Brushed tones on the Crafted details, along with its Bonded Leather Backrest and Footrest. Sleep like a royal in the relaxing comfort of the European Carved and Tufted Bedroom set from DST exports Design.
Designed to recreate the brilliance of antique design forms, this bedroom set draws inspiration from European design forms in creating the elaborately-carved frame of all the furniture items. The high headboard and the footboard of the bed are designed using tufted panels along with elaborate carvings that grace the crown. The claw feet supporting the base of all furniture items are carved to complement the ornate theme of this ensemble.
---
"More you buy.... Lesser is the shipping"
Product Form