Project Description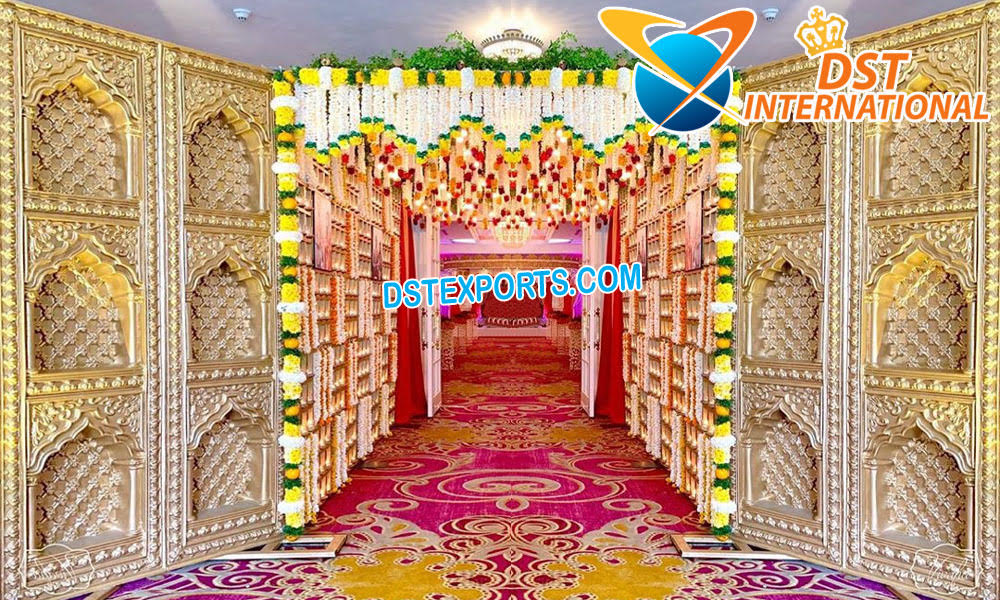 Rajwada Wedding Entrance Jharokha Frame 
This is a traditional theme Decoration setup Manufactured by DST-International (A unit DST Exports). This is Rajwada Wedding Entrance Jharokha Frame. We have no. of varieties of Fiber props. These Fiber Props are used for Welcome Gate Decoration. There are two Fiber Frames used for wedding entrance. These Frames are well known as Jhronka Frames due to its carving. These frames standard height is 8 feet and 4 feet wide but it can be made on customized options. These are beautiful Gold Finish Frames which gives more grace at Wedding Entrance.
These Frames are made of unbreakable fiberglass, high quality of deco painted, light-weighted, and self-standing. This frame setup is specially made for the entrance theme but it can also be used on the wedding stage to give a traditional texture to wedding decoration. These Panels are made on customized options. These Panels can be used in any type of event. These panels can be used on the wedding stage to give a traditional texture to wedding decoration. These are made on customized options. These panels can be used in any type of event. These panels can be used in any event for decoration. These frames are provided in any color, any size, and in any shape as per customer's requirement. We have a variety of designs of Panels that can be used on the entry gate.
This Welcome gate is very beautiful and attractive which will make your Wedding or Event Memorable And moreover a Customer can also attach walkway pillars with this Wedding Entrance Gate According to their choice. This Elegant Wedding Entrance Decoration gives a fabulous look at any event. This entrance theme can be used in any event such as at the wedding, Stage, mehndi stage, Party and at any other event and always give a royal look.
For Betterment of product and to increase the quality of the product, we use a special technique like –
1. We have done all the waterproofing
2. Sandpaper rubbing on each part of the product. These techniques give more perfect finishing and smooth texture on joint as well as Product
A customer can choose from our website and even a customer can avail of their own design. We can make as per customer requirements. Visit our site – www.dstexports.com and You can choose any design from here and get more interesting products which you like to purchase. For any type of query or if you want to make any changes in this stage setup you can freely talk with us on our contact/WhatsApp no.- +919815224101, +917696522022
We are manufacturer and exporter of all type wedding decorations accessories includes Fiber Panels, Statues, fiber lamps, surahi, balcony decor, elephant face panels, door panel, candle walls, Cinderella cart, palm tree, wedding swing, Etc. We are manufacturing these backdrops frames in many shapes and many designs
We are reckoned to be a known name in the industry as the distinguished manufacturers, suppliers, and exporters of Fiber Panels in the world for many years. All our products are widely acclaimed to be the best in the industry as they are made up of fine quality raw materials and cutting edge technology. Moreover, these products are also passed through various quality checks and they are extensively used in marriages for decoration purposes. Further, we are offering all our leading products at cost-effective prices.
DST EXPORTS is the best company for the manufacturing of Wedding Welcome Gate. We are also manufacturer and exporter of Wedding Mandaps, Indian Wedding Mandaps, South Indian Wedding Mandaps, Wedding Stages, Asian Wedding Stages, Muslim Wedding Stages, Horse Drawn Carriages, Wedding Horse Drawn Carriages, Punjabi Culture Fiber Statues, Wedding Welcome Fiber Statues, etc.
---
"More you buy.... Lesser is the shipping"
Product Form