Project Description
Punjabi Style Mehndi Stage Photo Booth Setup
With the marriage season abuzz its arrival, you are positively looking for each possible part to jazz up your wedding celebrations. However before you check out the main points of the most suitable tablescape or corner installations for your wedding, we'd wish to pull your attention to one very basic, however an indispensable wedding element—sangeet decoration.
It's a very little platitude to mention that the primary impression is that the last impression, however, if you would like to administer your guests' associate degree ever-lasting expertise and much of images to require back from your wedding, it is a should you concentrate on their arrival. And being your final guide for everything weddings, we're right here to form certain you are obtaining rafts of inspiration for your stage decoration and not exploit your guests all disappointed. Down here we've enlisted some uber-cool ways that you'll be able to fig up your sangeet or mehndi (or aisles) and build it the highlight of your wedding decoration.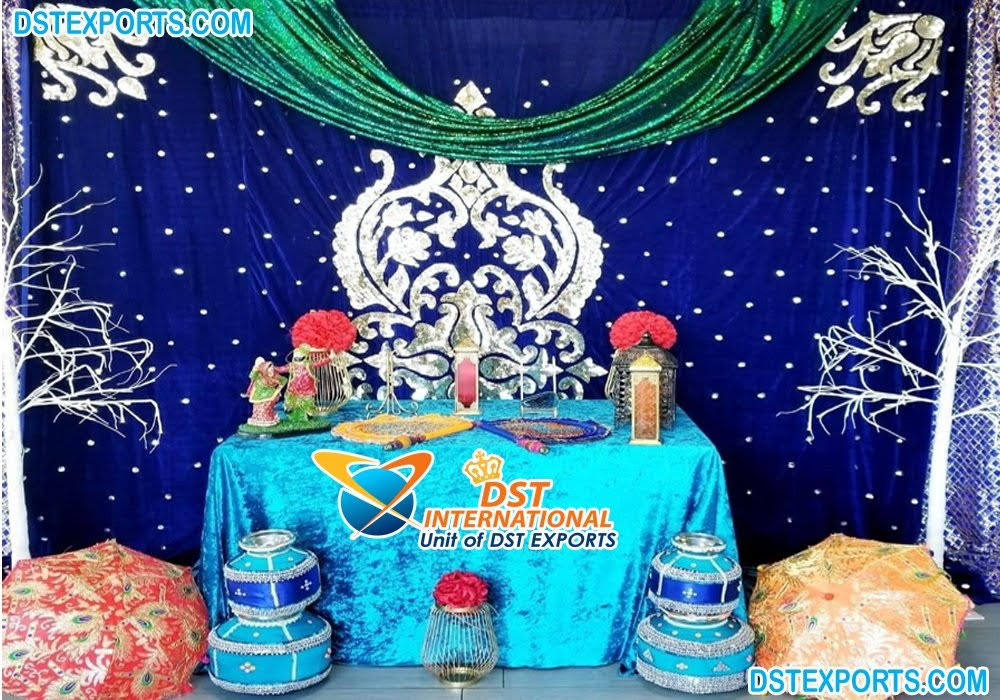 Punjabi Style Mehndi Stage Photo Booth Setup-
 This is a traditional theme Decoration setup Manufactured by DST International a part of DST Exports. 
DST EXPORTS
are manufacturer, exporter, supplier, and trader of all types of Wedding Props. This is Marriage Paisley Decor manufactured by us for all types of wedding decoration. We have no. varieties of Sangeet Stage Props for entrance decoration. This setup is specially made for Punjabi weddings.
This setup is very suitable for theme weddings like manufactures and export all types of Royal Mehndi Stage, Indian Wedding Night Sangeet Stage, Nigerian Wedding Mehndi Stage, Beautiful Swing Sangeet Decoration, Rajasthani Night Sangeet Stage, Flower Panel Sangeet Stage, Modern Mehndi Stage Decoration, etc.
To make your Mehndi decoration event unique we have also many varieties of decoration props like Panels, Statues, Umbrellas, Swing, and all types of bridal seats This stage set Props can be used in any event such as on wedding, party decoration. Mostly we export mandaps within 15-30 days after placing order. We have all rights of stuffing containers from our factory. We carefully done triple-layer packing and then stuff our product in a container with proper care and handling. We provide a proper certificate for each and every product known as a fumigation certificate which shows that our products are much better than the standard value of products in all countries. All products are certified by SGS according to international standards. We take responsibility for our goods till the client's house and all goods are covered under insurance which is valid throughout the world. We do our best efforts to make our goods properly finished and look more elegant than everyone praises about products.
Features:
Attractive designs
Long-lasting life
Free from abrasion
Withstand high wear and tear
No maintenance
Easy cleaning
We are also manufacturer and exporter of Wedding Mandaps, Wedding Stages, Horse Drawn Carriages, Wedding Doli, Wedding Swings, Wedding Furniture, and all wedding decoration things. We export all these items from India to all over the world like some major countries like the USA, UK, Canada, Mauritius, New Zealand, Kenya, Germany, Europe, Kenya, London, and many other countries.
Company Details:-
DST-INTERNATIONAL (A unit of DST Exports) are the manufacturer and exporters of all kinds of Wedding Crystal Mandaps. We are supplying our wedding mandap worldwide, for the past 20 years. We are also a specialized manufacturer of wedding decoration Products like Mandaps, Stages, Furniture, Back Frames, Doli, and many decoration items. We are based in Patiala, Punjab, India. All Products are made in excellent and export worthy quality. We are manufacturing high standard products and export them worldwide like the USA, UK, Australia, Canada, South Africa, New Zealand, Nigeria, Ireland, Uganda, Fiji, and Netherland, France. For more information about this product, you can contact us on our Whatsapp number: +919815224101, +9186753-33339. You can also make a video call with us on our contact no. for close Zoom-up and see the high-quality of original products. A customer can also easily compare the quality of our products with local vendors. We are making Export worthy Products. You can also check out more products from our website www.dstexports.com.
Why Choose Us:-
* We are experienced and professional manufacturers. We have more than 15-year experience in this field. With our experience, we are establishing our export markets all over the world including countries like the USA, UK, Australia, Canada, South Africa, New Zealand, Nigeria, Ireland, Uganda, Fiji, Netherland, France, and many more.
* Our all services are reliable and for a lifetime.
* Our exquisite wedding products are prominent for perfect finishing and smooth texture.
* All products are made of high-quality materials.
* We always cooperate with our clients and provide exceptional services
Packaging And Shipping:-
All Products will be packed in Export quality. It has Triple layer packing. These Products are packed firstly in bubble papers. Then packed in cardboard. Then wrapped in polythene paper. After these are packed in wooden created.
Shipment according to the volume of order LCL/ FCL
We have all the rights of the stuffing containers from our factory
---
"More you buy.... Lesser is the shipping"
Product Form