Project Description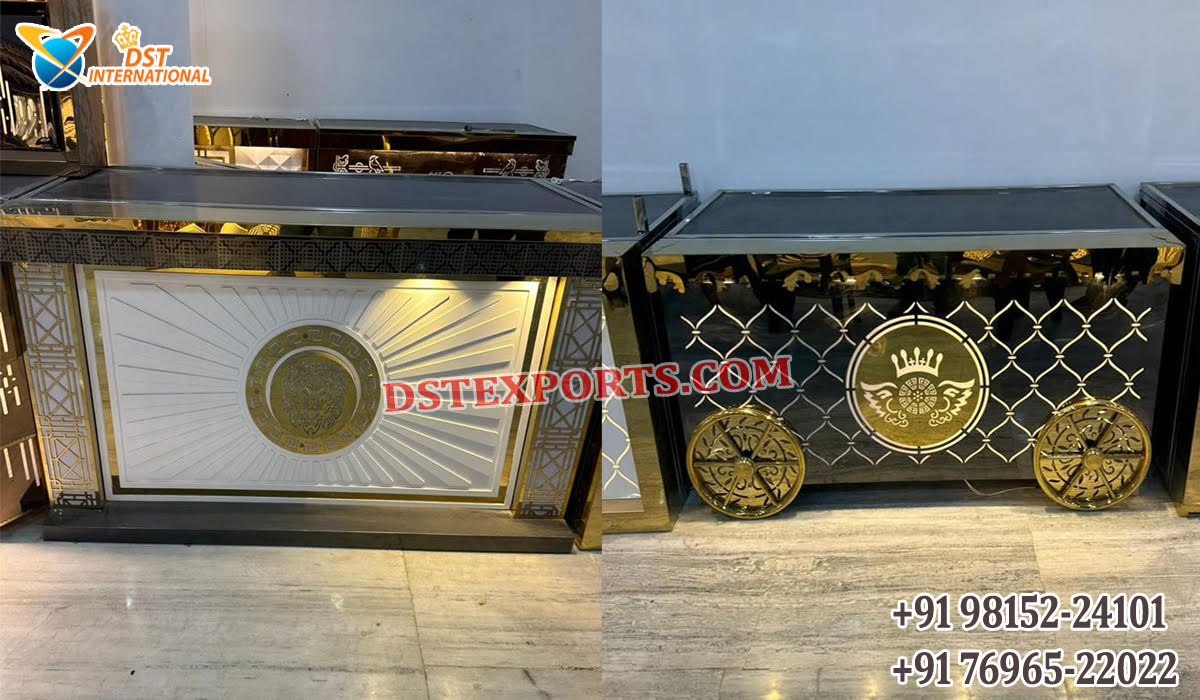 DST International is the original manufacturer and exporter of wedding decoration items, one of them is the Wedding Food Stall Buffer. We are the original makers of such type of food stalls and candy carts. DST Exports presents a newly designed Modern Wedding Buffet Food Counter Designs.
This is a unique designed wedding food stall for luxury weddings. This stainless steel cart gives a precious look at any event. This counters is made of Metal & stainless steel with high quality paint. Our full sized buffet is beautifully crafted and is decorated in a beautiful chic manner, which includes elegant decorative jars that give it that wow factor.
Proper display of food items not only provide visibility to customers helping you boost sales but it also plays important role in handling and storage. Our display units have a glass windows with sliding doors and appropriate lighting inside the cabinet. Our designs are user friendly for cleaning and storing. Their mobility also helps you to use the available store space as per convenience. Fast Food and bakery producers use our counters for the obvious advantages. We provide Self Service Counters, Hot Food Service Counters, Fast Food Service Counters, Bain Marie Service Counters, Sandwich Counters, Chat Counters, Panipuri and Bhel Counters, Juice Counters and Pastry Counters.
Our Ferris wheel is made of silver food grade material and can either be hired as a table top stand-alone wheel or with its own base with colored lighting. This food cart is  can be used in any event such as at a wedding,party, hotel, restaurant  and at any other event for decoration purpose and always gives a prominent look.
FORMATION
We are offering Food Counters + 2 bracers (Can be customized).
Stalls are used in middle and Bracers can be used on side as well in middle to make partition.
All Food stalls are made of superior quality stainless steel with acrylic sheets
The basic size of stalls is 5 ft wide and 2.5 ft high.
Bracers are usually longer than stalls (30 x 42 x 30 inches)
You can make wider stall as much as you want with joining small parts of stall (5 x 2.5 ft)
We will make stalls in pieces for easy installation and assembling
Available in different colors Rose Gold, silver and many more
Available in many designs
Our range has acknowledged due to features like strong construction, long service life, low maintenance, user-friendliness, and remarkably long life.
We are also offering LED Lighted Fitted Counters (Optional)
There is number of shelves and burners for easy convinces
This food cart is provided in any color, in any size and in any shape as per customer's requirement. This food cart is readily available in our stock. We have many other designs of food carts. You can check out more products from our website www.dst exports.com. DST EXPORTS are the best manufacturers and exporters of wedding mandap, stage, backdrop panels, and all other wedding decoration items. You can freely chat or call us about the product on our WhatsApp +9198/158224101, +918675333339.
---
"More you buy.... Lesser is the shipping"
Product Form