Project Description
Luxury Wooden Carving Boat Bed For Villa
Dst Exports offer a wide and comprehensive range of all type of furniture such as luxurious bed, diwan, sofa sets and other home furniture.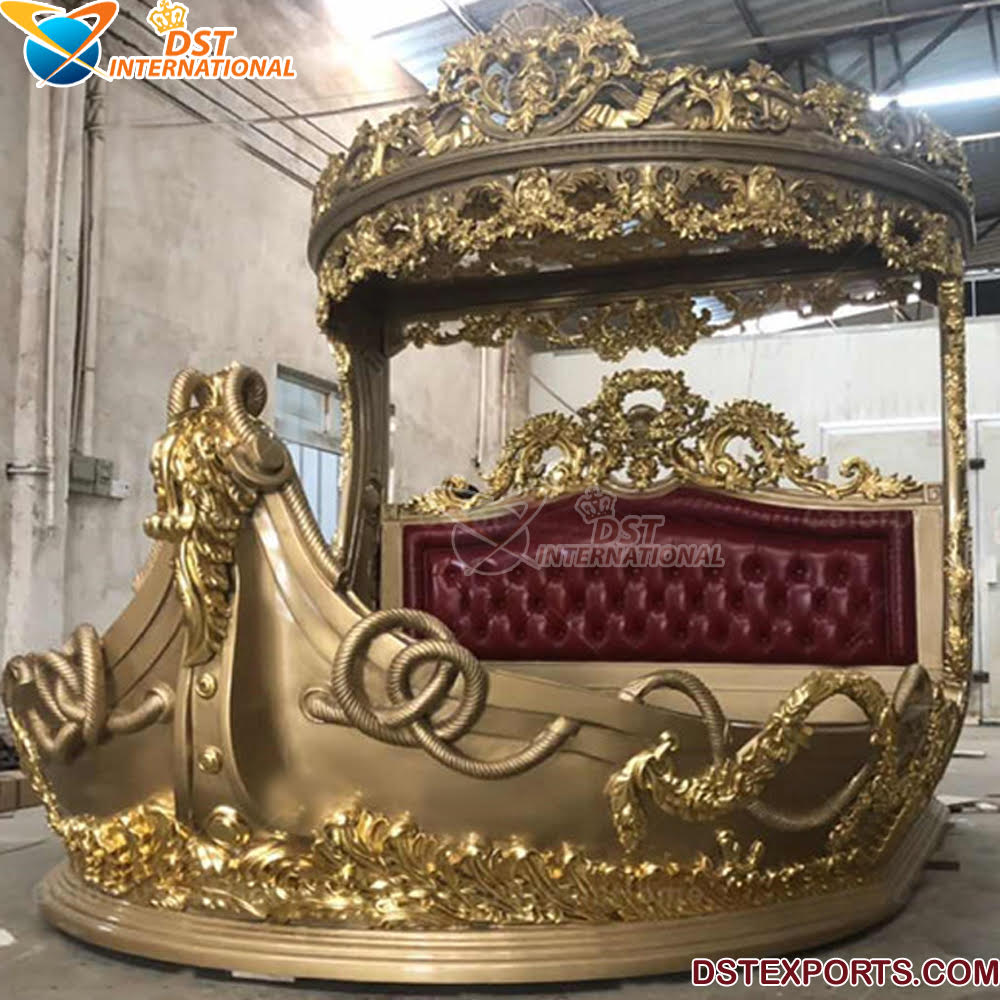 Dstexports brings to you another glorious contemporary luxurious round bed that completely changes the look and aura of your bedroom. This beautiful wooden carved bed is named as 'round queen bed'. It is made up of pure teak wood with leather at its back for rest. It is hand crafted and has been given a boat style with a crown canopy. We have a team of professional workers to make such home furniture. It is a double sized bed with storage. It is absolutely a perfect choice to make your bedroom look unique and different form others.
The boat style given to the bed and the crown are its distinctive features which add a glory to this bed. It is truly comfortable; also it is well furnished with polyester high gloss polish. Its attractive design, glossy color and most importantly its beautiful carving adds up a flavor to your bedroom.
Features:- Unique boat style Hand carved Style: contemporary Queen size Mattress size: standard Elegant look Made form grade 1 teak wood ·
Product details:- Material used: grade 1 teak wood, Design: contemporary, Comfort: luxury 
Teak furniture is unique because it produces its own natural oil that makes it very low maintenance in comparison to other types of outdoor wood furniture. Furthermore, teak oil prevents water and moisture from sinking into the wood that can cause dry rot.
Teak requires virtually no maintenance Teak is a dense, hard deciduous tree found in tropical regions of the world like Burma and Thailand. Tectona Grandis (the real name for teak) is one of the most valuable timbers in the world and unmatched in durability and beauty.
Teak wood is dense so it is not inclined to bend, warp, or crack over time. Natural oils prevent teak furniture from dry rot. Teak contains a natural resin that is a rubber-like substance. This resin acts as a natural repellent against insects and termites. Although it's said that termites won't eat teak, the truth is they will. Read this to learn more about teak and termites. Because of its inherent protective qualities, teak furniture costs more than other types of wood or metal furnishings.
We have all rights to stuffing containers from our factory. We carefully do triple-layer packing and then stuffing our product in a container with proper care and handling. We provide a proper certificate for each and every product known as a fumigation certificate which manifest that our products are much better than the standard value of products in all countries. All products are certified by SGS according to the international standards. We take responsibility for our goods till they reach the client's house and all goods are covered under insurance which is valid throughout the world.We are manufacturing high standard products and export them worldwide like USA, UK, Australia, Canada, South Africa, New Zealand, Nigeria, Ireland, Uganda, Fiji, Netherland and France. For more information on this product, you can contact us on our WhatsApp number: +919815224101, +9186753–33339.You can also make a video call with us on our contact no. to have a close look at the high quality of products. A customer can also feel free to compare the quality of our products with the local vendors.We are making Export worthy Products. You can also check out more products at our website www.dstexports.com.
---
"More you buy.... Lesser is the shipping"
Product Form