Project Description
Give your bedroom an instant upgrade with this distinct design. This beautiful design is easy to pair with various bedside tables and dressers for a matched set.
DST Exports offers Antique King Bed. The King Size Bed is designed with the utmost respect. Hand-carved this set is delightfully elaborated; it is presumably a work of ART! With its rich Pickle Frost finish and Silvery Brushed tones on the Crafted details, along with its Bonded Leather Backrest and Footrest. Sleep like a royal in the relaxing comfort of the European Carved and Tufted Bedroom set from DST exports Design. The high headboard and the footboard of the bed are designed using tufted panels along with elaborate carvings that grace the crown. The claw feet supporting the base of all furniture items are carved to complement the ornate theme of this ensemble.
At DST Exports you will get varieties of furniture to choose from including beds. We deal with a vast range of furniture which includes a Sofa Set, TV Cupboards, Dressing table, Dining Table Sets, French Livingroom Furniture Set, French Dining Table Set, Chaise Lounges, Room Dividers, Wooden Swings, Wooden Sofas, Wooden Chairs.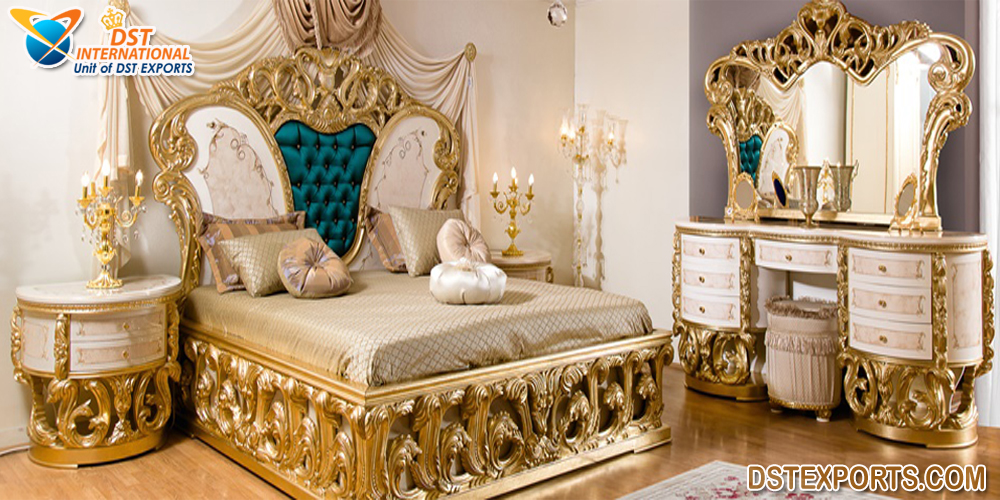 Luxury Gold Carving Bedroom Furniture Set:- We are one of the leading companies engaged in offering premium quality Bed Room Furniture Services. We are furnishing trendy, contemporary, and classy households with exclusively crafted teak wood furniture. Our services are priced economically to suit the budget of the clients. This is a luxury Furniture well known as "Luxury Gold Carving Bedroom Furniture Set" manufacturer and exporters of DST EXPORTS INDIA. We manufacture and provide a high-quality range of Beds which is designed in various patterns for different residential requirements. These are highly spacious, multipurpose, and are offered in various sizes and designs.
Victorian Teak Wood Bedroom Furniture Set Included:-
a) 1 Bed: 91 x 96 x 72
b) 2 Nightstand: 35 x 23 x 31
c) Mirror: 60 x 54 x 3
d) Chest of Drawer: 32 x 17 x 51
This Luxury Bedroom Furniture is very beautiful and attractive as these are made by our well-trained professionals using high-grade materials. This Furniture is offered by us is well cushioned and covered with attractive fabrics and other embellishments. It looks modern and beautiful and readily available.
We have been manufacturing, supplying, and trading Home Furniture Products. We are the provider of whole ranges of Home Furnitures which also includes tables, chairs, beds, desks, backpacks, dressers, room divider partition, and cupboards. These objects are usually kept in a house or other building to make it suitable or comfortable for living or working in. We manufacture wooden, products of very high and finer quality which makes them reliable and durable. Our main focus in the firm is to bring our customers a product which has superior quality and also available in a variety of designs which a customer can choose from. Our products are spacious and termite-free. The materials used for the manufacturing of these products are borrowed from a certified vendor and all the material is quality checked. After these products are manufactured, before being supplied, are nicely packaged.
MORE DETAILS ABOUT PRODUCT:-
Teak wood furniture lasts a lifetime and ages beautifully. This is the beauty of this wood and there is no wonder, that teak wood furniture is usually down the generations.
The beauty of teak wood furniture is in its natural grains and texture. We typically recommend just varnish coated furniture. Our favorite finish is the teak wood finish rather than cover it up with other wooden colors. So, just repeat the varnish every 5 years and your furniture is good for a lifetime.
We are using high-quality wood for manufacturing this Furniture. We treat wood four times for perfect finishing. We have a special work-team for wooden work. Our Work-team is professional in manufacturing Furniture.
Following are the factors that contribute to our success:-
Made from Premium Quality Teak Wood. Hand-carved and Beautiful designed
Premium embossed finishing, Handmade by skilled craftsmen which give royal look to your decoration.
Give Your Home A Luxurious Look With Teak Wood Furniture
Fits in your space fit on your budget. Made of high-quality solid wood and crafted in ethnic designs.
Color: Brown, Care Instruction: Use a table cloth or any thick quality cotton cloth to wipe it clean.
Handcrafted by skilled artisans with premium finishing.
No Assembly Required: The product is delivered in a pre-assembled state.
Any Instruction Contact to Seller For Modification.
Please note that the size and color of the unit may vary slightly as this is a handcrafted unit.
We are also a specialized manufacturer of wedding decoration Products like Mandaps, Stages, Furniture, Back Frames, Doli, and many decoration items. We are based in Patiala, Punjab, India. All Products are made in excellent and export worthy quality. If you want to do any changes to this product you can contact us our Whatsapp number: +919815224101, +9186753-33339. You can also make a video call with us on our contact no. for close Zoom-up and see the high-quality of original products. A customer can also easily compare the quality of our products with local vendors. We are making Export worthy Products. You can also check out more products from our website https://www.dstexports.com/
OUR MORE PRODUCTS:-
---
"More you buy.... Lesser is the shipping"
Product Form