Project Description
Wedding mandap design is an essential part of an Indian wedding. Indian weddings are a grand celebration of two-three or many pre-wedding and post-wedding ceremonies together this is the reason. Indian weddings are called Big Fat Indian wedding. The mandap is the place where the bride and groom exchange seven vows of a wedding. The bride and groom promise themselves saat vachanas to be followed throughout their life. The mandap is important not because the most significant ritual of an Indian wedding is performed here but also most candid moments of weddings are capture here at this place.
A mandap decoration is a magical place that creates a romantic aura of the picturesque wedding. Wedding photographers and videographers capture the best candid and magical moments of Big fat Indian wedding to cherish forever.  Bride and groom take wedding oath in front of holy fire along with chanting mantras with all their near and dear ones sitting beside or alongside them.
If you get bored with traditional mandap and want a new opulent design then go with this metal structure contemporary mandap. This mandap suits to an all types of the royal wedding, fresh timeless flowers merge dramatically with floral string and give your wedding a fairy tale gorgeous look.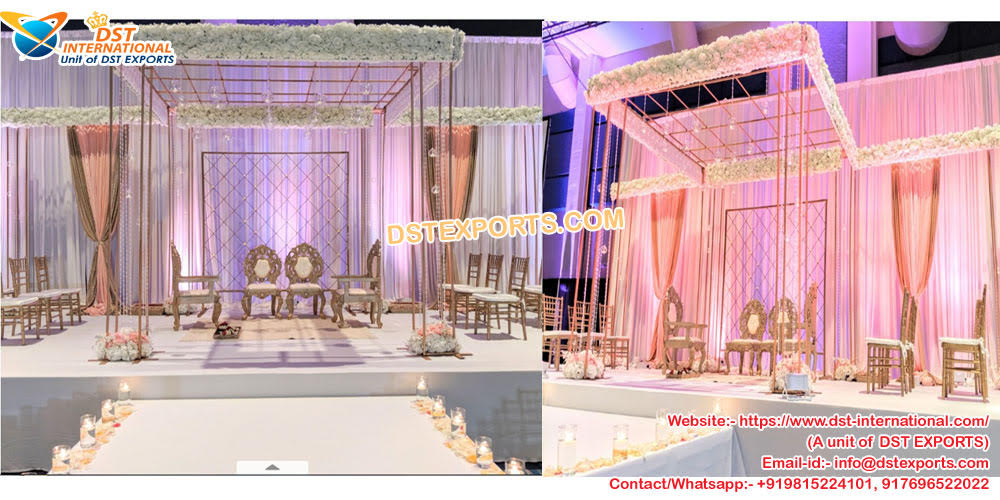 Low Cost Contemporary Wedding Mandap – DST-International (A unit of DST Exports) is a manufacturer and exporter of all types of Hot Selling Metal Props for Wedding Decoration. We sell our collection at very reasonable prices and assure a sensible range for all occasions such as Weddings and Parties. We have many metal decoration props including Metal Mandap/Stage.
DST Exports is known for Manufacturing Trendy Wedding Mandaps so Here we are presenting our Metal Wedding Mandap which is originally MADE-IN-INDIA by DST Exports. mandap named as Low-Cost Contemporary Wedding Mandap. These Mandap Pillars are well renowned as Metalic pillars. This Mandap is also known as "Metal Chuppah" This type of Contemporary Mandap is really very famous in the USA as well as in many more countries like – the UK, FIJI, and Switzerland, etc.
We will provide full mandap setup (as shown in pic) – 4 metal pillars or columns + 4 top arcs or connectors to make mandap structure, Full Metal Candle Back-Wall setup, Six mandap chairs or (option available – wedding sofa) for seating purpose on mandap ceremony, Backdrop curtains 10 x 30 feet, Havan Kund/firebox, Carpet for mandap and walkway area. You can also add up 2 pillars + 1 arc for making the welcome gate, 6 Small Pillars + 6 small Statues (option available – Ganesha/Diyaladies/Flower-pots) for Walkway Decoration.
This Mandap Set is specially designed for outdoor weddings and it can be used at Hindu weddings, Western Weddings, Muslim Weddings, Bollywood Weddings, Gujarati Weddings, Tamil Weddings, South Indian weddings, Asian Weddings, Outdoor Weddings, Beach Weddings, Destination Weddings, Punjabi Weddings, Srilankan Weddings, Rajasthani Theme Weddings and many more.
This Mandap can be made on customized dimensions given by the buyer. We have a professional team to manufacture Wedding Mandaps. These are all hand-made. This Mandap set is made of metal with high quality deco-painted. These Mandap Pillars are beautifully designed in a criss-cross manner in which flowers can be fitted.
Low Cost Contemporary Wedding Mandap Production process -cutting, grinding, polishing, laser engraving, sandblast, Hot-bend forming, Sticking, Cleaning., Packing. We are using high-quality Metal in manufacturing the mandap. Wedding Mandaps are painted with superior quality deco-paint. This Mandap is totally foldable and all mandap accessories can be used separately. These Mandap Pillars are Self-Standing. These Mandaps are easy to install and assemble.
A customer can set up this mandap within 15-20 minutes with 3 or 4 man powers. We will also provide mandap setup videos that make it easier to install this mandap. Our products are highly admired for their quality and designs. Each of our products undergoes many quality checks to ensure that you are served with the very best. After all, quality checks the final paint is applied on mandap (Color as per customer choice). Mostly we export mandaps within 15-30 days after placing order. We have all rights of stuffing containers from our factory. We carefully done triple-layer packing and then stuff our product in a container with proper care and handling. We provide a proper certificate for each and every product known as a fumigation certificate which shows that our products are much better than the standard value of products in all countries. All products are certified by SGS according to international standards. We take responsibility for our goods till the client's house and all goods are covered under insurance which is valid throughout the world. We do our best efforts to make our goods properly finished and look more elegant than everyone praises about products.
These are all Indian Products which are Ready under the brand name DST EXPORTS INDIA 
A customer can trust because of 1. We have more than 20 years of experience in manufacturing Wedding Mandaps with highly skilled handmade craftsmen guarantee of high quality of Product. 2. We are the OEM of All types of Wedding Mandaps. 3. We will provide you High-quality products at a reasonable price. 4. We can also supply customized products and services, could design the horse carriage sample according to your idea. 5. We are making Export Worthy Products & Certified from SGS according to international standards. We are just not manufacturing mandaps for our business but we have a vast collection of wedding decoration items. Our main manufacturing products are like Wedding Mandaps, Wedding Stages, Wedding Furniture, Wedding Dolis, Wedding Stage Backdrop Frames and Panels, Wedding Horse Drawn Carriages and many decoration items. We are manufacturing high standard products and export them worldwide like the USA, UK, Australia, Canada, South Africa, New Zealand, Nigeria, Ireland, Uganda, Fiji, and Netherland, France. For more information of this product, you can contact us our WhatsApp number: +919815224101, +9186753-33339. You can also make a video call with us on our contact no. for close Zoom-up and see the high-quality of original products. A customer can also easily compare the quality of our products with local vendors. We are making Export worthy Products. You can also check out more products from our website www.dstexports.com.
---
"More you buy.... Lesser is the shipping"
Product Form