Project Description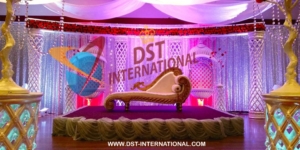 Jharokha Wedding Stage
DST International manufactures and export all types of Jharokha Wedding Stage,Muslim Wedding stages,Reception Wedding Stages,Indian Wedding Stages,Walima Stages,Fiber Crystal Stages,Wedding Decoration etc…
Jharokha Wedding Stage this Stage Pillars is made by unbreakable fiber glass and high quality deco painted and fitted with crystal balls in all parts of the pillars.All pillars are fitted with inside lights.These mandaps are light weighted and very easy to assemble and install.We can also manufacture as per color and shape like round ,square ,oval and rectangle.These Stage Decoration is Totally folding.These Jhrokha Panel will make your stage more beautiful.
Our stage decoration items will make wedding stage very beautiful.   Wedding Stage Decoration are totally folding and very easy to assemble.
Features:-
Elegant look
Fine Finish
Attractive Design
Weather proof Design
This Asian Wedding Pillars and Arches Stage is Suitable for all types of Weddings like –
Hindu weddings, Western Weddings, Muslim Weddings, Bollywood Weddings, Gujarati Weddings, Tamil Weddings, South Indian weddings, Asian Weddings, South Asian weddings, Jewish Weddings, English Weddings, Outdoor Weddings, Beach Weddings, Destination Weddings, Punjabi Weddings, Srilankan Weddings, Rajasthani Theme Weddings, Telugu Weddings, Malayalam Weddings, Chennai Weddings, Arabian Weddings, Afghani Weddings, Pakistani Weddings, and many more.
We are making these panels to use in Canadian weddings, Weddings in the USA, Weddings in UK, Calgary Weddings, Vancouver weddings, Weddings in London, Weddings in Paris, Los Angeles Weddings, California Weddings, Florida Wedding Décor, Wedding in Sydney, Weddings in Fiji, European Weddings..
---
"More you buy.... Lesser is the shipping"
Product Form