Project Description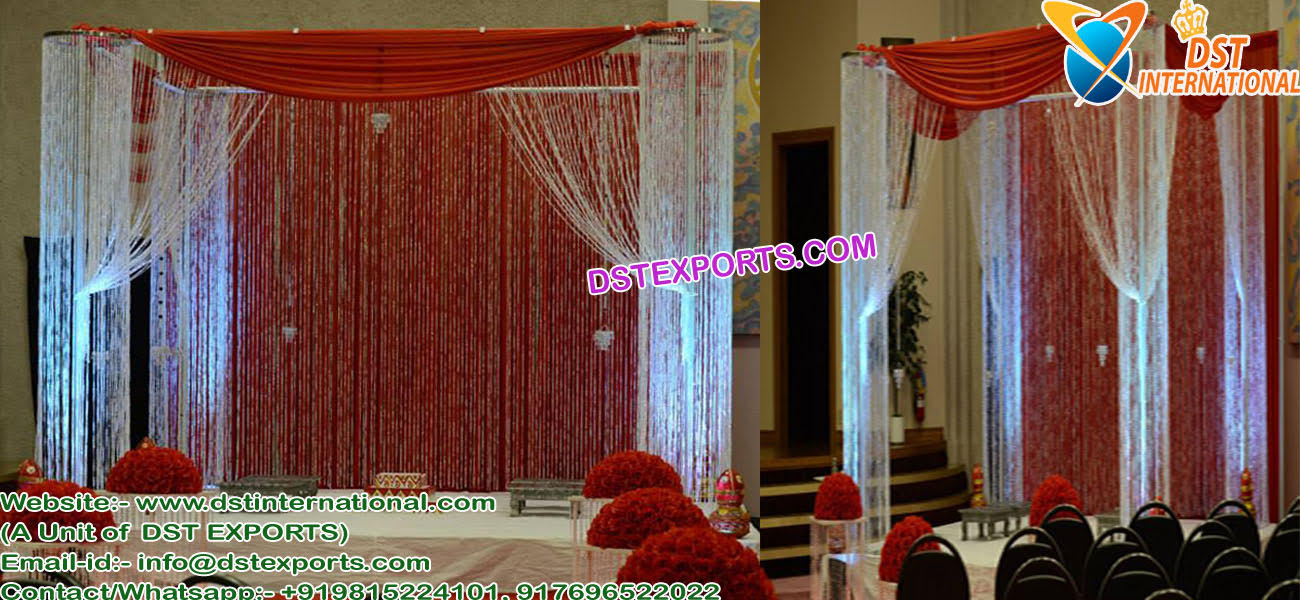 DST-International (A unit of DST Exports) is a manufacturer and exporter of all types of Hot Selling Metal Props for Wedding Decoration including Illuminated Modern Wedding Crystal Mandap Pillar. We have a wide range of metal props for wedding décor. DST EXPORTS are the best manufacturers and exporters of wedding Metal Props which include Wedding Backdrop Panels, Stylish Metal Pillars, Full Metal Stages, Acrylic Metal Gate, Metal Mandaps. These things are made of Metal and high quality of deco painted. These Metal Props Can also be used in any event such as at a wedding, reception party, mehndi function, and any other events. These Metal Props always give Precious Look at any event.
This is Illuminated Modern Wedding Crystal Mandap Pillar manufactured and designed by DST_international. This is a set of four pillars that can be used to make mandap/chuppah. These Pillars can also be used to make the wedding stage. These Pillars are made of Metal and high quality of deco painted. This is beautifully decorated with crystal chains.
We are using high-quality Metal in manufacturing the mandap. Wedding Mandaps are painted with superior quality deco-paint. This Mandap is totally foldable and all mandap accessories can be used separately. These Mandap Pillars are Self-Standing. These Mandaps are easy to install and assemble. A customer can set up this mandap within 15-20 minutes with 3 or 4 man powers. We will also provide mandap setup videos that make it easier to install this mandap. Our products are highly admired for their quality and designs. Each of our products undergoes many quality checks to ensure that you are served with the very best. After all, quality checks the final paint is applied on mandap (Color as per customer choice).
Mandap Detailing
| | |
| --- | --- |
| Production name | Illuminated Modern Wedding Crystal Mandap Pillar |
| Production process | cutting, grinding, polishing, laser engraving, sandblast, Hot-bend forming, Sticking, Cleaning., Packing. |
Export Detailing 
Mostly we export mandaps within 15-30 days after placing order. We have all rights of stuffing containers from our factory. We carefully done triple-layer packing and then stuff our product in a container with proper care and handling. We provide a proper certificate for each and every product known as a fumigation certificate which shows that our products are much better than the standard value of products in all countries. All products are certified by SGS according to international standards. We take responsibility for our goods till the client's house and all goods are covered under insurance which is valid throughout the world. We do our best efforts to make our goods properly finished and look more elegant than everyone praises about products.
A customer can trust because of 1. We have more than 20 years of experience in manufacturing Wedding Mandaps with highly skilled handmade craftsmen guarantee of high quality of Product. 2. We are the OEM of All types of Wedding Mandaps. 3. We will provide you High-quality products at a reasonable price. 4. We can also supply customized products and services, could design the horse carriage sample according to your idea. 5. We are making Export Worthy Products & Certified from SGS according to international standards. We are just not manufacturing mandaps for our business but we have a vast collection of wedding decoration items. Our main manufacturing products are like Wedding Mandaps, Wedding Stages, Wedding Furniture, Wedding Dolis, Wedding Stage Backdrop Frames and Panels, Wedding Horse Drawn Carriages and many decoration items. We are manufacturing high standard products and export them worldwide like the USA, UK, Australia, Canada, South Africa, New Zealand, Nigeria, Ireland, Uganda, Fiji, and Netherland, France. For more information of this product, you can contact us our WhatsApp number: +919815224101, +9186753-33339. You can also make a video call with us on our contact no. for close Zoom-up and see the high-quality of original products. A customer can also easily compare the quality of our products with local vendors. We are making Export worthy Products. You can also check out more products from our website www.dstexports.com.
Why Choose Us
• An Absolute best price in the industry.
• Best quality products.
• Quick delivery is available.
• Minimum order quantity of each item.
• Innovative range of quality products.
• Competitive pricing.
• Capability to meet bulk & immediate orders.
• Customization based on customers' specifications.
• Thousands item and professional designers to develop many new designs per month.
• Strong production capacity.
• Skilled workers and QC members to ensure good quality.
• Very prompt & Professional communication to all your queries.
---
"More you buy.... Lesser is the shipping"
Product Form