Project Description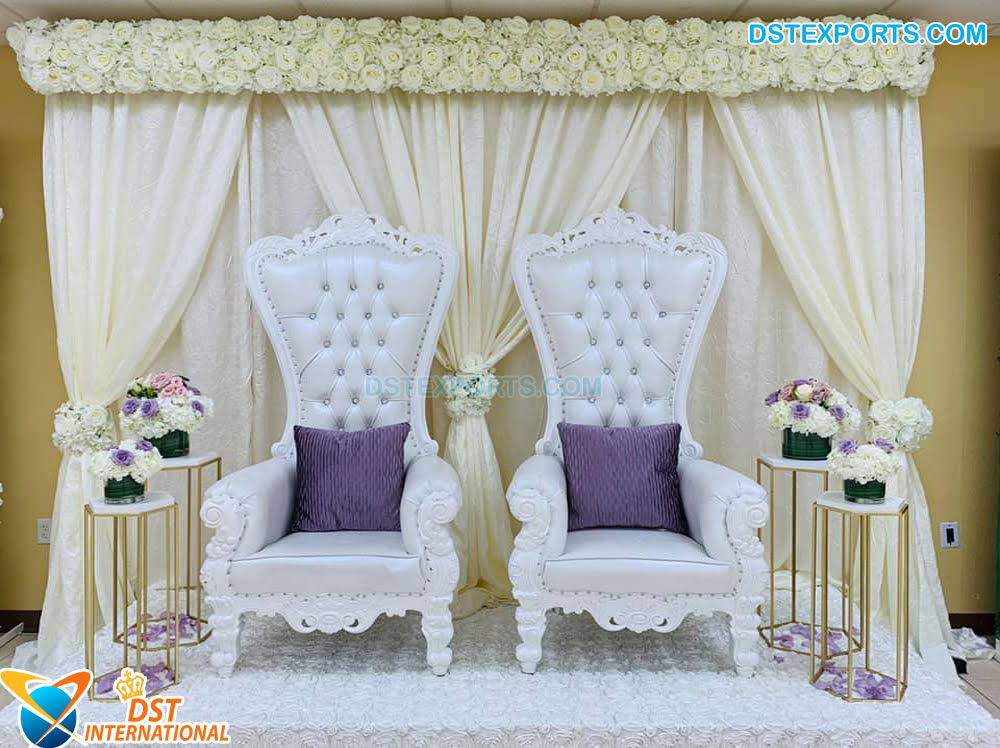 Hot Sale Baroque Style Wedding White Chairs  – To meet the diverse needs and requirements of the customers, we are engaged as the reckoned manufacturers, suppliers, and exporters of Throne Chairs Set from a vast number of years. This is a Wooden Carved Chairs designed and Manufactured by DST EXPORTS INDIA. This Chair set is known as Hot Sale Baroque Style Wedding White Chairs. This is a high back chair set is made of treated wood & is well cushioned with leather seats fitted with diamonds.
Moreover, all these Chairs are widely used to seat the groom and bride in parties, engagement ceremonies, and Other Occasions. Our products are manufactured with the best quality raw materials. We strongly believe in customer satisfaction and we are offering this product at leading prices.
We have a wide range of such Wooden Handicraft furniture and now we are introducing the latest design of chairs called 'Bride Groom Baroque Style Throne Chairs. These Wooden Chairs are traditionally handcrafted in premium quality treated Wood.
This Chair Set is mostly used in wedding stage decoration but as well as it can be used as Mehandi Sangeet Stage swing. These Chairs are used for Wedding bride and groom sitting purposes on the wedding Stage or on Mehandi function. We are able to offer the chairs in many sizes and designs as per the requirements of our customers. It's Look modern and beautiful
We are using dry wood to increase the durability of these chairs. There is all hand-made carving on Chairs. We have a special work-team for wooden work. After making this structure these chairs are fitted with leather seats and decorated with original crystals on it. This seat can be changeable and washable and it can also be provided in any color as per our customer requirements. These Wedding Throne Chairs are used for Wedding bride and groom sitting purposes at the wedding.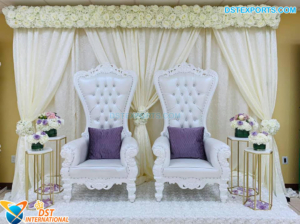 These chairs can be used in any event such as at a wedding stage, mandap, Mehndi stage, party, and at any other event for the seating purpose of the bride and groom and always give a royal look. These Bride-Groom Chairs are provided in any color, any size, and in any shape as per customers' requirements. This furniture is readily available. It is very beautiful and attractive as these are made by our well-trained professionals using high-grade quality materials. We provide a proper certificate for each and every product known as a fumigation certificate which shows that our products are much better than the standard value of products in all countries. We take responsibility for our goods till the client's house and all goods are covered under insurance which is valid throughout the world.
Since 2005, we have been engaged in manufacturing and exporting quality wood furniture with a different type of finish. Our quality controllers are attentive about quality maintenance and conduct stiff quality tests on these swings to maintain their compliance with the international standards. These wooden chairs can be used for weddings, parties, mehndi events, Heena function, home, hotels, and restaurants for indoor use.
DST EXPORTS are manufacturer and exporter of all type bride groom chairs with a high back includes Wedding Throne Two Seater, Gold Plated Couches, Silver carving three Seaters Two Seaters with golden carving Silver Shahi Thrones, Royal Silver Chairs, Wooden Carved Chairs, Maharaja Chairs, Love Seat for Bride n Groom, Traditional Furniture, Wedding Jaimala Chairs, Crystal Fitted High Backed Designer Chairs, Leather Chairs Sofa set Etc.
wedding chairs
---
"More you buy.... Lesser is the shipping"
Product Form