Project Description
Hindu Traditional Wedding Entrance Vinayaka Statue Decor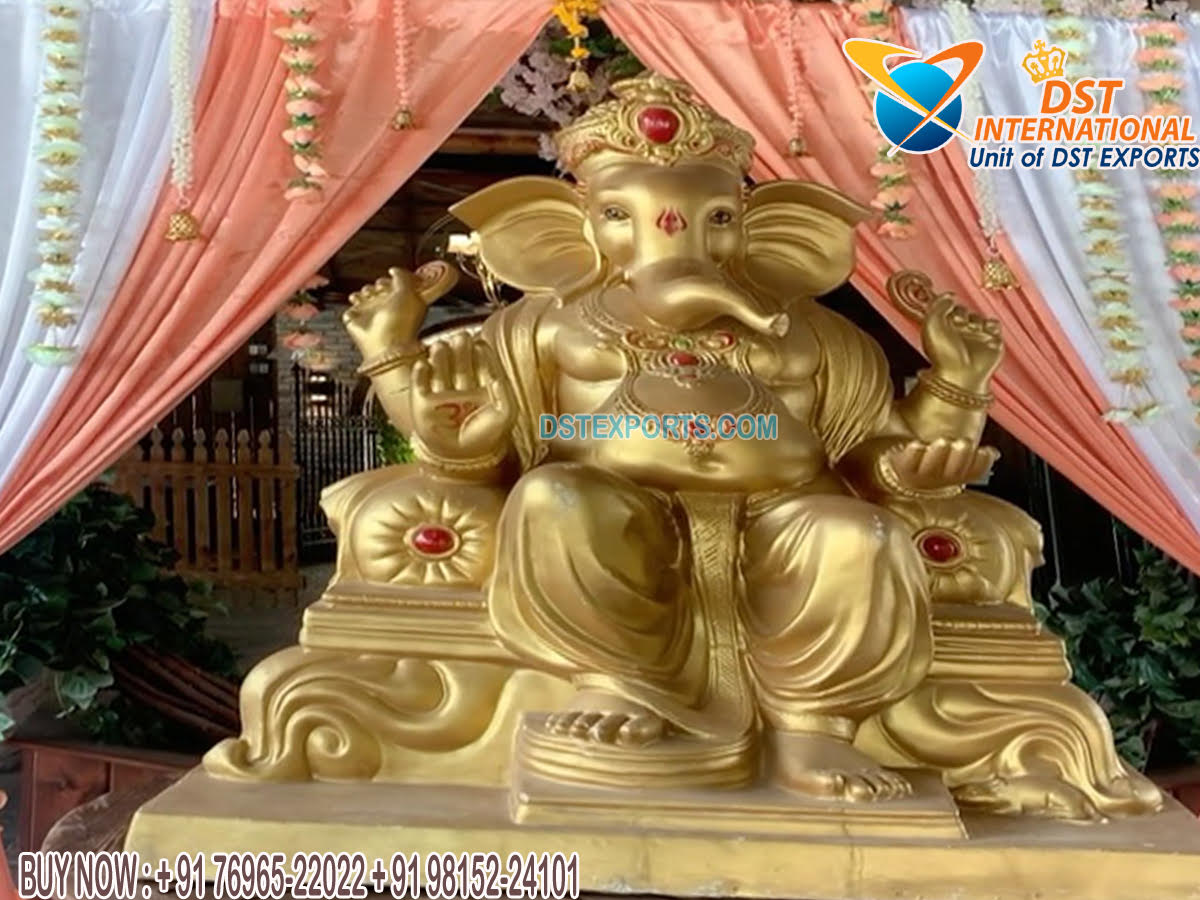 Hindu Traditional Wedding Entrance Vinayaka Statue Decor
DST EXPORTS
 are manufacturers, exporters, supplier, and traders of all types of Fiber statues. This is Entrance Decoration for weddings manufactured by us for all type of wedding decorations. We have no. of varieties of Fiber statues for entrance decoration. This setup is specially made for Gujarati weddings.
This setup includes:- One Ganesha Statue Sitting on Singhasan. This ganesha statue and singhasan is made of unbreakable fiberglass, high quality of deco painted, light-weighted, and self-standing.  A customer can also buy Two Pillars with top arch, inner arch and top crown (as shown in pic). These are really very beautiful as well as divining the statue for Wedding Entrance. This statue is specially made for the entrance theme but it can also be used on the wedding stage to give a traditional texture to wedding decoration. These statues are made on customized options. These statues can be used in any type of event.
We have many statues for all types of Divining statues like – Radha Krishna statue, Ganesha statue, Shiv-Parvati statues, FRP Maa Durga statues, etc. These statues are provided in any color, any size, and in any shape as per customer's requirement. We have a variety of designs of Ganesha statues. A customer can choose from our website and even a customer can avail of their own design. We can make as per customer requirements. Visit our site – www.dstexports.com
For Betterment of product and to increase the quality of the product, we use a special technique like –
1. We have done all the waterproofing
2. Sandpaper rubbing on each part of the product. These techniques give more perfect finishing and smooth texture on joint as well as Product
DST International manufactures and export all types of Entrance Wedding Ganesha Statue, Fiber Lord Ganesha Sculptures, Fiber Buddha Statue, Indian Wedding Elephant Statue, Wedding Fiber Peacock Statue, Fiber Lord Ganesha Beautiful Statue, Beautiful Fiber Flower Pot, Beautiful Fiber Ganesha Statue, Beautiful Fiber lady Center Table Statue, Fiber Lady Table Statue, Beautiful Radha-Krishna Fiber Statue, Punjabi Village Theme Fiber Statue, Punjabi Culture Fiber Statues, Welcome Statues, Ganesha Statue Decoration Stage. All fiber statues are durable fine quality heavy duty unbreakable light weight different sizes and finishes.
A customer can trust because of:-
1. We have more than 20 years of experience in manufacturing Wedding Mandaps with highly skilled handmade craftsmen guarantee of high quality of Product.
2. We are the OEM of All types of Wedding Mandaps.
3. We will provide you High-quality products at a reasonable price.
4. We can also supply customized products and services, could design the horse carriage sample according to your idea.
5. We are making Export Worthy Products & Certified from SGS according to international standards.
DST International (A unit of DST Exports) are the manufacturer and exporters of all kinds of Wedding Wooden Mandaps. We are supplying our wedding mandap worldwide, for the past 20 years. We are also a specialized manufacturer of wedding decoration Products like Mandaps, Stages, Furniture, Back Frames, Doli, and many decoration items. We are based in Patiala, Punjab, India. All Products are made in excellent and export worthy quality. If you want to do any changes to this product you can contact us our Whatsapp number: +919815224101, +9186753-33339. You can also make a video call with us on our contact no. for close Zoom-up and see the high-quality of original products. A customer can also easily compare the quality of our products with local vendors. We are making Export worthy Products. You can also check out more products from our website https://weddingstages.net/
Why Choose Us:-
* We are experienced and professional manufacturers. We have more than 15-year experience in this field. With our experience, we are establishing our export markets all over the world including countries like the USA, UK, Australia, Canada, South Africa, New Zealand, Nigeria, Ireland, Uganda, Fiji, Netherland, France, and many more.
* Our all services are reliable and for a lifetime.
* Our exquisite wedding products are prominent for perfect finishing and smooth texture.
* All products are made of high-quality materials.
* We always cooperate with our clients and provide exceptional services
Packaging And Shipping:-
All Products will be packed in the Triple layer. These Products are packed firstly in bubble paper, then packed in cardboard and wrapped in polythene paper. After this, all the products will be packed in a wooden box.
Shipment according to the volume of order LCL/ FCL.
We have all the rights of the stuffing containers from our factory.
---
"More you buy.... Lesser is the shipping"
Product Form