Project Description
Designing and constructing the perfect Indian wedding stages is not just a job for us, it's a passion – a thoughtfully and carefully crafted work of art. After all this stage is not just a podium for a couple – it is the atmospheric setting on which you as a bride and groom capture the imagination of all around you and through which you offer them a glimpse into the start of your marriage. It is through understanding this and incorporating it into our designs that we at DST Exports have become renowned specialists in Asian wedding stages. We have a wide range of wedding stage setups and today we are presenting our Luxury Indian Wedding Stage Decor manufactured and designed by us. This Grand Fiber Stage Set is well known as Grand Manavarai Style Indian Wedding Stage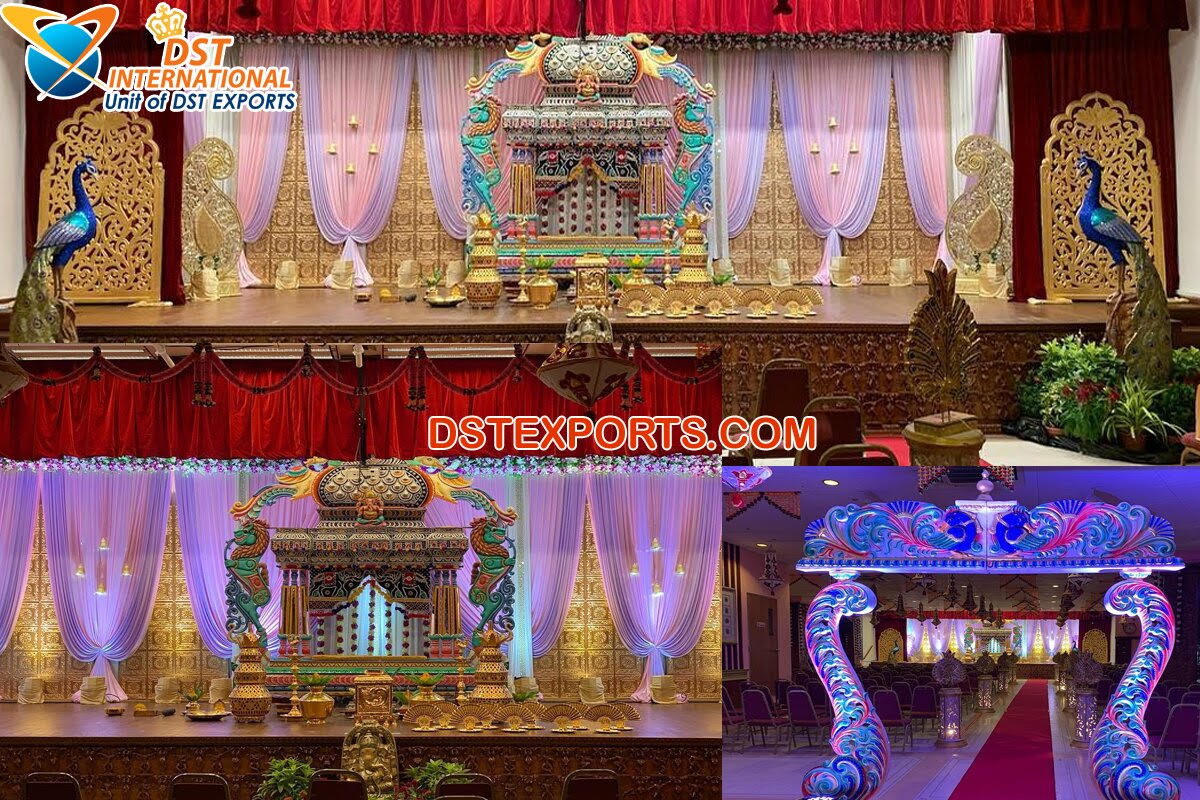 This is Our Exclusive Wedding Stage which is MADE-IN-INDIA PRODUCT Introduced By us. We are Professionals in manufacturing these types of Stages for wedding decoration. These are the Top Trending Wedding Stage designed and Made by us. This Stage Setup is specially designed for English Weddings.
This Grand Maharaja Stage setup includes –  One middle manavarai structure, Full Backdrop Door Style Panels of 8 x 4 feet each, Two Fiber Panels with an inner carving of 10 x 6 feet each, Two Paisleys of 8 feet high each, Two peacock statues, Two Diya ladies, One welcome Gate. This stage decoration is made of fully Fiber As well as It is Self-standing which saves time during Wedding Stage Decoration. This stage is totally foldable, each and every part of the stage like pillars, top borders, panels can be used separately.
A Wedding sofa set for bridegroom seating purpose, To Maintain the grand look of the stage we gave a welcome gate made with two pillars and one arc. These Stage Props are light in weighted and really simple to assemble and install. This stage set always gives a flawless and astonishing beauty at every ceremony.
This Amazing South Indian Wedding Maharani Stage is totally fold-able, the each and every part of the stage like pillars, top borders, the gate can be used separately. This is the big stage prepared in 13 feet high dimension but also can be made on demanded sizes by customers. The Grand stage is easy to install even anyone can set up this stage within 15-20 minutes with 2 or 4 man powers. We will provide a video that how to install the stage within a few minutes. We will provide Metal Pipes which makes it easier to install and assemble
We make all goods mostly foldable so it does not occupy much space, as we have skilled labor for all these types of works. We provide a proper certificate for each and every product known as a fumigation certificate which shows that our products are much better than the standard value of products in all countries. We take responsibility for our goods till the client's house and all goods are covered under insurance which is valid throughout the world. We do our best efforts to make our goods properly finished and look more elegant than everyone praises about products.
Features: • Unique design • Attractive look • Light in weight • Weatherproof design • Fine Finish
For more details, you can contact us our WhatsApp number: +919815224101, +9186753-33339. You can also make a Video call with us on our contact no. for close Zoom-up and see the high-quality of original products. A customer can also easily compare the quality of our products with local vendors. We are making Export worthy Products and supply it in affordable prices. You can also check our more products from our website www.dstexports.com.
This Stage is Suitable for all types of Weddings like –
Hindu weddings, Western Weddings, Muslim Weddings, Bollywood Weddings, Gujarati Weddings, Tamil Weddings, South Indian weddings, Asian Weddings, South asian weddings, Jewish Weddings, English Weddings, Outdoor Weddings, Beach Weddings, Destination Weddings, Punjabi Weddings, Srilankan Weddings, Rajasthani Theme Weddings, Telugu Weddings, Malayalam Weddings, Chennai Weddings, Arabian Weddings, Afghani Weddings, Pakistani Weddings, and many more.
We are making these panels to use in Canadian weddings, Wedding in USA, Wedding in UK, Calgary Weddings, Vancouver weddings, Wedding in London, Wedding in Paris, Los Angeles Weddings, California Weddings, Florida Wedding Décor, Wedding in Sydney, Weddings in Fiji, European Weddings.
Why Choose Us:-

* We are experienced and professional manufacturers. We have more than 15-year experience in this field. With our experience, we are establishing our export markets all over the world including countries like the USA, UK, Australia, Canada, South Africa, New Zealand, Nigeria, Ireland, Uganda, Fiji, Netherland, France and many more.
* Our all services are reliable and for a lifetime.
* Our exquisite wedding products are prominent for perfect finishing and smooth texture.
* All products are made of high-quality materials.
* We always cooperate with our clients and provide exceptional services
Packaging And Shipping:-
All Products will be packed in Export quality.  It has Triple layer packing. These Products are packed firstly in bubble papers. Then packed in cardboard. Then wrapped in polythene paper. After these are packed in wooden created.
Shipment according to the volume of order LCL/ FCL
---
"More you buy.... Lesser is the shipping"
Product Form