Project Description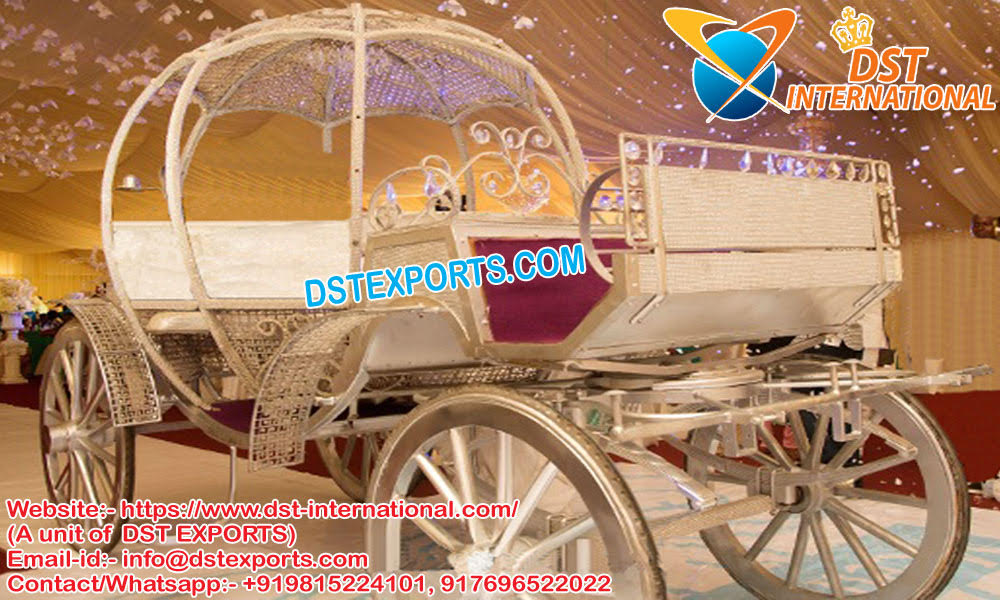 DST International (A unit of DST Exports) are manufactures and exporters of all types of Wedding Horse Carriages.
Grand Bridal Entry Crystal Cinderella Carriage – This is the Beautiful Crystal Cinderella Carriage manufactured by DST Exports. This is the New Model of Carriage Named "Grand Bridal Entry Crystal Cinderella Carriage". This Beautiful Fairy -tale carriage is made for bridegroom entry on a wedding occasion. This Carriage is beautifully decorated with original crystals.
This Royal look carriage is made for excellent bride entry with open style carriage. This Carriage is made on the special demand of our customers in South Africa. This carriage is manufactured and exported by us to our client in South Africa. This carriage can be used for bride entry as well as for touring purpose or for decoration at any event.  This carriage can be used during the Christmas celebration.
This Carriage has a long life and strong body as the Chase and body of the carriage are made with ms steel and wood. We are using superior quality material which makes this carriage durable. This carriage has a Steel frame, welding of metals, with smooth and elegant lines. Wheels are made of treated wood and design by self. We are using dry wood for the long life of carriage. We have a special work-team for wooden work and to customize wheel rims, which is made according to all the relevant properties and parameters are in line with international standards. This carriage has Solid rubber tires which are wear-resistant, high temperature, and corrosion-resistant, anti-static, the tires are available more than 10 years. This Carriage has excellent brake system – Hydraulic foot brake and hand brake. Steering is very soft moving like power Steering of cars and made of wood and steel. This carriage is lightweight and suspended on elliptical springs. This Carriage is painted with senior automotive deco-paint, nice gloss, and brightness, persistent does not fade. Seats are very beautifully furnished with leather foam and crystals. This Carriages has 6 person seating capacity (1 to 2drivers and 5 to 6seats). It can be pulled by one and two horse. This carriage is totally folded and flexible.
All the products are pure manual welding, carefully polished, and aesthetically pleasing. This carriage can be made on customized dimensions given by buyer. We have a professional team to manufacture carriages. These are all hand-made. This pumpkin carriage can be used for touring purpose or wedding, any other occasion. Mostly we export carriages within 15-30 days after placing order. We have all rights of stuffing containers from our factory. We carefully done triple-layer packing and then stuff our product in a container with proper care and handling. We provide a proper certificate for each and every product known as a fumigation certificate which shows that our products are much better than the standard value of products in all countries. We take responsibility for our goods till the client's house and all goods are covered under insurance which is valid throughout the world. We do our best efforts to make our goods properly finished and look more elegant than everyone praises about products.
A customer can trust because of 1. We have 75 years of experience in manufacturing carriages and highly skilled handmade craftsmen guarantee of high quality of Horse Carriages. 2. We are the OEM of All types of Carriages. 3. We will provide you High-quality products at a reasonable price. 4. We can also supply customized products and services, could design the horse carriage sample according to your idea. 5. We are making Export Worthy Products & Certified from SGS according to international standards. We are just not manufacturing carriage for our business but we have a vast collection of wedding decoration items. Our main manufacturing products are like Wedding Mandaps, Wedding Stages, Wedding Furniture, Wedding Dolis, Wedding Stage Backdrop Frames and Panels, Wedding Horse Drawn Carriages and many decoration items. We are manufacturing high standard products and export them worldwide like the USA, UK, Australia, Canada, South Africa, New Zealand, Nigeria, Ireland, Uganda, Fiji, and Netherland, France. For more information of this product, you can contact us our WhatsApp number: +919815224101, +917696522022. You can also make a video call with us on our contact no. for close Zoom-up and see the high-quality of original products. A customer can also easily compare the quality of our products with local vendors. We are making Export worthy Products. You can also check out more products from our website www.dstexports.com.
---
"More you buy.... Lesser is the shipping"
Product Form