Project Description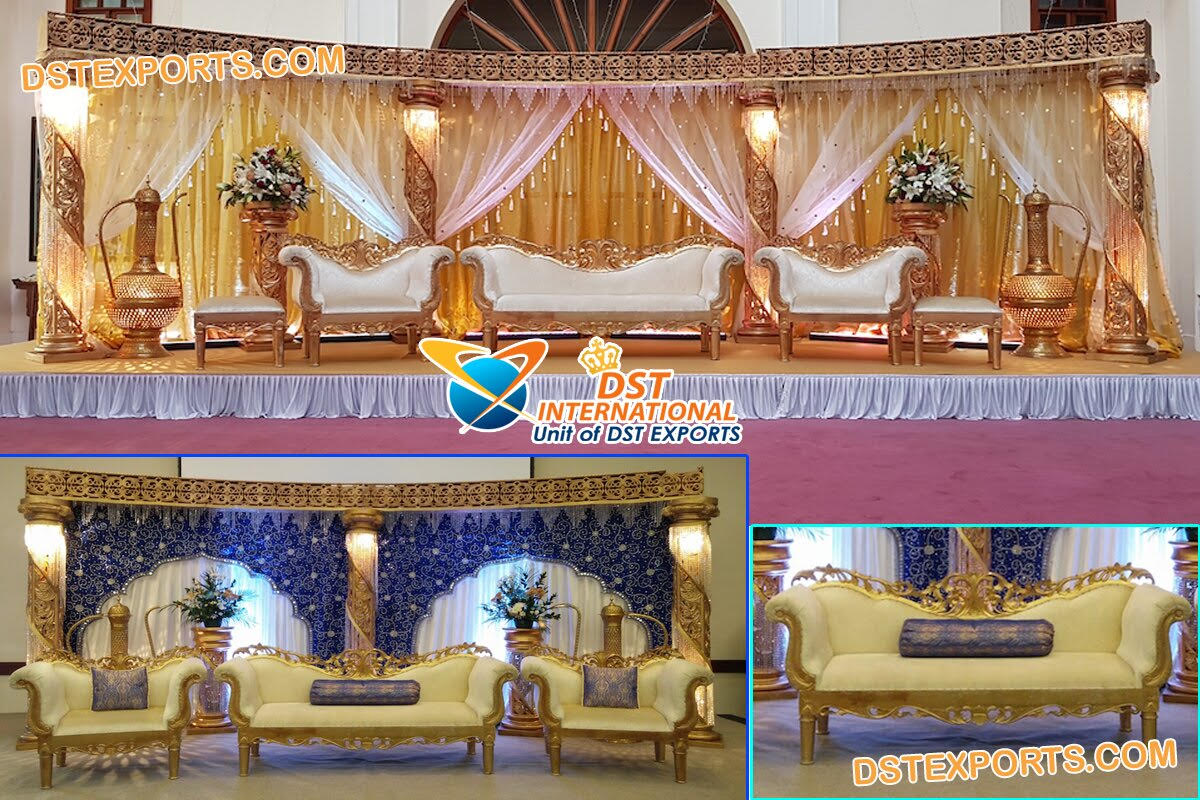 Golden Open Style Wedding Stage & Mandap:- This is Golden Open Style Wedding Stage & Mandap which specially Designed and Manufactured by DST EXPORTS. This Setup is fully manufactured by using Fiber and decorated with crystals. This stage set always gives a flawless and astonishing beauty at every ceremony. This stage can be used on numerous occasions for instance reception, party, wedding, and many more.
This setup includes:- Four Fiber Crystal Pillars of 8 feet high each, Three Top Arcs, Two Surahis, Wedding sofa set, Backdrop Curtains. These stage props can be used to make an Open mandap also. A Customer can also buy Six Wedding Mandap Chairs, Hawan Kund to make an open mandap from these props (as shown in the pic).  These things are made of fiberglass, deco painted. We also Provide a Wedding sofa set in stage setup which is made of treated wood, with high-quality deco-painted. This stage setup is really very famous for its Simple Visual. This stage decoration is made of fully Fiber As well as It is Self-standing which saves time during Wedding Stage Decoration. There is Proper Setting of Metal Pipes inside the Pillars and Metal Pates inside the Frames which makes installation and assembles of such stage into 10 to 15 minutes with the help of 2 or 3 man powers.  These all Pillars/Panels are provided in all sizes, shapes and many designs as per customer's requirement. You can use these stages set for multipurpose like a wedding, reception, decoration and another occasion.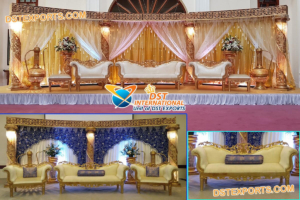 This Wedding Stage is well manufactured by DST EXPORTS. As a result, we provide it in any color, in any shape, and in any design as per customer's requirement. This Wedding Stage set readily available here in stock. Just like this stage, We have many other types of the wedding stages. You can pick any plan from here and get all the more fascinating items that you like to buy. On the off chance that you need to do any adjustments in this item, you can contact us our WhatsApp number: +919815224101, +917696522022. you can look at our more items from our site https://dst-international.com/
DST EXPORTS are the best manufacturer and exporters of wedding Stages and wedding Mandaps. It also manufacturer backdrop panel, furniture, and all other wedding decoration items. DST EXPORTS manufactured many other types of wedding stage setup such as Asian Muslim Reception Stage Decorations, Best Asian Wedding Stage Decoration Set, Latest Trend Wedding Stage Decorations, Elegance Asian Wedding Stage Decor Set, Royal English Wedding Stage Decorations, Ancient English Wedding Stage Decor Set, Arabian Style Wedding Stage Decoration, Exclusive Asian Wedding Stage Set etc.
---
"More you buy.... Lesser is the shipping"
Product Form