Project Description
FRP Peacock Figurine Statue for Wedding Decor
With the marriage season abuzz its arrival, you are positively looking for each possible part to jazz up your wedding celebrations. However before you check out the main points of the most suitable tablescape or corner installations for your wedding, we'd wish to pull your attention to one very basic, however an indispensable wedding element—Entrance walkway decoration.
It's a very little platitude to mention that the primary impression is that the last impression, however, if you would like to administer your guest's associate degree ever-lasting expertise and much of images to require back from your wedding, it is a should you concentrate on their arrival. And being your final guide for everything weddings, we're right here to form certain you are obtaining rafts of inspiration for your entrance decoration and not exploit your guests all disappointed. Down here we've enlisted some uber-cool ways that you'll be able to fig up your entrance walkways (or aisles) and build it the highlight of your wedding decoration.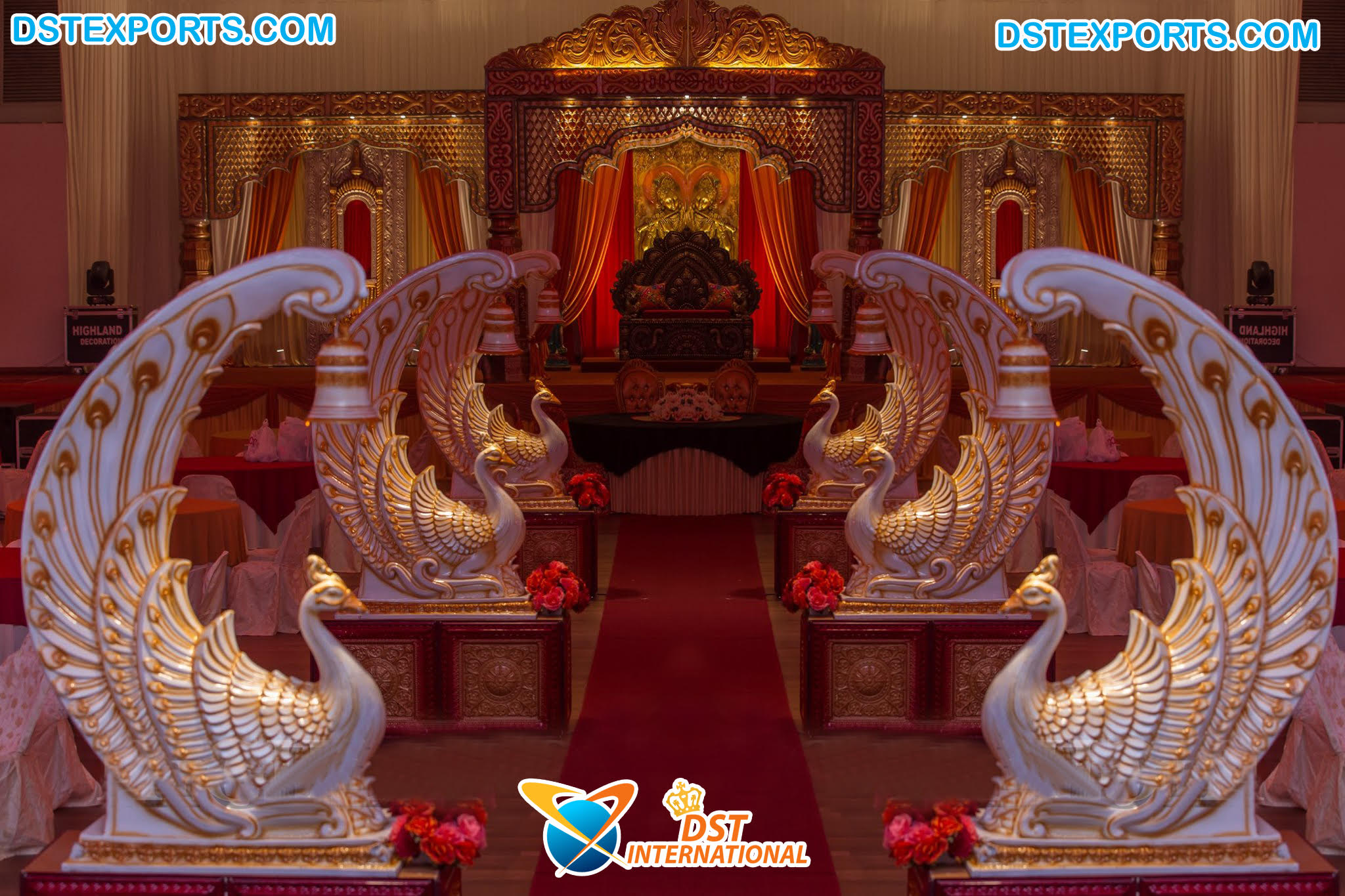 DST EXPORTS
are manufacturer, exporter, supplier, and trader of all types of Fiber statues. This is FRP Peacock Figurine Statue for Wedding Decor manufactured by us for all types of wedding decorations. We have no. of varieties of Fiber statues for entrance decoration. This setup is specially made for indian weddings.
There is a Life-Size Peacock Statue for wedding walkway area. These statues are made of unbreakable fiberglass, high quality of deco painted, light-weighted, and self-standing. The FRP Statue is 5 feet high.  These are really very beautiful as well as divining the statue for Wedding Entrance. This statue is specially made for the entrance theme but it can also be used on the wedding stage to give a traditional texture to wedding decoration. These statues are made on customized options. These statues can be used in any type of event.
We have many statues for all types of Divining statues like – Radha Krishna statue, Ganesha statue, Shiv-Parvati statues, FRP Maa Durga statues, etc. These statues are provided in any color, any size, and in any shape as per customer's requirement. We have a variety of designs of Ganesha statues. A customer can choose from our website and even a customer can avail of their own design. We can make as per customer requirements. Visit our site – www.dstexports.com
For Betterment of product and to increase the quality of the product, we use a special technique like –
1. We have done all the waterproofing
2. Sandpaper rubbing on each part of the product. These techniques give more perfect finishing and smooth texture on joint as well as Product
DST International manufactures and export all types of Entrance Wedding Ganesha Statue, Fiber Lord Ganesha Sculptures, Fiber Buddha Statue, Indian Wedding Elephant Statue, Wedding Fiber Peacock Statue, Fiber Lord Ganesha Beautiful Statue, Beautiful Fiber Flower Pot, Beautiful Fiber Ganesha Statue, Beautiful Fiber lady Center Table Statue, Fiber Lady Table Statue, Beautiful Radha-Krishna Fiber Statue, Punjabi Village Theme Fiber Statue, Punjabi Culture Fiber Statues, Welcome Statues, Ganesha Statue Decoration Stage. All fiber statues are durable fine quality heavy duty unbreakable light weight different sizes and finishes.
We are passionately engaged in manufacturing, exporting and supplying an exclusive range of FRP statues. These statues are an excellent blend of elegant design & sophisticated pattern and portray the intricate craftsmanship. Crafted and designed by creative professionals with premium grade raw material.
We are reckoned to be a known name in the industry as the distinguished manufacturers, suppliers and exporters of Fiber Statue in the world from many years. All our products are widely acclaimed to be the best in the industry as they are made up of fine quality raw materials and cutting edge technology. Moreover, these products are also passed through various quality checks and they are extensively used in marriages for decoration purpose. Further, we are offering all our leading products at cost effective prices.
---
"More you buy.... Lesser is the shipping"
Product Form