Project Description
Give your bedroom an instant upgrade with this distinct design of Fancy Vintage Style Bedroom Furniture Sets. This beautiful design is easy to pair with various bedside tables and dressers for a matched set.
DST Exports brings to you a strong quality of Handmade Designer Antique Wooden Bed Furniture that is designed using prime high-quality Teak Wood. It's no wonder this Carved Wooden Furniture has remained one of our customer favorites over the years. You can also customize the size as well as the finish the Handmade Wooden Bedroom Furniture to blend it as per your home decor.
Fancy Vintage Style Bedroom Furniture Sets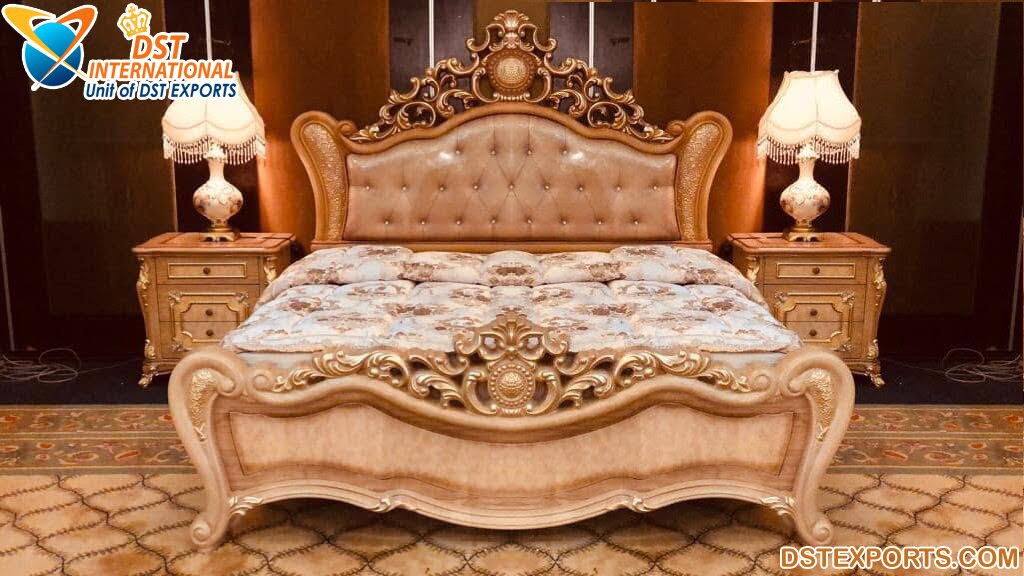 Undoubtedly a bedroom is an essential part of one's home. When an individual is tired and exhausted after a day's hard work, he would certainly want to come and relax in a place that gives him peace. For many individuals, their bedroom is their hideout. In order to get that relaxation, it is of extreme importance that their bedroom meets up to their requirement, which is why furnishing a bedroom is of immense significance.
If you are looking for a set of furniture pieces that changes the entire outlook of your room and enhances the beauty of it, then this uniquely styled bedroom set is the perfect choice for you.
The bed is available in two sizes; a queen-size bed or a king-size bed. You also have the option to add a nightstand and a dresser along with a beautiful bed. The great appeal of this set is the bed with its oversized headboard. This oversized headboard with crown style designing. The full leather button tufted headboard gives the bed a very luxurious look. It is further elegantly framed in a rich wenge border. When you will place your mattress (which is not included with the bed), it will sit snuggly atop a solid pine slat mattress base to add the utmost comfort for you. The entire bed and other components are created with solid quality hardwood to ensure durability remains intact. The full leather upholstery is available in white, black or chocolate brown colors. These colors reflect extreme elegance and shall complement several color schemes of your room.
Material: Grade 1 Teak Wood
Size: King Size
Mattress Size: 72″ x 78″ inches
Upholstery: Faux Leather
Features
Maharaja Bed
Hand Carved
Style: Luxury
Queen Size
Mattress Size: Standard
Impeccable Carving
Beautiful designed
Made From Grade 1 Teak Wood
Our expert artisans are master in creating almost every style of furniture, unwavering focus on quality, impeccable carving, wonderful symmetry in complex carving, excellent carpentry, the perfect color-finish, and world-class designs are some characteristics of our furniture. Each piece on our platform is designed by the renowned artisan and crafted by world-class craftsmen.
DST Exports brings to you a handpicked selection of teak wood carving royal sofa set, wood hand-carved luxury bedroom set, Rajasthan style maharaja jhoola/jhula, solid wood Hindu temple/mandir, Italian PU finish designer dining table set, maharaja sofa set, big royal doors, Almira, carved wardrobe, limited-edition artifacts, sculptures, traditional art piece, accent furniture, tableware, and more
DST Exports offers Royal Premium Quality Traditional Wooden Bed. The Spectacular King Size Bed is designed with utmost respect. Hand-carved this set is delightfully elaborated; it is presumably a work of ART! With its rich Pickle Frost finish and Silvery Brushed tones on the Crafted details, along with its Bonded Leather Backrest and Footrest. Sleep like a royal in the relaxing comfort of the European Carved and Tufted Bedroom set from DST exports Design.
Designed to recreate the brilliance of antique design forms, this bedroom set draws inspiration from European design forms in creating the elaborately-carved frame of all the furniture items. The high headboard and the footboard of the bed are designed using tufted panels along with elaborate carvings that grace the crown. The claw feet supporting the base of all furniture items are carved to complement the ornate theme of this ensemble.
---
"More you buy.... Lesser is the shipping"
Product Form