Project Description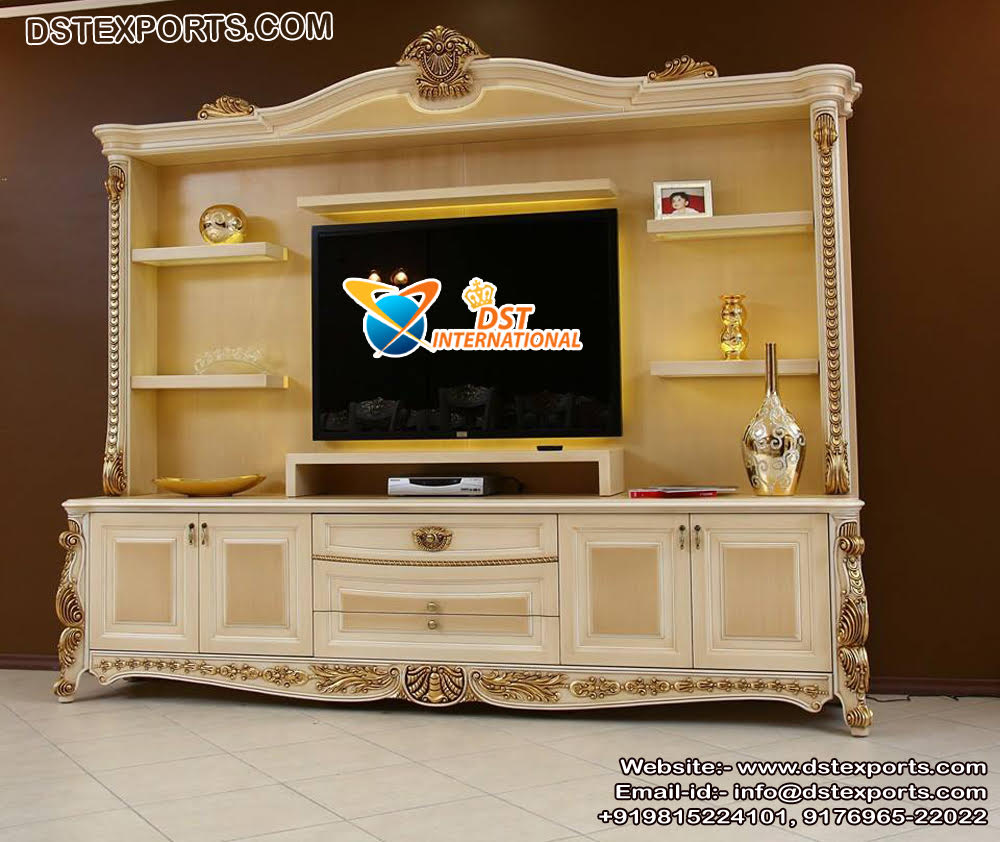 Exclusive Design Teak Wood TV Stand & Cabinet Set
Looking for a perfect TV Showcase Furniture to complete your living area space so your search ends here, DST Home Furniture is original manufacturer and exporters of all type of Home Furniture including TV Stands in Luxury Designs. Today DST Presenting the exclusive design of TV Stand with Cabinet "Exclusive Design Teak Wood TV Stand & Cabinet Set"
Add functionality and elegance to your living room with the luxury carved living area TV Stands with Cabinet, which features intricate carvings and antique white and gold finish. The model will perfectly complement the interior in a classic style
Product Description
Exclusive Design Teak Wood TV Stand & Cabinet Set is a classic decorative TV showcase furniture design with elegant carved decorations. This Luxury Decorative TV sideboard has a very beautiful modern classic furniture design model to complement your living room or family room.
With quality teak wood material will ensure the durability of the use of this tv sideboard. The DST Luxury Decorative TV Sideboard is perfect for filling your living room with a classic and modern style. It is suitable to beautify the room of your house in a modern classic style. Complete your home room to make it more attractive and comfortable with various models of our furniture products.
(A) There is beautiful set of TV Showcase furniture including one TV Stand and One 5-drawer cabinet
(B) These furniture pieces are made of teak wood material which makes it more durable and long lasting
(C) All these furniture is high polished with polyester which makes it more glossy and classier
(D) Each Piece of Furniture is beautifully hand carved and highlighted with white finish.
(E) Storage Facility Available in cabinet and also TV Stand has side holders where decoration pieces can be kept on it
Features:
Carving parts are beautifully highlighted .
The product is designed to maximize durability and the benefit from the user experience.
The embroideries on the outer surfaces of the parts in the product provide a stylish integrity with classical lines.
Our product is produced with 1st class material.
There are no carcinogenic substances in our product that can harm health.
Dimensions:
TV table: 1 Piece (Size 160 x 50 x 65 cm)
Side Cabinet: 2 Piece (size 55 x 50 x 200 cm)
Production process
We are using the old world method, and every step of the production, including building the raw state of the furniture, to make the carving and the finishing work will be done manually by hand, using a mixture of traditional craftsmanship and modern techniques.
We want you to love your furniture for years to come, which is why we make sure that we only use the best materials to produce our furniture. We kiln dry our timber to remove any moisture, preventing it from expanding and contracting over time, and make sure it will come in your place without any problem.
Our carpenters have a lifetimes experience in furniture making, and we never compromise on quality! We have the quality controller on each step of the production to check our production work, ensuring we always meet customers' specific requirements.
We would like to offer you the following:
– Huge collection of items in various designs and styles.
– No minimum order quantities on any item, you may order 1 piece from each item.
– Various finish color, finishing techniques, accessories, materials, fabrics & leathers.
– 100% Quality Product
Following are the factors that contribute to our success:
Made from Premium Quality Teak Wood. Hand-carved and Beautiful designed
Premium embossed finishing, Handmade by skilled craftsmen which give royal look to your decoration.
Give Your Home A Luxurious Look With Teak Wood Furniture
Fits in your space fits on your budget. Made of high-quality solid wood and crafted in ethnic designs.
Color: Brown, Care Instruction: Use a table cloth or any thick quality cotton cloth to wipe it clean.
Handcrafted by skilled artisans with premium finishing.
No Assembly Required: The product is delivered in a pre-assembled state.
Any Instruction Contact to Seller For Modification.
Please note that the size and color of the unit may vary slightly as this is a handcrafted unit
DST Exports is one of the best and most reputed furniture manufacturing companies based in Patiala. We are furnishing trendy, contemporary and classy households with exclusively crafted teak wood furniture since last …decades. Our USP (unique selling proposition) is contemporary design furniture made of solid CP teak wood, modular kitchen & modern living sofa. We have huge experience and proficiency behind our name in designing the most stylish and elegant looking furniture for living rooms and bedrooms of our clients
---
"More you buy.... Lesser is the shipping"
Product Form