Project Description
A wedding is the most significant occasion in everybody's life. To make that occasion increasingly Elegant and Flawless We present Our One of the best Collection of Wedding Stage Decoration. According to the look, this stylistic theme is named as European Wedding Reception Stage Decor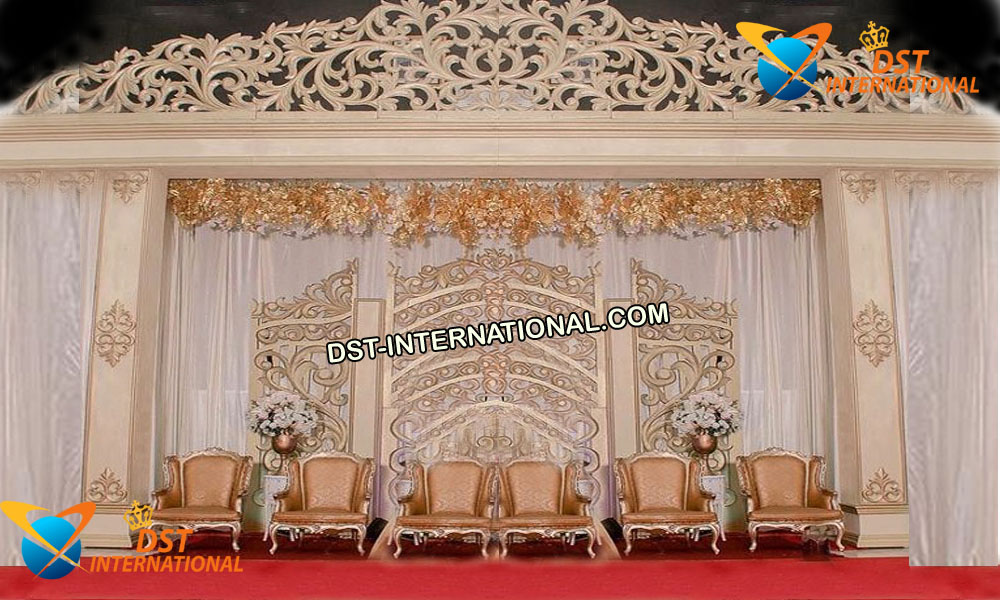 The Grand Back-casing of this stage resembles a Gate Design. This kind of Wedding Back-outlines style is planned and made by us. First of all, we make drawings of such excellent back-Frames and after that execute it with fiber material. We have an extremely experienced and talented work-group to make such enlivening fiber props. This is an Exclusive just as Trendy Decoration for Wedding stage.
This Asian Wedding Stage Decoration adornment is made in a few sections which incorporate – Two Fiber Pillars with full top arc and One big Crown (on the top), One middle hand-carved frame, Two frames on the side. et high 5 feet wide (as an afterthought). This Setup is totally Made of Fiber As well as It is Self-standing which diminishes the time during Wedding Stage Decoration. We have done all the waterproofing similarly as sandpaper scouring on each thing to give them Perfect Finishing and smooth surface on joint similarly as Product. This Setup Gives a Royal Look. This Stage Setup is Really Very Famous in Foreign Countries. For Decoration Purpose this arrangement incorporates – numerous props like Big Flowerpots with base, Small Moroccan Lamps, Flower Decoration.
Wedding Furniture is a Center of fascination at the wedding stage. The spouse will situate on it and make the most of their valuable minute We have numerous designs of Wedding couch, seats, stools, tables which should be utilized for making stage design Perfect. A client can pick any Design from Our Website. We can make definite.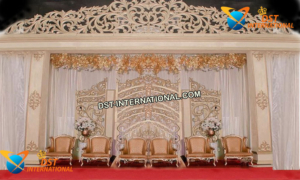 We have all types of Wedding Decorations Items. This Asian Wedding stage decoration can be made on a customized option. We can provide it in all colors, shapes, sizes, etc. For any type of query get in touch with us our WhatsApp number: +919815224101, +917696522022. You can likewise make a Video call with us on our contact no. for close Zoom-up and see the high-caliber of Our items. A client can likewise effectively Compare the Quality of our items and Other sellers. We are making Export commendable Products. Visit Our Site for More Designs – dst-international.com 
DST INTERNATIONAL  is Promoting Indian culture through our range of products, we proudly introduce ourselves as one of the prominent manufacturers and exporters of wedding mandaps, wedding furniture, wedding accessory horse carriages hand-carved furniture, wedding furniture, hand-carved wooden furniture and metal furniture, wedding swings, Traditional Doli, wedding welcome statues, Punjabi culture statues, handicrafts, weddings decorations and many more in the offering.
With our experience, we are establishing our export markets for Wedding Mandaps in countries like USA, UK, Australia, Canada, South Africa, New Zealand, Nigeria, Ireland, Uganda, Fiji, Netherland, France. To meet an even increasing demand from our deemed customer, we are determined to provide them the best product quality from ours. Under our company head, our products are duly supervised and only high-quality material.
---
"More you buy.... Lesser is the shipping"
Product Form