Project Description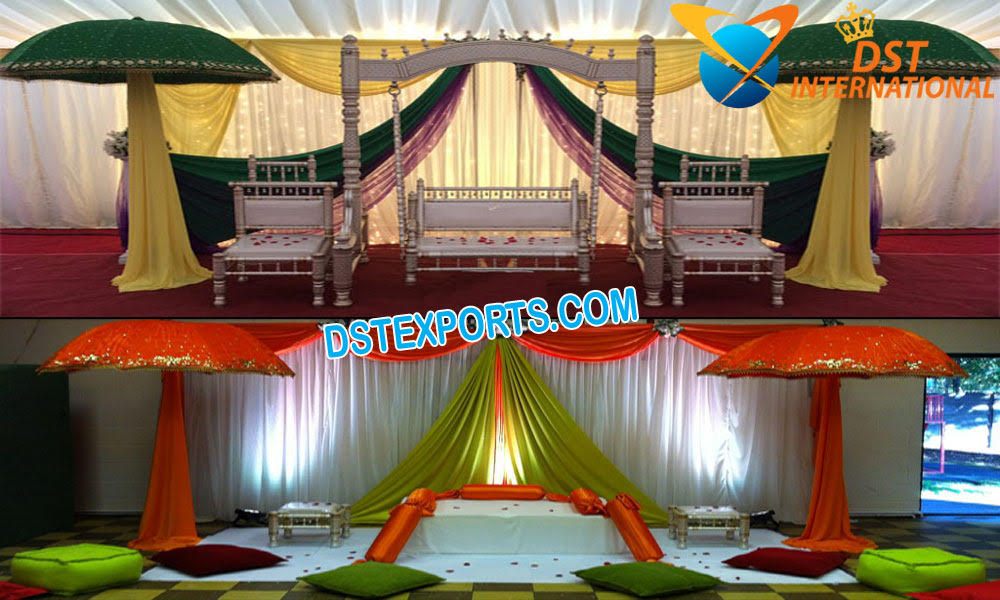 Embroidered Umbrellas for Heena Party Decor -This is Mehndi Setup With Decorated Umbrellas designed and manufactured by DST international. This is one of the Useful decoration Props for Wedding or any type of event
This is a Pair Big  Decorated Umbrellas for Mehndi Setup. These Umbrellas are made of velvet and Hand – Embroidery is made on it. These Umbrellas are basically made  6 feet high size but it can be made as per customer's requirement. The basic usage of these Umbrellas is for Mehndi Setup but it has multiple uses like- These Umbrellas can be used as entrance decoration, wedding stage decors, event, reception, table decor, bridal entrance decor, and other decoration, etc. These Umbrellas can be used as Center Pieces on the table with base stand. This type of decorated umbrellas gives a precious look at the wedding. These are made by our professional workers who are very experienced in this field.
DST-international is the best manufacturers and exporters of wedding mandaps, stages, backdrop panels, and all other wedding decor items.
These umbrellas are provided in any color, any size and in any shape as per customer's requirement. This stage set readily available here in stock. We have many other types of wedding stages. You can choose any design from here and get more interesting products which you like to purchase. If you have any queries about this product you can contact us our WhatsApp number: +919815224101, +9186753-33339.  Our website is https://mandapexporters.com/
DST-international is the best company for the manufacturing of Indian Wedding Decoration Props. We are also manufacturer and exporter of Wedding Mandaps, Indian Wedding Mandaps, South Indian Wedding Mandaps, Wedding Stages, Asian Wedding Stages, Muslim Wedding Stages, Horse Drawn Carriages, Wedding Horse Drawn Carriages, Punjabi Culture Fiber Statues, Wedding Welcome Fiber Statues, Indian Wedding Decoration accessories, Punjabi Wedding Decoration accessories, Indian Wedding crystal Mandaps, Wooden Mandaps, Cinderella carriages, Victoria Carriages, Western Wedding Stages, Phulkari decoration, Horse Costumes, Mehandi stages, Haldi Stages and all wedding decoration things. We export all these items from India to all over the world like some major countries like the USA, Uk, Canada, West Indies, South Africa,  Germany, Mexico, and many other countries. We are the Worldwide exporter of all these things.
---
"More you buy.... Lesser is the shipping"
Product Form