Project Description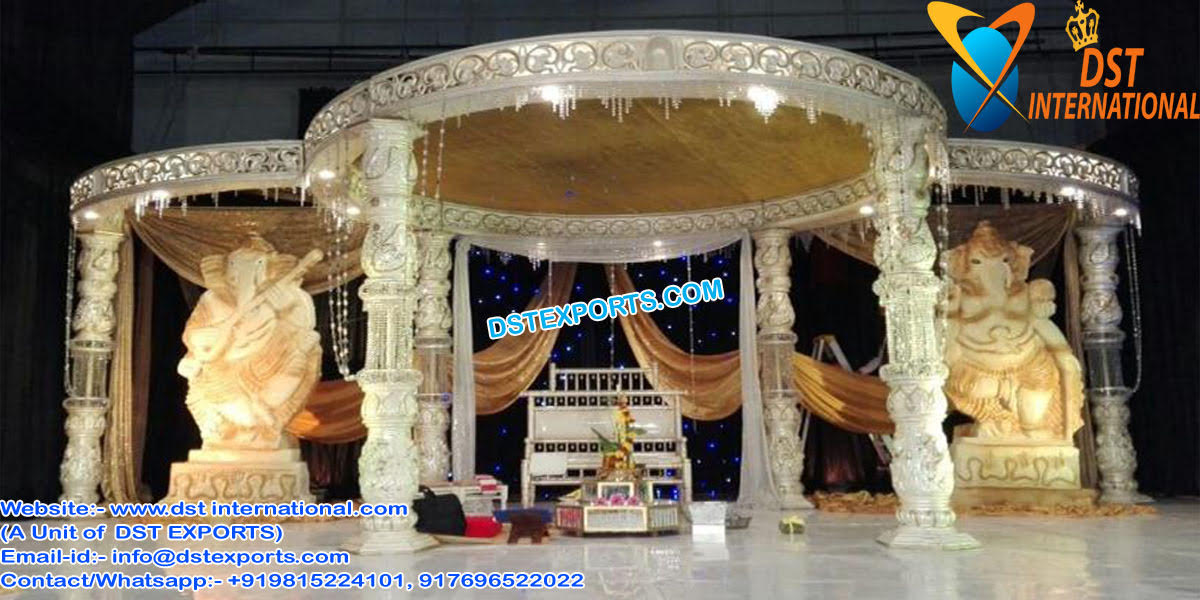 COMPANY DETAILS –
Dst International (A unit of DST Exports) is the manufacturer and exporters of all kinds of Crystal Wedding Mandaps including Elegant Hindu Ganesha Wedding Mandap. We are supplying our wedding mandap worldwide, for the past 20 years. DST International is a UNIT of DST EXPORTS. We are also a specialized manufacturer of wedding decoration Products like Mandaps, Stages, Backdrops and many decoration items. We are based in Patiala, Punjab, India. Our Mandaps and all products are hand-made. All Mandaps are India-made Products. All Products are made in excellent and export worthy quality
We are Exporting Our Wedding items to all over the world like some major countries USA, Canada, UK, Fiji, France, Germany, Netherlands, South Africa, West Indies, Nigeria, and many more other countries.
Product Information:- Elegant Hindu Ganesha Wedding Mandap
This is an Exclusive Mandap design presented by DST-international. This Mandap is well known as Elegant Hindu Ganesha Wedding Mandap. These Mandap Pillars are beautifully designed, the upper part and the lower part of pillars are made of fiber and the middle part is decorated with crystal chains. There is a Lotus style carving on the base of Mandap Pillars. This featured marriage mandap gives a flawless beauty at the wedding event.
Material
Fiberglass and crystal
Type
Wedding Mandap Decoration
Brand Name
DST- International (Unit of DST EXPORTS)
Color
Customized
Usage
multi-purposes wedding,event,party,
engagement, hotel decor etc.
height
10 feet high/Customized
DST – International will Provide you everything which is necessary in wedding mandap, item as follows
Set includes:-
1. Six Fiber Crystal pillars for mandap
2. Six top fiber arcs/Connectors
3. Two pillars and arcs for welcome gate
4. Six small pillars for walkway/pedestal
5. Six statues for walkway (Ganesha/Diyaladies/Flower-pots)
6. Six Wedding chairs/swing/sofa
7. Four Pot Pillars
8. Backdrop  curtains 10 x 30 feet
9. Havan Kund/firebox
10. Carpet for mandap and walkway area
All goods made of fibre are proper unbreakable and lightweight so that it's easy to transport. We make all goods mostly foldable so it does not occupy much space, as we have skilled labor for all these types of works. Even wood used to make chairs and furniture are very lightweight and termite resistant. We provide a proper certificate for each and every product known as a fumigation certificate which shows that our products are much better than the standard value of products in all countries. We take responsibility for our goods till the client house and all goods are covered under insurance which is valid throughout the world. We do our best efforts to make our goods properly finished and look more elegant that everyone praises about products.
Feature of Wedding Mandap;-
 We are using very high-quality Fiber in manufacturing these mandaps.
This Mandap is decorated with original crystal
These Mandaps painted with superior quality deco-paint
.All pillars are fitted with inside lights
Fiber Crystal Mandap is totally foldable
 These Mandaps are Self-Standing
These Mandaps are easy to install and assemble
 These Mandaps can install this mandap with 10-20 min
Our Mandaps and all goods are certified by SGS
We have done all the waterproofing as well as sand paper rubbing on each product to give them more perfect finishing and smooth texture on joint as well as Product
All products will be insured while exporting them. so its really very safe to buy these mandaps from us.
You can also make Video call with us on our contact no. for close Zoom-up and see the high-quality of original product. A customer can also easily compare the quality of our products with local vendors. We are making Export worthy Products. You can also check our more products from our website www.dstexports.com.
Why Choose Us:-

* We are experienced and professional manufacturers. We have more than 15-year experience in this field. With our experience, we are establishing our export markets all over the world including countries like the USA, UK, Australia, Canada, South Africa, New Zealand, Nigeria, Ireland, Uganda, Fiji, Netherland, France and many more.
* Our all services are reliable and for a lifetime.
* Our exquisite wedding products are prominent for perfect finishing and smooth texture.
* All products are made of high-quality materials.
* We always cooperate with our clients and provide exceptional services
Packaging And Shipping:-
All Products will be packed in Export quality.  It has Triple layer packing. These Products are packed firstly in bubble papers. Then packed in cardboard. Then wrapped in polythene paper. After these are packed in wooden created.
Shipment according to the volume of order LCL/ FCL
---
"More you buy.... Lesser is the shipping"
Product Form