Project Description
You can design and decorate your dining room by shopping beautiful 6 Seater dining table sets wooden furniture. A comfortable, stylish, and furnished set that can be purchase online at the Best price. Extracted from the Teak wood, the oak finish makes it look very clean and impressive Solid wood six-seater dining table and chair are available in various trendy shapes like square, rectangular, circular, and oval. An elegant panache sturdy furniture can make your home come alive.
Looking for different material design in Wooden Dining Sets, have a look at Traditional Wooden Dining Table set, also in case you require fine carving in Dark Walnut Finish, go for Handmade Wooden Dining Set.
Designer Dining Room Table & Chair Set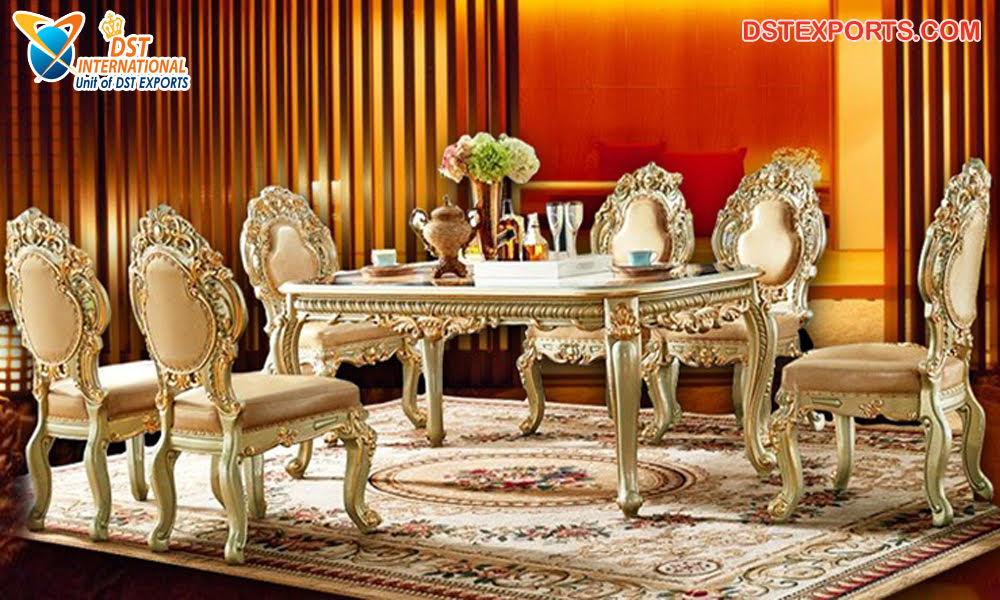 Home furniture plays a pivotal role in your home décor. Available in various styles, home furniture designs come up with a plethora of options on its color combination and size. A vacant room is the most appropriate area for the furniture range which offers utility and hospitality in an immaculate way. It enables you to create an unconventional theme in the house. Designed with strong and decorative material, home furniture increases your comfort level and raises your standard of living. It imparts significantly to enhance the visual appeal of your home. Besides offering copious space, it makes the area hospitable and positive.
Dining Room Furniture Apart from looking good, dining room furniture should also be efficient and robust, these include tables, chairs, and cabinets. Always remember to emphasize quality over quantity when it comes to dining room furniture. This is Dining Room Table and Chairs set manufactured and designed by mandap exporters and well known as Designer Dining Room Table & Chair Set.
PRODUCT DETAILING 
| | |
| --- | --- |
| Usage/Application | Home |
| Color | as per choice |
| Brand | DST EXPORTS |
| Design | Modern |
| Chair Type | 2 master chairs + 4 armless chairs |
| Appearance | Modern |
| Quantity  | 6 seater + Dining Table |
| No Of Chair | 6 |
| Delivery Time | 25-30 days |
| Type Of Wood | teak wood |
| Finishing  | Perfect Finishing with a polishing |
| I Deal In | Now Only |
| Chair Size | 20 inch |
| Table Size | 72 x 48 inch |
| Upholstery Material | High-Quality Material |
| Shape  | Rectangular with 8 Chairs |
| Room Type | Dining Room |
Description;- This is a Designer Luxury Teak Wood Dining Set manufacture by mandap exporters. This 8 Seater Dining Table set is finished in Gold wood paint along with PU clear protective coat. It has a toughened 12 mm Glass top.
1. Please note that Chair Fabric / Leatherette shown in the image is just a representation. Our Chairs by default are upholstered with fabric/leatherette. In case of you want to opt for a higher range of fabric/leatherette, the differential cost will be charged extra on actuals. You also have the option of buying upholstery fabric/leatherette yourself and courier the same to us.
2. By default, we provide Foam Seat cushions with 42 density. This can be customized to your required foam density as well.
3. Customization of paint, polish or fabric is possible after making advance payment. Kindly get in touch with us.
A reliable Furniture Manufacturers based in India supplying and exporting Royal and Carved Sofa Set in all over the world. We provide an exclusive range of living room furniture sets for the people who follow the royal lifestyle. We deal with a vast range of furniture which includes Sofa Set, Dining Table Sets as well as Beds. Moreover, we have an in-house facility for Sofa Manufacturing in Punjab.
Our products appreciated by our clients and we are always admired for our services. We make decorative furniture for both interior and exterior, we make interior furniture like living room chairs, Victorian sofa set, bar stool, divider screen or partition screen, etc. in exterior furniture we make wooden swings, white metal door panels, coffee table, etc.
Teak wood is known as one of the sturdiest wood materials in the world. It is valued for its durability and water resistance features. For centuries, teak wood has earned immense popularity among furniture makers and buyers for its warm color and low elasticity characteristics. The rising price of teak also makes it a sought-after product by furniture collectors for its high value.
Our Main Objectives
We would continue to focus in our research and development effort to create trendy and contemporary design teak furniture which are functional, elegant and retain the natural beauty of teak
---
"More you buy.... Lesser is the shipping"
Product Form