Project Description
Decorative Rehri Stall For Mehndi Decor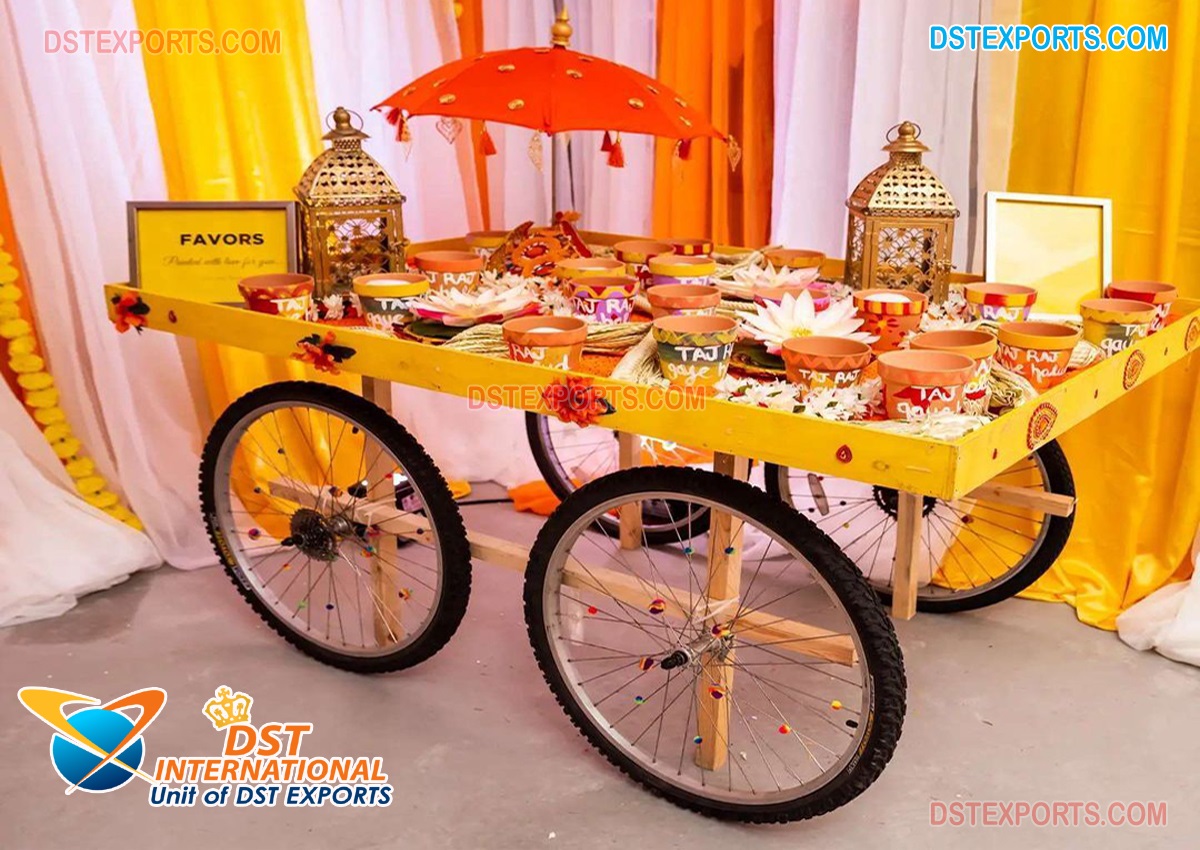 Decorative Rehri Stall For Mehndi Decor :- DST International is the original manufacturer and exporter of wedding decoration items, One of them is the Wedding Decorative Stalls. We are specialized in making such type of food stalls and today we presents a newly designed "Decorative Rehri Stall For Mehndi Decor".
This Decorative Rehri is decorated by colorful small umbrellas, fiber Moroccan lamps etc. Customers can add more decorative items to more decorate this  mehndi décor Rehri stall.
These are very beautiful decorative stalls in Rehri style. These colorful Mehndi theme wedding food carts are made of wood, metal and painted with a high quality of deco-paint. These Decorative Rehri Stalls are decorated with High quality Fabric. This is the latest trend to decorate at a wedding or any event. These stalls can be used in any event such as weddings, reception parties, mehndi parties, and any other event for decoration purposes. These Food counter stalls are provided in any color, in any shape, and in any design as per customer's requirement. Wedding Food Stall Decoration can be used as a bangle bar and can also use for other purposes.
We have many other designs of food carts. You can check out our more products from our website www.dstexports.com. DST EXPORTS are the best manufacturers and exporters of wedding mandap, stage, backdrop panels, and all other wedding decoration items. You can freely chat or call us about the product on our WhatsApp +9198/158224101, +918675333339
DST EXPORTS is the best company for manufacturing all Wedding Food stall decoration. We are also a manufacturer and exporter of Wedding Mandaps, Indian Wedding Mandaps, South Indian Wedding Mandaps, Wedding Stages, Wedding Stage Backdrop Frames, panels, Muslim Wedding Stages, Horse Drawn Carriages, Wedding Horse Drawn Carriages, Punjabi Culture Fiber Statues, etcThis food cart is readily available in our stock.
---
"More you buy.... Lesser is the shipping"
Product Form