Project Description
The Flourishing stage is the most crucial decoration at all type of wedding reception. For couples who are a fan of a minimalist and contemporary look with an elegant feel, our wedding stage inspirations can be your visual references to have the most memorable decoration at your special day
Not every venue comes with breathtaking views or built-in decor, but you make it look beautiful with amazing decor and setting. Whether you want to make a backdrop for your wedding stage or photo booth, it gives you an opportunity to add some personal touch to your wedding setting and completely elevate your decor. It's hard to beat a creative backdrop that makes your photos more special and let your guests have a blast posing in front of it. We have a wide range of Wedding stage backdrop decoration props.
What about putting leather tufted Pillars/panels on stage, Yes its a good idea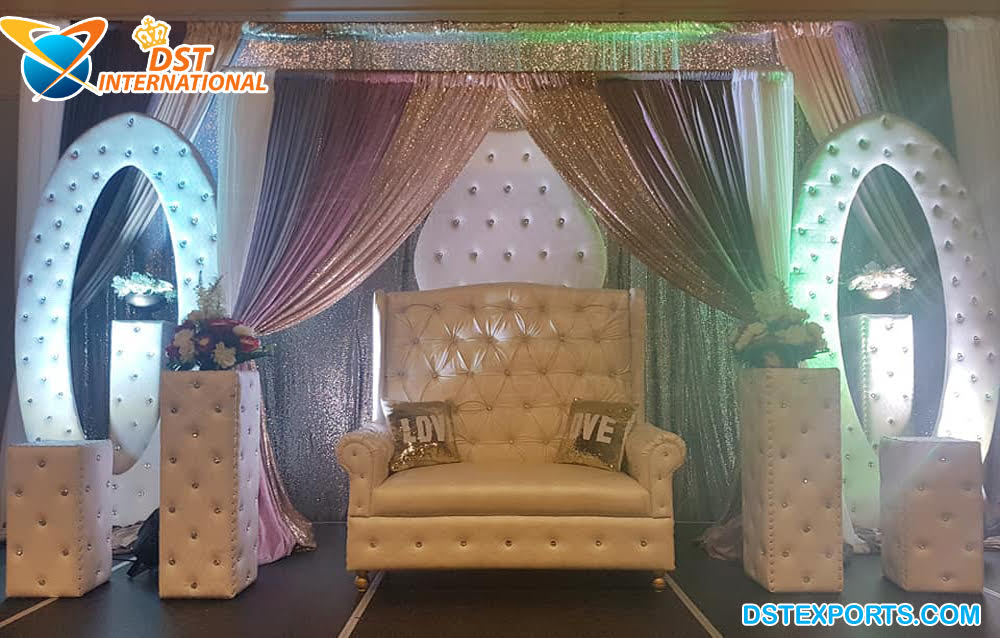 Contemporary Wedding Tufted Panels Stage ; The elementary aspect providing your ceremonies the "wow" factor is the royalty Decor!! Being in the business since last twenty years DST EXPORTS has a lead among others in the manufacturing and exporting complete wedding decorations for a variety of events. Innovation and nothing less than the perfection is the key to the DST Exports.
Of course we take the time to understand your ideas, themes, concepts and color schemes, but we do more than that too. We take the time to really understand you and your day, from the photographic needs and visual effects to the more practical concerns.
We have wide range of wedding decoration products for stage decoration. Instead of adding creative decorations to the entire venue, just a few stunning backgrounds frame and panels are enough to do the trick.
Now that we have discussed some inspirations for amazing Indian stage decoration for wedding, it is now time to understand some easy to follow hacks that will ensure that your venue looks spectacular both in reality and in pictures. We introduce Leather Frames Setup for stage decoration which is known as Modern Wedding White Tufted Leather Wall. These Frames and Panels are Designing and constructing for the perfect Modern weddings by DST international (A unit of DST Exports).
DST International (a unit od DST Exports) is the manufacturer and exporter of all types of Modern Wedding Leather Backdrop Panels and Furniture. We are the supplier of all type of leather props like – Leather tufted Panels, Tufted Sofas two seaters chairs, Tables, Food stall, Modern Wedding Leather Furnitures, Backdrop Walls Etc
Contemporary Wedding Tufted Panels Stage
This is Contemporary Wedding Tufted Panels Stage presented by DST-international. This is Wonderful White Theme Wedding Stage Decoration which includes no. of decoration items including leather panels. These Leather back-walls give luxury look at wedding events on stages. These are used for backdrop/backstage decoration. This is a leather elegant Stage setup in which following items are included –
One middle 

leather

Panel 8  feet high and fitted with crystal gems

Two Oval shape

leather

Panels 8 feet high and fitted with crystal gems
Four

leather

 Pillar 4 feet high and fitted with crystal gems
Two

leather

Pillar 3 feet high and fitted with crystal gems
One wedding two-seater
We make all goods mostly foldable so it does not occupy much space, as we have skilled labor for all these types of works. Even wood used to make chairs and furniture are very lightweight and termite resistant. We provide a proper certificate for each and every product known as a fumigation certificate which shows that our products are much better than the standard value of products in all countries. We take responsibility for our goods till the client house and all goods are covered under insurance which is valid throughout the world. We do our best efforts to make our goods properly finished and look more elegant that everyone praises about products.
Feature of Wedding Stage;-
 We are using very high-quality Material in manufacturing these stages.
This Leather tufted panels are decorated and fitted with original crystal
These Frames painted with superior quality deco-paint
 These Panels are Self-Standing
These Panels are easy to install and assemble
 These Stage Decoration can install this mandap with 10-20 min
Our Stages and all goods are certified by SGS
All products will be insured while exporting them. so its really very safe to buy these mandaps from us.
You can also make Video call with us on our contact no. for close Zoom-up and see the high-quality of original product. A customer can also easily compare the quality of our products with local vendors. We are making Export worthy Products. You can also check our more products from our website www.dstexports.com.
Why Choose Us:-

* We are experienced and professional manufacturers. We have more than 15-year experience in this field. With our experience, we are establishing our export markets all over the world including countries like the USA, UK, Australia, Canada, South Africa, New Zealand, Nigeria, Ireland, Uganda, Fiji, Netherland, France and many more.
* Our all services are reliable and for a lifetime.
* Our exquisite wedding products are prominent for perfect finishing and smooth texture.
* All products are made of high-quality materials.
* We always cooperate with our clients and provide exceptional services
Packaging And Shipping:-
All Products will be packed in Export quality.  It has Triple layer packing. These Products are packed firstly in bubble papers. Then packed in cardboard. Then wrapped in polythene paper. After these are packed in wooden created.
Shipment according to the volume of order LCL/ FCL
---
"More you buy.... Lesser is the shipping"
Product Form