Project Description
The living room is where the family gathers. They spend most of the time bonding with each other in front of the television or plainly conversing with each other. It is also where the family accepts guests and spends time catching up with friends, relatives, and even neighbors. That is why purchasing a furniture set is crucial because it serves as the main showcase of the house. Of all the rooms in your home, the living room acquires greater exposure.
A good quality sofa set will last for years so it is important to choose one that is suited to your home and lifestyle. They are an essential part of a home's furniture arrangement and thus must be trendy and exclusive.
Get a modern look that adds comfort and style to your home with the kent sofa set, European style with a sleek design will inspire a fresh look and bring comfort to your living space. tapered legs and velvet fabric upholstery of this seating collection create a stylish look that embraces vintage flair and modern living. Complete your living room decor with these chic seating options.
If you want to make the most comfortable living room, where you can enjoy daily, you need to think about adding some beautiful sofa set. But if you want to go a step further and make your living room more luxurious and elegant, Visit DST EXPORTS site, you will find some idea for your luxury living room!!!
We provide an exclusive range of living room furniture sets for the people who follow the royal lifestyle. We deal with a vast range of furniture which includes Sofa Set, TV Cupboards, Dressing table, Dining Table Sets as well as Beds, French Livingroom Furniture Set, French Dining Table Set, Chaise Lounges, Room Dividers, Wooden Swings, Wooden Sofas, Wooden Chairs.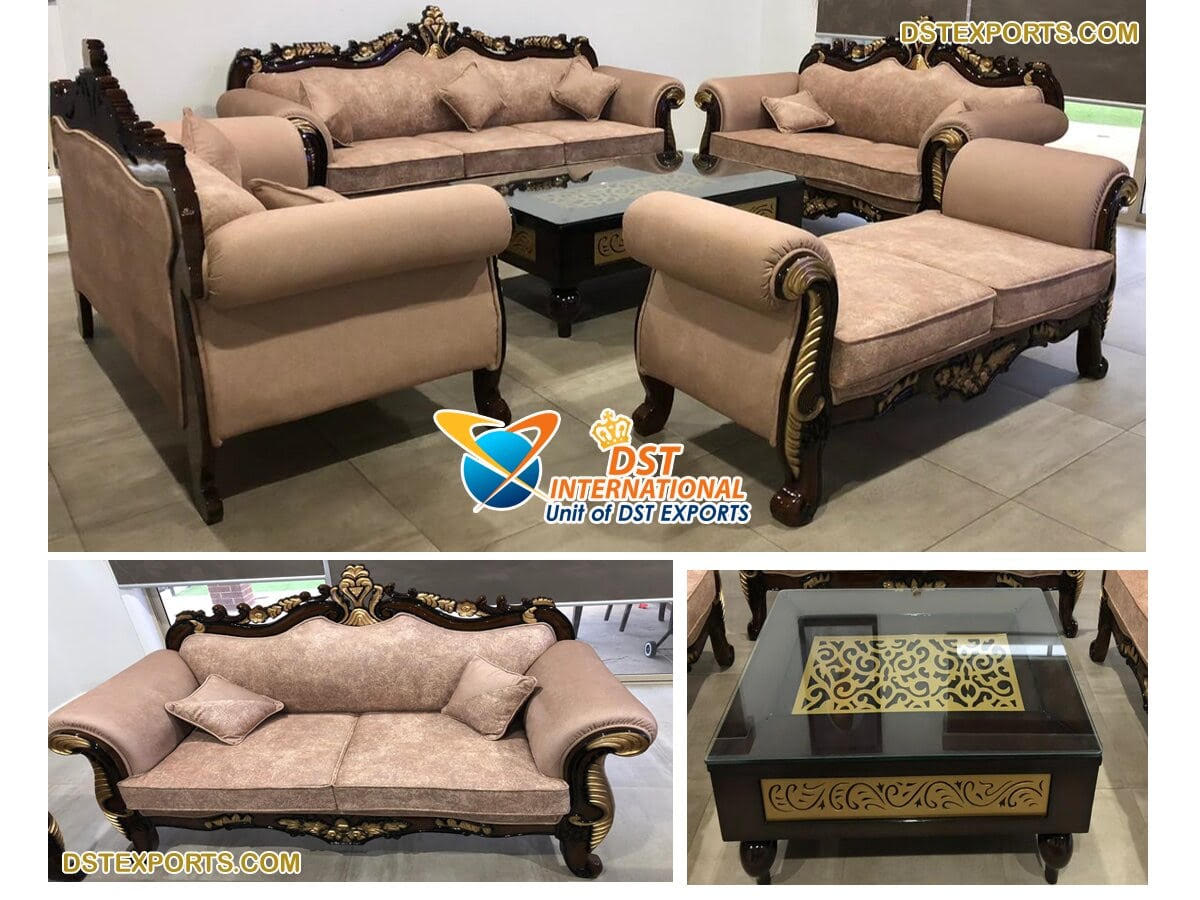 Comfortable Living Room Furniture Sofa Set
:- DST EXPORTS, one of the manufacturers, exporters, and retailers of a commendable range of Home & Decorative Furniture is known to be one of the leading names in the market. We are furnishing trendy, contemporary, and classy households with exclusively crafted teak wood furniture. We are offering affordable and durable lifestyle Living room furniture for your home and personal space. Available in a variety of colors and designs. This is a luxury Living Room Furniture well known as "Comfortable Living Room Furniture Sofa Set
" manufacturer and exporters of DST EXPORTS INDIA. 
All our products are getting widely acclaimed among the large clientele for their exclusive designs, superior quality, and reliability.
Set Includes-
One Three Seater
Two Two-Seater
One Two-Seater backless sofa
One Coffee Table
This furniture provides a rich and stylish addition to any home. It is comfortable for seating propose and also comfortable for a backrest. This Living room furniture set is very beautiful and attractive as these are made by our well-trained professionals using high-grade materials. This Furniture is offered by us are well cushioned and covered with attractive fabrics and other embellishments. It looks modern and beautiful and readily available.

| | |
| --- | --- |
| 1. Usage/Application | Home decor |
| 2. Brand | DST EXPORTS |
| 3. Color | Customize |
| 4. Material | Wood |
| 5. Condition | New |
| 6. Room Type | Living Room |
| 7. Style/Design | Modern |
| 8. Minimum Order Quantity | 1 Piece |
| 9. Height | Customize |
| 10. Back Type | Cushion |
We have in store for our clients a wide range of Home Furniture which is intricately carved to impart mesmerizing look. We not only deliver furniture but also render designer services to go with it, which makes us a well-favored entity offering the latest design furniture with utmost comfort, a promise of durability and rust-resistant material. Our efforts to provide a choice of furniture and the lowest price by the diligent efforts of our team leaders and furniture specialists.
e have been manufacturing, supplying, and trading Home Furniture Products. We are the provider of whole ranges of Home Furnitures which also includes tables, chairs, beds, desks, backpacks, dressers, room divider partition, and cupboards. These objects are usually kept in a house or other building to make it suitable or comfortable for living or working in. We manufacture wooden, products of very high and finer quality which makes them reliable and durable. Our main focus in the firm is to bring our customers a product which has superior quality and also available in a variety of designs which a customer can choose from. Our products are spacious and termite-free. The materials used for the manufacturing of these products are borrowed from a certified vendor and all the material is quality checked. After these products are manufactured, before being supplied, are nicely packaged.
MORE DETAILS ABOUT PRODUCT:-
1. Teak wood furniture lasts a lifetime and ages beautifully. This is the beauty of this wood and there is no wonder, that teak wood furniture is usually down the generations.
2. The beauty of teak wood furniture is in its natural grains and texture. We typically recommend just varnish coated furniture. Our favorite finish is the teak wood finish rather than cover it up with other wooden colors. So, just repeat the varnish every 5 years and your furniture is good for a lifetime.
We are using high-quality wood for manufacturing this Furniture. We treat wood four times for perfect finishing. We have a special work-team for wooden work. Our Work-team is professional in manufacturing Furniture. 
Following are the factors that contribute to our success:-
Made from Premium Quality Teak Wood. Hand-carved and Beautiful designed
Premium embossed finishing, Handmade by skilled craftsmen which give royal look to your decoration.
Give Your Home A Luxurious Look With Teak Wood Furniture
Fits in your space fit on your budget. Made of high-quality solid wood and crafted in ethnic designs.
Color: Brown, Care Instruction: Use a table cloth or any thick quality cotton cloth to wipe it clean.
Handcrafted by skilled artisans with premium finishing.
No Assembly Required: The product is delivered in a pre-assembled state.
Any Instruction Contact to Seller For Modification.
Please note that the size and color of the unit may vary slightly as this is a handcrafted unit
Mandapexporters (A unit of DST Exports) are the manufacturer and exporters of all kinds of Wedding Wooden Mandaps. We are supplying our wedding mandap worldwide, for the past 20 years. We are also a specialized manufacturer of wedding decoration Products like Mandaps, Stages, Furniture, Back Frames, Doli, and many decoration items. We are based in Patiala, Punjab, India. All Products are made in excellent and export worthy quality. If you want to do any changes in this product you can contact us our Whatsapp number: +919815224101, +9186753-33339. You can also make a video call with us on our contact no. for close Zoom-up and see the high-quality of original products. A customer can also easily compare the quality of our products with local vendors. We are making Export worthy Products. You can also check out more products from our website https://www.dstexports.com/
OUR MORE PRODUCTS:-
---
"More you buy.... Lesser is the shipping"
Product Form