Project Description
Classy Black & Gold Carved Dining Set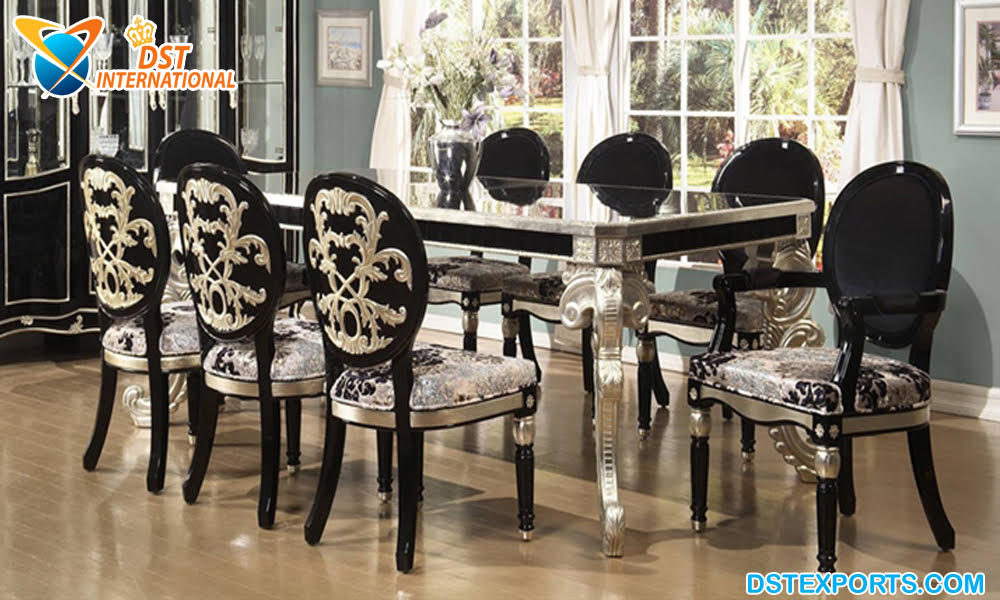 Classy Black & Gold Carved Dining Set:- DST EXPORTS presents to you a handcrafted Wooden Dining Set made from premium quality Teak wood by us. This gorgeous Vintage Look Dining Room Furniture Set is ensconced in a brown finish. Wooden dining is crafted out of solid hardwoods with premium quality Teak wood. This wood has a remarkable grain and is extremely durable. The Table design makes it traditional and classically appealing.
Includes:-
Dining table, 6 side chairs, and 2 armchairs
Table: 76-112" W x 46" D x 30" H
Chair: 22" W x 27" D x 44" H
These chairs' seats are made with fabric and comfortable for seating purposes. We have many designs of Teak Wood Dining Room Furniture like- 6 seater dining table which consists of 3.5 x 6 feet each table with chairs set, 8 seater dining table which consists of 3.5 x 7 feet each table with chairs set & 10 seater dining table which consists of 3.5 x 8 feet each table with chairs set. This dining table is manufactured using premium quality raw material and leading techniques in accordance with industry standards. We offered a dining table is accessible from us on different customized options as per the demand of customers. Our dining table is checked on several quality measures to supply a fault-free range at the customer's end.
PRODUCT DETAILING 
| | |
| --- | --- |
| 1. Usage/Application | Home |
| 2. Color | as per choice |
| 3. Brand | DST EXPORTS |
| 4. Design | Modern |
| 5. Product Name | Classy Black & Gold Carved Dining Set |
| 6. Appearance | Modern |
| 7. Quantity  | 8 seater + Dining Table |
| 8. No Of Chair | 8 |
| 9. Delivery Time | 25-30 days |
| 10. Type Of Wood | teak wood |
| 11. Finishing  | Perfect Finishing with a polishing |
| 12. I Deal In | Now Only |
| 13. Stand Type | Free Unit |
| 14. Table Size | Customize |
| 15. Upholstery Material | High-Quality Material |
| 16. Shape  | Customize |
| 17. Room Type | Dining Room |
To give people an idea about eight-seater dining tables, we have here spotlighted some benefits of the furniture and concluded stating why the furniture in question is a must-have in the house.
Durable: The great thing about 8-seater dining table designs is they are gone through a sturdy manufacturing process to keep the legs attached to the base rigidly. Wooden dining table sets stand the test of time and are timeless pieces.
Fashionable: Many homeowners want an item of smart furniture with all the contemporary looks. Traditionally, dining tables were made of different varieties of hardwoods. However, the carpentry techniques, these days, are incorporating the same craftsmanship in steel and glass units as well, thereby, leaving no stones unturned to make beautiful carvings possible out of these combinations.
Maintain the aesthetics: Wooden eight-seater dining tables cover a substantial area of the dinette and preserve the charm with the elegant silhouette. Agreed that it has a huge and bulky structure, but the craft speaks for itself and needs no other decorating supplement to enhance its beauty.
MORE DETAILS ABOUT PRODUCT:-
Teak wood furniture lasts a lifetime and ages beautifully. This is the beauty of this wood and there is no wonder, that teak wood furniture is usually down the generations.
The beauty of teak wood furniture is in its natural grains and texture. We typically recommend just varnish coated furniture. Our favorite finish is the teak wood finish rather than cover it up with other wooden colors. So, just repeat the varnish every 5 years and your furniture is good for a lifetime.
We are using high-quality wood for manufacturing this Furniture. We treat wood four times for perfect finishing. We have a special work-team for wooden work. Our Work-team is professional in manufacturing Furniture.
We have been manufacturing, supplying, and trading Home Furniture Products. We are the provider of whole ranges of furniture which also includes tables, chairs, beds, desks, cupboards, etc. These objects are usually kept in a house or other building to make it suitable or comfortable for living or working in. We manufacture wooden, products of very high and finer quality which makes them reliable and durable. Our main focus in the firm is to bring our customers a product which not has superior quality, but is also available in a variety of designs which they can choose from. Our products are spacious, corrosion-free, and termite-free. The materials used for the manufacturing of these products are borrowed from a certified vendor and all the material is quality checked. After these products are manufactured, before being supplied, are nicely packaged.
DST International (A unit of DST Exports) are the manufacturer and exporters of all kinds of Home Furniture. We are also a specialized manufacturer of wedding decoration Products like Mandaps, Stages, Furniture, Back Frames, Doli, and many decoration items. We are based in Patiala, Punjab, India. All Products are made in excellent and export worthy quality. If you want to do any changes to this product you can contact us on our Whatsapp number: +919815224101, +9186753-33339. You can also make a video call with us on our contact no. for close Zoom-up and see the high-quality of original products. A customer can also easily compare the quality of our products with local vendors. We are making Export worthy Products. You can also check out more products from our website https://dst-international.com/
---
"More you buy.... Lesser is the shipping"
Product Form