Project Description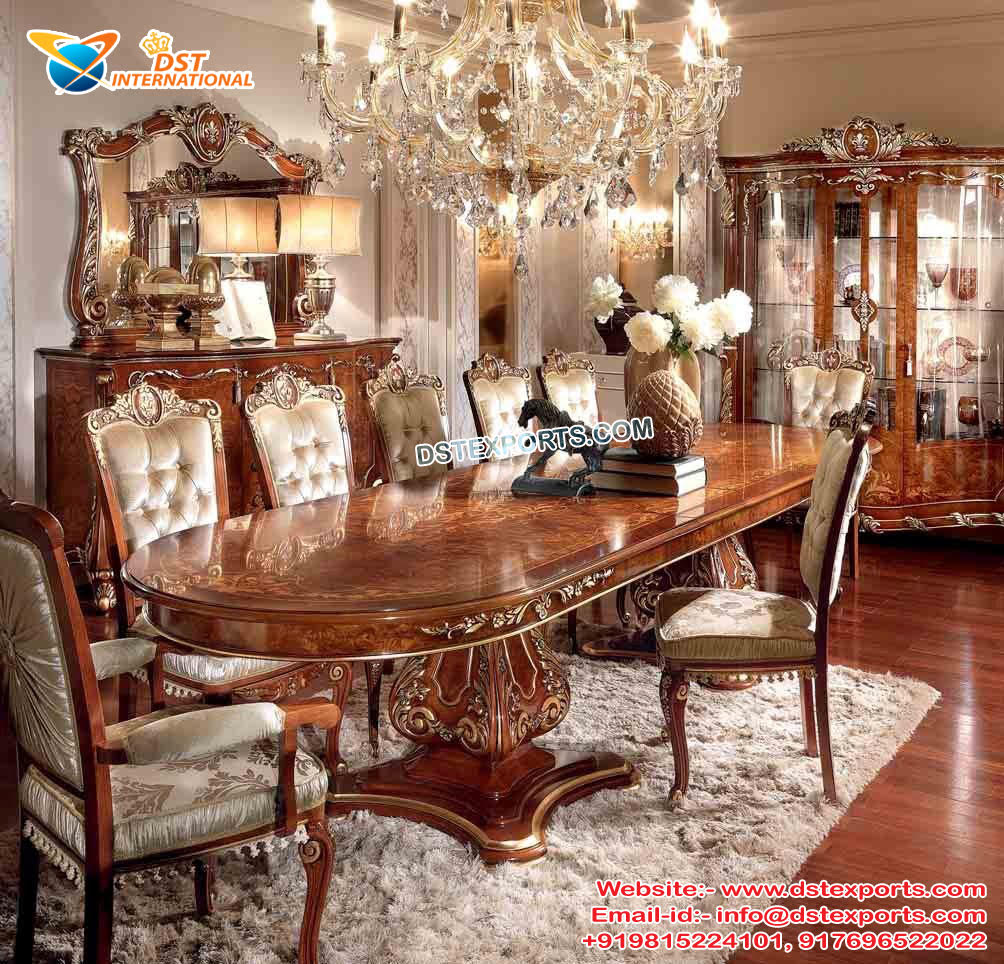 Buy Walnut Finish Dining Room Furniture Online
Decorate and personalize your dining room with precious furniture by DST Exports. Buy Walnut Finish Dining Room Furniture Online is timeless modern style furniture to disclose the lovableness, uniqueness, and luxury dimension of your exclusive projects. At Luxury Interiors, we offer luxury Italian dining room sets fully handcrafted in classy unique designs. Our custom-made dining rooms furniture is manufactured using authentic solid wood. Additionally, our furniture collection is further enhanced using walnut and brown finish applications along with bespoke inlays decorations and carves.
DST EXPORTS presents to you a handcrafted Wooden Dining Set made from premium quality Teak wood by us. A modern style dining set that features a dining table and chairs with Beautiful leather seats. It is finished in glossy cream & brown Color for a dazzling appeal. The modernistic and elegant carving design belonging to the classic category reflects the vintage philosophy perfectly well. Throughout this beautiful Dining piece, you will find gorgeous and breathtaking carvings that lend an old-world charm and elegance. Wooden dining is crafted out of solid hardwoods with premium quality Teak wood. This wood has a remarkable grain and is extremely durable. The Table design makes it traditional and classically appealing.
Luxury Golden Carved Dining Table Set:-
Product Details
Product Name 
Buy Walnut Finish Dining Room Furniture Online
Type:
Dining set
Material :
Solid Teak Wood
Color:
As photo/As per customer required
Design:
latest upholstery
Techniques:
wood carving, painting, handmade.
Set Includes – 
1 table + 12 chairs
Purchase info
DINING TABLE
99″L x 48″W x 30″H
DINING CHAIRS
23″L x 26″W x 47″H
MORE DETAILS ABOUT PRODUCT:-
Teak wood furniture lasts a lifetime and ages beautifully. This is the beauty of this wood and there is no wonder, that teak wood furniture is usually down the generations.
The beauty of teak wood furniture is in its natural grains and texture. We typically recommend just varnish coated furniture. Our favorite finish is the teak wood finish rather than cover it up with other wooden colors. So, just repeat the varnish every 5 years and your furniture is good for a lifetime.
We are using high-quality wood for manufacturing this Furniture. We treat wood four times for perfect finishing. We have a special work-team for wooden work. Our Work-team is professional in manufacturing Furniture.
We have been manufacturing, supplying, and trading Home Furniture Products. We are the provider of whole ranges of furniture which also includes tables, chairs, beds, desks, cupboards, etc. These objects are usually kept in a house or other building to make them suitable or comfortable for living or working in. We manufacture wooden, products of very high and finer quality which makes them reliable and durable. Our main focus in the firm is to bring our customers a product which not has superior quality, but is also available in a variety of designs which they can choose from. Our products are spacious, corrosion-free, and termite-free. The materials used for the manufacturing of these products are borrowed from a certified vendor and all the material is quality checked. After these products are manufactured, before being supplied, are nicely packaged.
DST Exports is a furniture manufacturer which has experience manufacturing hand-carving products like French style Furniture, Italian Style furniture, antique furniture, and Industrial furniture for over 10 years.
1) Our materials were mainly teak wood. Our factory is located in Punjab-India which is known as the best teak wood furniture maker and artisan in the world. We are able to manufacture custom design furniture for your villa, hotel projects, café, etc. which is based on customers' requests and designs.
2) Our products are dedicated to providing the best quality products furniture at affordable prices with the best service. We always strive to be your first choice.
3) All of our woods are legal and qualified as the best teak wood. No worms, insects, or termites as we use a high-quality vacuum pressure machine to treat our solid wood.
4) Our major customers are from the USA, UK, Germany, France, Russia, Australia, Poland and we always welcome to receive new customers from another country in the world as we want to expand our business to the Global Market.
Following are the factors that contribute to our success:
Made from Premium Quality Teak Wood. Hand-carved and Beautiful designed
Premium embossed finishing, Handmade by skilled craftsmen which give royal look to your decoration.
Give Your Home A Luxurious Look With Teak Wood Furniture
Fits in your space fits on your budget. Made of high-quality solid wood and crafted in ethnic designs.
Color: Brown, Care Instruction: Use a table cloth or any thick quality cotton cloth to wipe it clean.
Handcrafted by skilled artisans with premium finishing.
No Assembly Required: The product is delivered in a pre-assembled state.
Any Instruction Contact to Seller For Modification.
Please note that the size and color of the unit may vary slightly as this is a handcrafted unit
DST Exports is one of the best and most reputed furniture manufacturing companies based in Patiala. We are furnishing trendy, contemporary and classy households with exclusively crafted teak wood furniture since last …decades. Our USP (unique selling proposition) is contemporary design furniture made of solid CP teak wood, modular kitchen & modern living sofa. We have huge experience and proficiency behind our name in designing the most stylish and elegant looking furniture for living rooms and bedrooms of our clients
---
"More you buy.... Lesser is the shipping"
Product Form