Project Description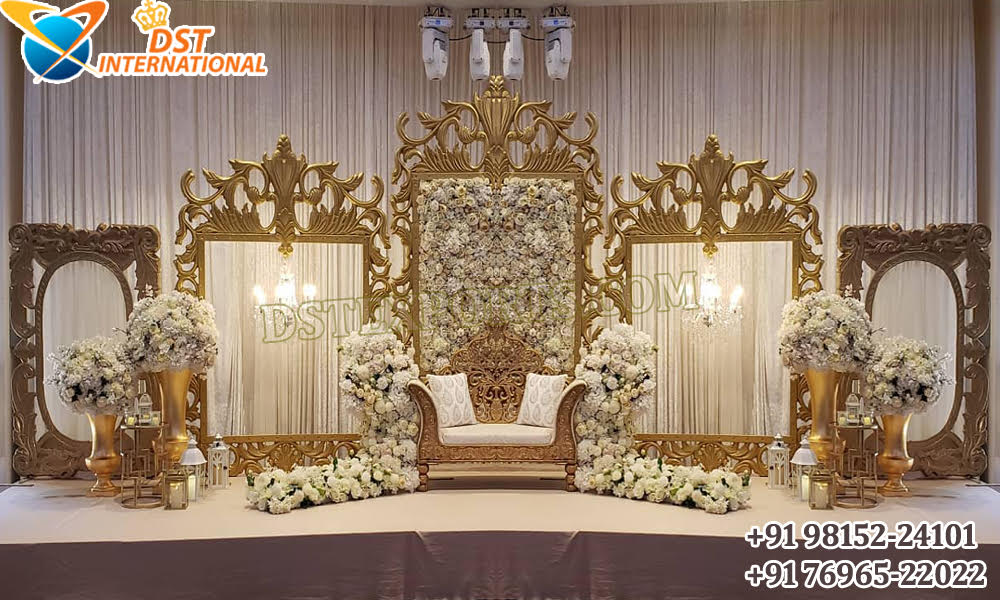 One of the most important aspects of a wedding is the décor which is captured perfectly on the wedding stage. It creates the backdrop that should match the theme of the wedding, your outfit, and should look amazing in the photographs. In this social media era, people want something unique, stylish, personalized wedding stage decorating ideas. So if you are on the hunt to find the perfect wedding stage decoration, then let us help you find your right pick, DST Exports are the manufacturer and exporters of all type of Wedding Stages and Backdrop Decor ideas. We create a perfect backdrop for stage that can suit your taste and theme you want for your weddings Today we are introducing our one of the extra- ordinary frame setup called "Buy Gold Medallion Wedding Stage Photo Frames ".
A classy golden will elevate the wedding stage décor to new heights. It is the perfect décor choice for people who like things subtle and charming and nothing too loud. With flowers and drapes and a hint of pastel tones that emanates sophistication. We have a wide range of wedding decoration products for stage decoration. Instead of adding creative decorations to the entire venue, just a few stunning backgrounds frame and panels are enough to do the trick.
This is Buy Gold Medallion Wedding Stage Photo Frames, specially designed for royal weddings. This Extreme Wedding Décor Frames and Panels are manufactured by DST-international ( A unit of DST Exports). We are known for our specialized fiber work. This is Our Latest Fiber Back-frames which is well known as Beautiful Wedding Reception Night FRP Frame For Stage . This is the latest MADE-IN-INDIA PRODUCT By us. We are Professional in manufacturing these types of FRP Products for wedding decoration. These are the Top Trending Wedding Stage Backdrop Panel designed and Made by us. This is a Full Back-frame setup which is designed for English Weddings, Due to its back-frame setup, this is well known in western and Asian Weddings. This Setup is completely Made of Fiber As well as it is Self-standing which spares the time during Wedding Stage Decoration. These Perfect Backstage fiber screens are manufactured, exported by us to our client in the USA.
This Beautiful Back-wall setup includes – One Frame In the middle 10 x 6 ft + Two side frames of 8 x 8 ft each + Two extreme side panels of 6 x 4 ft. The standard size of panels is 10 ft high but can be customized according to the dimensions given by the buyer. We can also provide bases with panels so these frames' height can be adjusted. This Setup is fully Made of Fiber As well as it is Self-standing which saves time during Wedding Stage Decoration. These Exquisite FRP Frames Panels for Wedding Décor are provided in all sizes, shapes, and many designs as per customer's requirement. To maintain a grand setup for the stage we add some walkway décor pillars. We have done all the waterproofing as well as sandpaper rubbing on each product to give them more perfect finishing and smooth texture on the joint as well as the Product. A Customer can use these stages for multipurpose occasions like a wedding, reception, anniversaries, decoration, and many more events. A Customer can also buy
We make all goods mostly foldable so it does not occupy much space, as we have skilled labor for all these types of works. We provide a proper certificate for each and every product known as a fumigation certificate which shows that our products are much better than the standard value of products in all countries. We take responsibility for our goods till the client's house and all goods are covered under insurance which is valid throughout the world. We do our best efforts to make our goods properly finished and look more elegant than everyone praises about products.
We have many designs of FRP Frames Panels for Wedding Decor– Wedding Stage Rectangular Panels, Round Frames, Paisley Panels, Window style Frames, Mehrab Backdrop frame or Arch type Panels, C style Panels, Half-moon FRP Panels, Gate Style Panels, Grand Temple, 3D Frames, Jharonka Frame, Door style Panels and many more.
---
"More you buy.... Lesser is the shipping"
Product Form