Project Description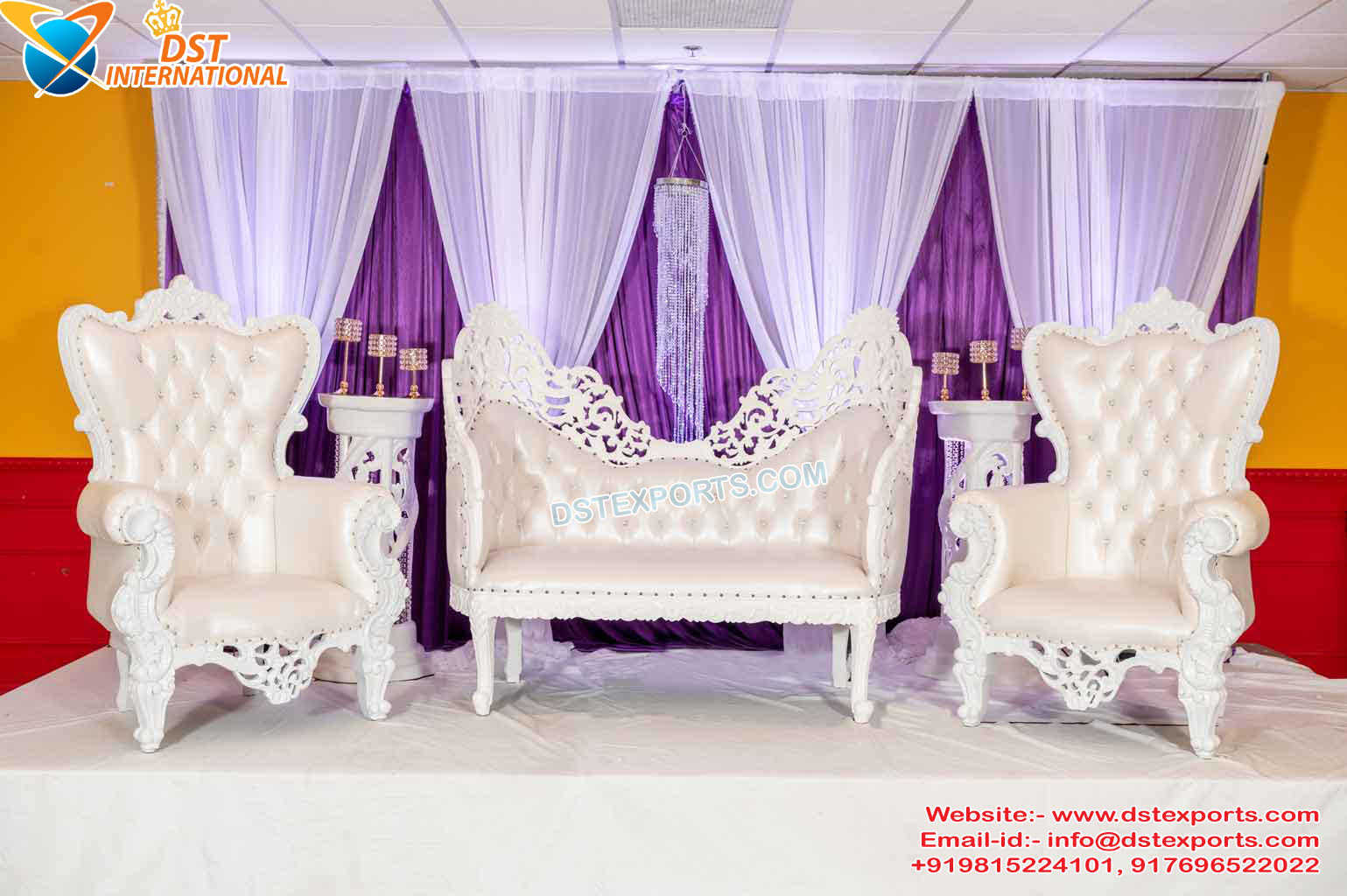 Bollywood Wedding Stage White Throne Furniture:- We are a Professional Manufacturer, Exporter, and Supplier of all types of Wedding Furnitures including "Bollywood Wedding Stage White Throne Furniture" well designed and manufactured IN INDIA by DST EXPORTS. This Wooden Handicraft Wedding Sofa Set is very beautiful and attractive as these are made by our well-trained professionals using high-grade materials. This is the White High Back Furniture Set for all types of Western as well as Indian Weddings. This Furniture set is used multipurpose in the Wedding for the bride and groom sitting purpose on the wedding Reception Stage and Mehandi Function, and other function. This Sofa Set is basically made for the Wedding Stage but it is also useful for Mehndi Stage and other Function.
This Furniture Set Includes – One Two-Seater Sofa with Two Matching Chairs with all hand-carved. This sofa set is made of treated wood, with white deco-paint on it. It has Leather tufted seats and very well cushioned.
We are using high-quality wood for manufacturing this Furniture. We treat wood four times for perfect finishing. We are using dry wood to increase the durability of the sofa set. There is all hand-made carving on this sofa set. We have a special work-team for wooden work. Our Work-team is professional in manufacturing Furniture. After making the structure sofa sets are fitted with leather seats and seats are decorated with original crystals. seats of this sofa set can be changeable and washable. It is truly comfortable for the bride and groom's seating purposes. It gives Luxurious at the wedding event. Wedding Furniture is the center of attraction of a wedding stage so it should be tremendous and adorable. This type of furniture is famous for weddings in wealthy nations. The back of this sofa set is high which makes it different from other sofa designs. we personally match up these chairs with the sofa. A customer can also add up other designs of chairs with this couch. It is truly comfortable for seating purposes. We give high attention to the look of this couch. It is made of treated wood with leather tufted seats and a small crystal is fitted in it.
PRODUCT SPECIFICATION
Product Name –        Bollywood Wedding Stage White Throne Furniture
Brand:-                           DST- International
Product material:-         Wood and Metal
Seats:-                            Two Seater + Single Seater Chairs with leather tufting
Seat and back:-            High-density sponge covered with Fabric
Stackable:-                    Most chairs are stackable(according to the shapes of chairs)
Style:-                            Antique, Morden, classic, simple designs are available for banquet and hotel use
Order:-                          Can produce according to customers' demands
Usage:-                         Wedding/Hotel/banquet/restaurant/family/indoor furniture
Technics:-                      Manual (all handwork/handicraft)
DST- International brings you traditionally handcrafted Wedding Stage Sofa Set in premium Pakistani Style. The units are upholstered in Velvet Fabric with Gold and Silver Polish. The units are all handcrafted by our artisans – all by hand, thereby making these unique. We bring to you Handmade Luxury Wedding Sofa Set specially made in premium quality treated Wood. A traditional design with just the right amount of elegance is characterized and emphasized in Wooden Sofa Set. Traditional designs in all their essence are utilitarian and carefully crafted to enhance the life of the furniture.
We have a variety of wedding sofas, couches, chairs, etc. We are a special manufacturer of wedding wooden metal carved furniture. We can make any type of design, any type of carving on sofas this couch can provide in any shape, size, color as per customer requirements. These Sofas are used multipurpose in the Wedding bride and groom sitting purpose on the wedding Reception Stage and Mehandi Function, and other function. It's Look modern and beautiful. The seat of this sofa set is changeable and washable. This furniture is readily available. A Customer can use this furniture for multipurpose occasions like a wedding, reception, anniversaries, decoration, and many more events.
A customer can trust because of:-
1. We have more than 20 years of experience in manufacturing Wedding Mandaps with highly skilled handmade craftsmen guarantee of high quality of Product.
2. We are the OEM of All types of Wedding Mandaps.
3. We will provide you High-quality products at a reasonable price.
4. We can also supply customized products and services, could design the horse carriage sample according to your idea.
5. We are making Export Worthy Products & Certified from SGS according to international standards.
DST International (A unit of DST Exports) are the manufacturer and exporters of all kinds of Wedding Wooden Mandaps. We are supplying our wedding mandap worldwide, for the past 20 years. We are also a specialized manufacturer of wedding decoration Products like Mandaps, Stages, Furniture, Back Frames, Doli, and many decoration items. We are based in Patiala, Punjab, India. All Products are made in excellent and export worthy quality. If you want to do any changes to this product you can contact us our Whatsapp number: +919815224101, +9186753-33339. You can also make a video call with us on our contact no. for close Zoom-up and see the high-quality of original products. A customer can also easily compare the quality of our products with local vendors. We are making Export worthy Products. You can also check out more products from our website https://weddingstages.net/
Why Choose Us:-
* We are experienced and professional manufacturers. We have more than 15-year experience in this field. With our experience, we are establishing our export markets all over the world including countries like the USA, UK, Australia, Canada, South Africa, New Zealand, Nigeria, Ireland, Uganda, Fiji, Netherland, France, and many more.
* Our all services are reliable and for a lifetime.
* Our exquisite wedding products are prominent for perfect finishing and smooth texture.
* All products are made of high-quality materials.
* We always cooperate with our clients and provide exceptional services
Packaging And Shipping:-
All Products will be packed in the Triple layer. These Products are packed firstly in bubble paper, then packed in cardboard and wrapped in polythene paper. After this, all the products will be packed in a wooden box.
Shipment according to the volume of order LCL/ FCL.
We have all the rights of the stuffing containers from our factory.
Our Hot Sale Designs of Wedding Sofa
---
"More you buy.... Lesser is the shipping"
Product Form