Project Description
Black Finish Lounge Chairs For Home
DST Exports helps you create inspired interiors that bring everyone together. Whether your style is bright and eclectic or serene and subdued, our lounge chairs, sofas, side tables, and coffee tables will fit right into your modern living room. Presenting "Black Finish Lounge Chairs For Home" For your Living Room Décor.
We are reckoned to be a known name in the industry as the distinguished manufacturers, suppliers, and exporters of Teak Wood Home Furnitures in the world. All our products are widely acclaimed to be the best in the industry as they are made up of fine quality raw materials and cutting edge technology.
We provide an exclusive range of Home Furniture Sets for the people who follow the royal lifestyle. We deal with a vast range of furniture which includes Sofa Set, TV Cupboards, Dressing table, Dining Table Sets as well as Beds, French Livingroom Furniture Set, French Dining Table Set, Chaise Lounges, Room Dividers, Wooden Swings, Wooden Sofas, Wooden Chairs.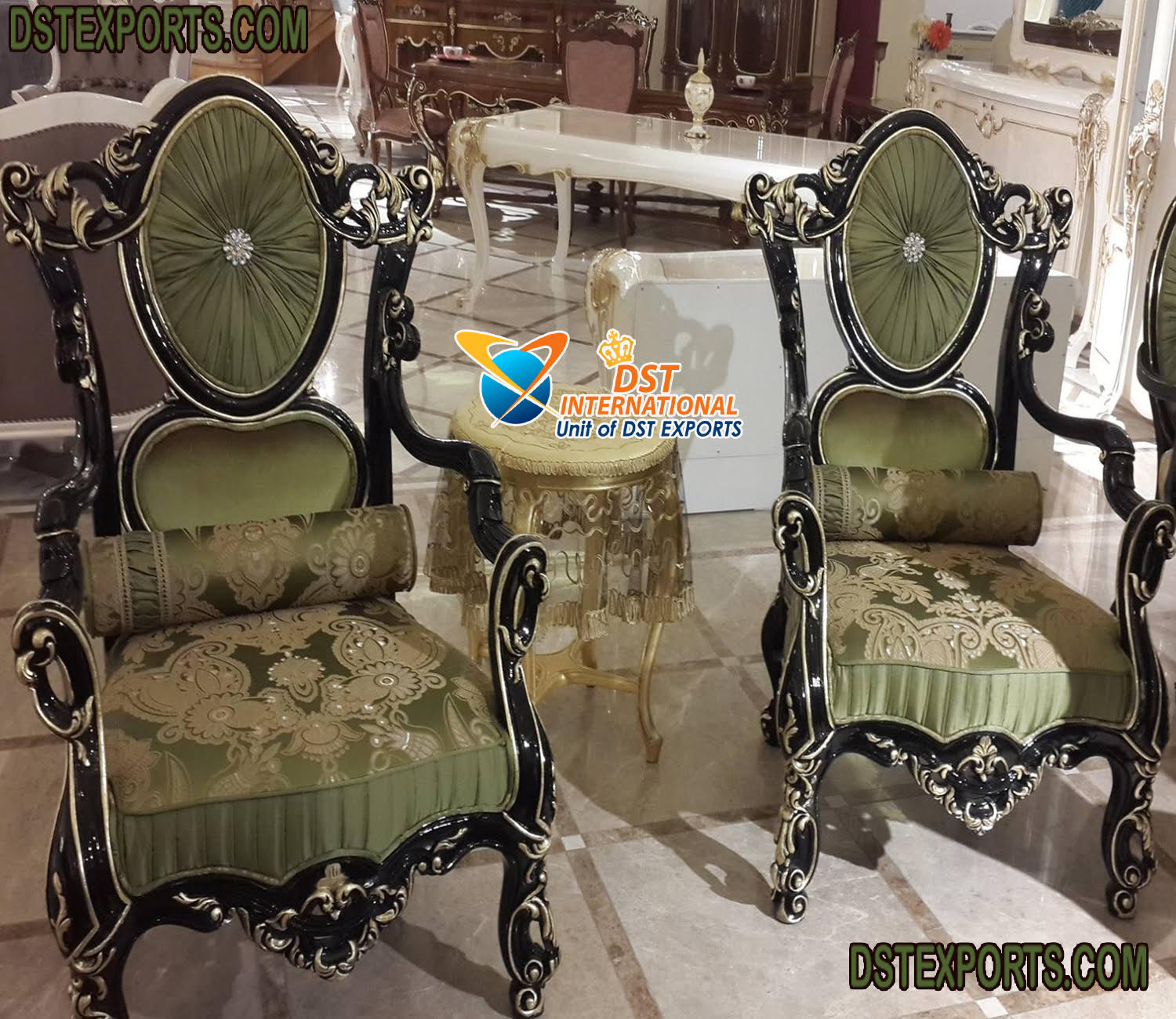 Black Finish Lounge Chairs For Home :-We are furnishing trendy, contemporary, and classy households with exclusively crafted teak wood furniture. We are offering affordable and durable lifestyle living furniture for your home and personal space. Available in a variety of colors and designs. All our products are getting widely acclaimed among the large clientele for their exclusive designs, superior quality, and reliability.
Spice up your home décor by adding some stylish chairs. From a variety of lounge chairs, accent chairs, study chairs, and dining chairs, choose your desired chair for a chic and minimalistic look. Get a fully upholstered chair to give your home a traditional and cozy appeal. Experiment with different colors, prints, and fabrics and pick the chair that matches your décor. Add to the elegance and charm of your home.
Dimensions: Chair – 27*34.5*70.5
Finish: Metallic Antique Gold
Upholstered Material: QUALITY FABRIC
Frame Material: Teak Wood 
Product Description
1. Chairs Set is made up of premium quality teak wood
2. Chairs Set is polished and has been coated with lacquer to preserve its shine.
3. Chairs Set is covered with new design carving.
4. Chairs Set is all hand-carved and no machines have been used for doing the carving
5. Chairs Set's shape, size, and design can be changed according to customer's requirement.
6. Chairs Set can be made in any different wood as per the customer's requirement.
7. Chairs Set can be covered with a white metal sheet, brass sheet, bronze sheet or it can be wood polished too as per the choice of the customer.
MORE DETAILS ABOUT PRODUCT:-
Teak wood furniture lasts a lifetime and ages beautifully. This is the beauty of this wood and there is no wonder, that teak wood furniture is usually down the generations.
The beauty of teak wood furniture is in its natural grains and texture. We typically recommend just varnish coated furniture. Our favorite finish is the teak wood finish rather than cover it up with other wooden colors. So, just repeat the varnish every 5 years and your furniture is good for a lifetime.
We are using dry wood to increase the durability of these chairs. There is all hand-made carving on Chairs. We have a special work-team for wooden work. After making this structure these chairs are fitted with leather seats and decorated with original crystals on it. This seat can be changeable and washable and it can also be provided in any color as per our customer requirements.
Why Choose Us:-
* We are experienced and professional manufacturers. We have more than 15-year experience in this field. With our experience, we are establishing our export markets all over the world including countries like the USA, UK, Australia, Canada, South Africa, New Zealand, Nigeria, Ireland, Uganda, Fiji, Netherland, France, and many more.
* Our all services are reliable and for a lifetime.
* Our exquisite wedding products are prominent for perfect finishing and smooth texture.
* All products are made of high-quality materials.
* We always cooperate with our clients and provide exceptional services
Packaging And Shipping:-
All Products will be packed in the Triple layer. These Products are packed firstly in bubble paper, then packed in cardboard and wrapped in polythene paper. After this, all the products will be packed in a wooden box.
Shipment according to the volume of order LCL/ FCL.
We have all the rights of the stuffing containers from our factory.
---
"More you buy.... Lesser is the shipping"
Product Form