Project Description
Beautiful Carved Mandir With Three Dom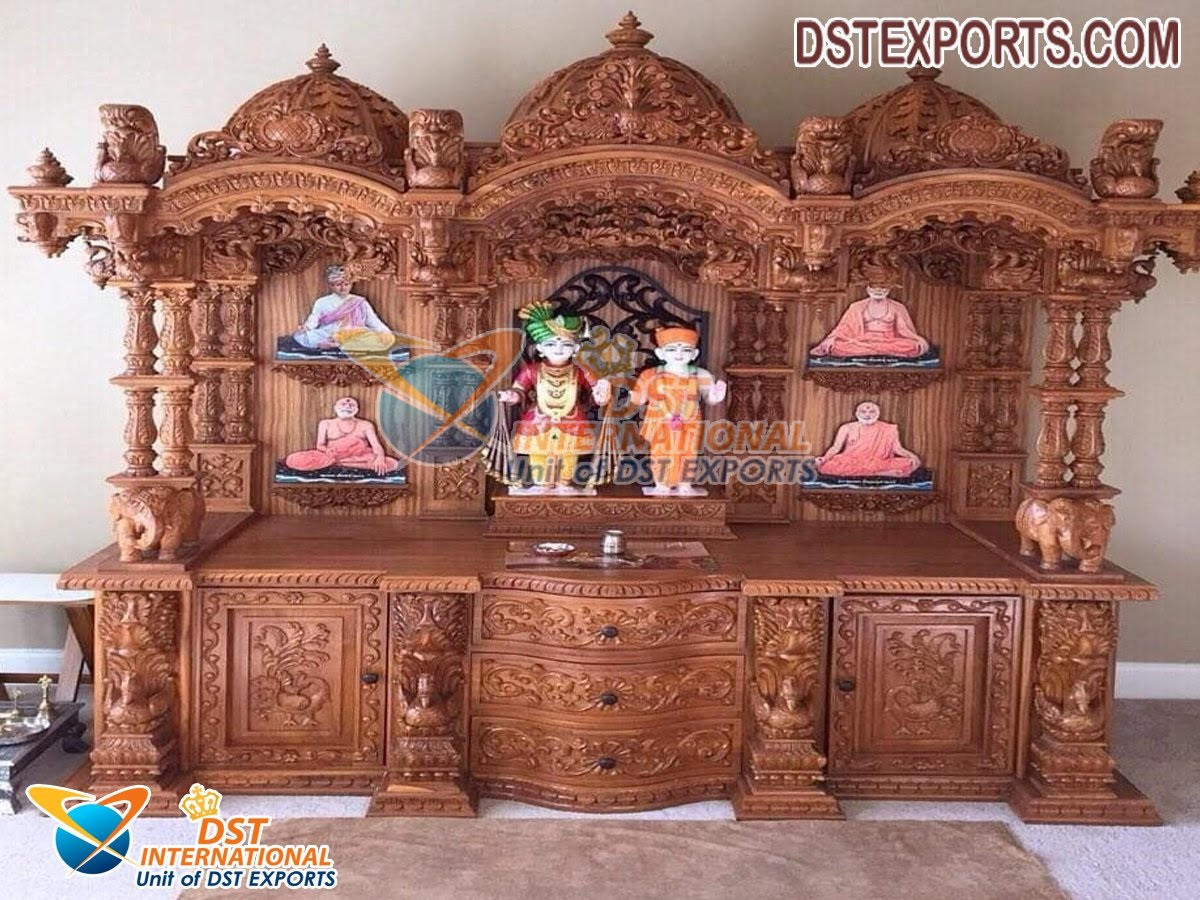 DST Exports brings to you the Beautiful Carved Mandir With Three Dom with Antique conventional finish. We are one of the original manufacturer, supplier and exporter of Pooja mandir/temple for Home, Buyers can avail from us an amazingly handcrafted Mandirs, which is gathered from best specialist of the business. Our pooja mandir are made utilizing best quality wood.
The Wooden Temple has an excellent Mehraab region at the front of the sanctuary with flower plan at the top. Beneath that there is the principle place for the god where you can put your objects of worship a lot them. There is employ work you can without much of a stretch spot your godlike objects and love them.
There are columns at the front of the sanctuary which are upheld by Elephants at the base. At the lower level, there is a base zone where there is 3 cabinet place for puja basics. 2 Drawers in both side each What's more, 1 sliding plate for helping up your Diya or incense sticks. The sanctuary will give extremely conventional and antique look to your home.
Wooden temple made in High Grade Teak Wood (Termite Resistant)
Easy and quick installation
60 X 22 X 78 inches and can be customized 
We are located in Handicrafts Hub City Patiala (Punjab). The Beautifully designed handicraft Furniture is our specialty. Our main motto is to add beauty to your homes and workplace by our exclusively artistic stuff and foster deep relationship with our customers. Our artisans use traditional skills of art (which India is always admired for). Every piece made by our skilled artisans is unique in its own sense and no piece is exactly alike. We hope you can feel the rich Indian culture flowing out of these beautiful products. Following are the factors that contribute to our success: · Quality products · Years of experience · Well equipped infrastructure · On-time delivery of products · Precisely engineered range · Cordial relations with clients · Easy payment modes · Industry leading prices
We have been manufacturing, supplying, and trading Home Furniture Products. We are the provider of whole ranges of Home Furnitures which also includes tables, chairs, beds, desks, backpacks, dressers, room divider partition, and cupboards. These objects are usually kept in a house or other building to make it suitable or comfortable for living or working in. We manufacture wooden, products of very high and finer quality which makes them reliable and durable. Our main focus in the firm is to bring our customers a product which has superior quality and also available in a variety of designs which a customer can choose from. Our products are spacious and termite-free. The materials used for the manufacturing of these products are borrowed from a certified vendor and all the material is quality checked. After these products are manufactured, before being supplied, are nicely packaged.
Following are the factors that contribute to our success:-
Made from Premium Quality Teak Wood. Hand-carved and Beautiful designed
Premium embossed finishing, Handmade by skilled craftsmen which give royal look to your decoration.
Give Your Home A Luxurious Look With Teak Wood Furniture
Fits in your space fit on your budget. Made of high-quality solid wood and crafted in ethnic designs.
Color: Brown, Care Instruction: Use a table cloth or any thick quality cotton cloth to wipe it clean.
Handcrafted by skilled artisans with premium finishing.
No Assembly Required: The product is delivered in a pre-assembled state.
Any Instruction Contact to Seller For Modification.
Please note that the size and color of the unit may vary slightly as this is a handcrafted unit.
---
"More you buy.... Lesser is the shipping"
Product Form